Do we care about India's Nowhere People, asks Sunil Sethi.
'Let me go home' is the desperate cry common to stories of the thousands of migrants stranded in cities, corralled in detention centres en route, or somehow dodging inter-state barriers and highway patrols to reach their villages thousands of miles away.
After weeks of hard-to-control crowds taking to the streets to find a way home, more chaos is likely to ensue as reluctant governments piece together plans to transport them home after ensuring safety procedures.
This was inevitable, given the growing restiveness among this workforce, and the grim accounts unfolding before our eyes.
Like some gritty neo-realist tale of a doomed protagonist from black-and-white cinema, one particularly tragic story was front paged in the Indian Express recently.
It sums up a daily wager's plight more that any statistic.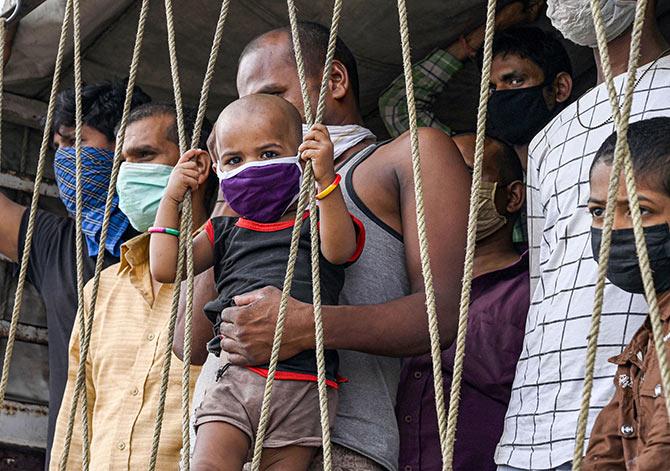 Insaf Ali, a 35-year-old mason's helper in Mumbai, began his two week-long trek on April 13 to reach his home in district Shravasti, bordering Nepal in northeast Uttar Pradesh.
With just a few thousand rupees, he walked, bribed truckers, and escaped police checks, surviving for days on biscuits.
But in the end, there was no justice for Insaf Ali.
Physically exhausted and mentally distraught, he was caught and quarantined a few miles from home.
He collapsed and died not far from his village.
His wife Salma spoke to him before his phone battery ran out.
Breaking down, she said: 'He had no work for weeks. He said that in the village, he would at least be around familiar people and manage.'
'He kept saying he only wanted to come home. And when he nearly did, he could not live for more than a few hours.'
When, one day, the spectre of coronavirus is behind us and life begins to edge back to the new normal, policymakers, urban planners, social scientists, and creative thinkers such as fiction-writers and filmmakers will probe two questions that the overwhelming wave of 'reverse migration' (for that is what it is) has brought home to us.
One is the extent and depth of urban poverty.
The other is a definition of 'home' -- a place a migrant leaves in the first place in search of opportunity, a better livelihood, or simply a assured chance survival.
All urban agglomerations are propelled by migrants, many escaping the hinterland's grinding deprivation to fuel commerce and the massive construction boom; and to fulfil the demand for services by a voracious new middle class.
But how much do we really know about them?
A colleague has recently been taking a sample of one such segment -- the ubiquitous security guards in their flimsy cabins posted outside Delhi's well-off homes and neighbourhoods -- and finds that labour contractors extract up to a quarter of their salaries as commission, about Rs 3,000 of Rs 12,000 per month.
They are expected to live off Rs 8,000, remitting a portion to support families back home.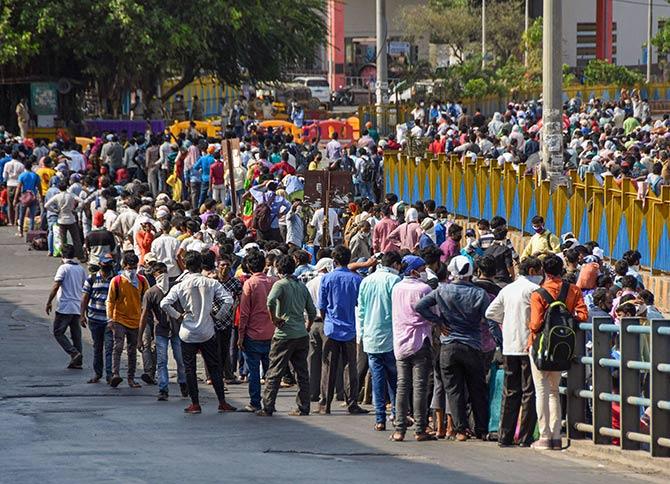 A scattering of recent labour ministry statistics (1.8 million migrant workers; 1.04 million living in shelter homes; 600,000 trying to walk home) cannot convey the degree of alienation and shock that force daily wagers like Insaf Ali to reach their families when they are laid off and homeless.
It is a reflection of the widening chasm between the rich and the poor worldwide that two of the most celebrated prize-winning films of 2018-2020 are punishing accounts of urban poverty.
Ironically, they come from two wealthy Asian nations, Korea and Japan, both strong welfare states that have successfully battled the coronavirus pandemic in recent days.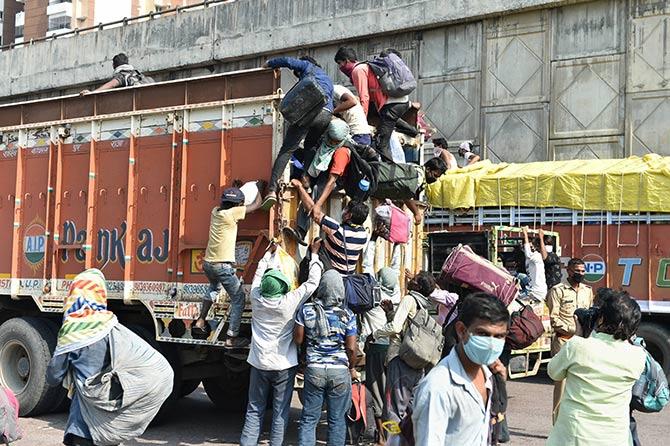 Bong Joon-ho's Parasite (Palme d'Or at Cannes 2019; four Academy Awards, 2020; available on Amazon Prime) is an account of a poor family that fraudulently infiltrates a rich household, leading to the violent destruction of both.
The Shoplifters, by Japanese director Hirokazu Kore-eda (Palme d'Or at Cannes, 2018; available on Netflix), concerns a similar family of petty crooks on mean streets who kidnap children and teach them how to shoplift.
Shot in the cramped space of airless single-room tenements, both are infused with black humour.
Crucially, they pose questions of rootlessness that haunt displaced people everywhere: What constitutes a 'family'?
And how do you define a place called 'home'?
Nor has the theme of urban destitution left Indian art and cinema for more than half a century.
The late abstractionist Ram Kumar's earliest art was of dark figurative canvases depicting urban migrants.
And in the 1958 movie Phir Subah Hogi, as a hard up Raj Kapoor wanders among the starving pavement dwellers of Mumbai, Sahir Ludhianvi's lyrics echo the pandemic's global grip today:
Cheen-o-arab hamaaraa, Hindostaan hamaaraa;
Rehne ko ghar nahin hai, saaraa jahaan hamaaraa.
Kholi bhi chin gayi hai, benchein bhi chin gaye hai;
Sadkon pe ghoomtaa hai, ab kaarvaan hamaaraa.
(China and Arabia may be ours, and Hindustan too;
But we have no home to go to; all the world belongs to us.
Evicted from our hovels, not even benches for rest;
Our weary caravan now roams this city's streets).