Although the pact would focus mainly on the Pacific and the South China Sea region, any action designed to deter China with or without New Delhi's active participation is a welcome move, notes Commodore Venugopal Menon (retd).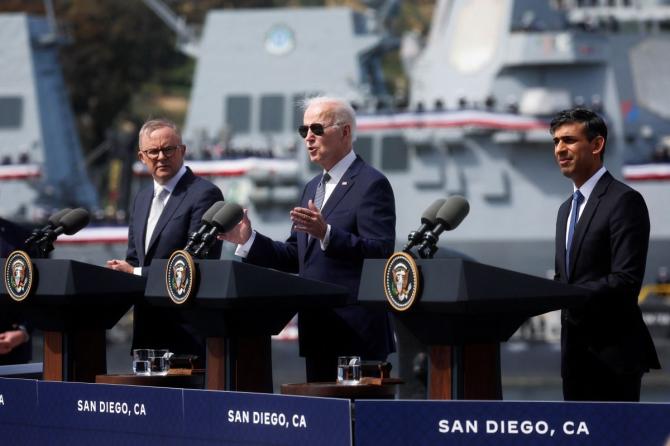 AUKUS is a trilateral security pact between Australia, UK and the US which was announced on September 15, 2021.
Under the pact, the US and UK will assist Australia to build a class of nuclear-propelled submarines, but also to work together in the Indo-Pacific region, where the rise of China is seen as an increasing threat.
The pact also includes cooperation on advanced cyber, artificial intelligence and autonomy, quantum technologies, undersea capabilities, hypersonic/counter hypersonic, electronic warfare and information sharing.
It is also important to note that the AUKUS pact marks the first time that the US will be sharing nuclear propulsion technology with an ally apart from the UK.
Various models were worked out by the three countries since September 21 leading to finalisation of the way ahead during the summit of the three leaders at San Diego on March 13, 2023.
Let us examine and analyze the salient features of the agreed course of action.
AUKUS Scheme
The AUKUS scheme announced on March 13 at San Diego represents the first time a loophole in the 1968 Nuclear Non Proliferation treaty (para 14) has been used to transfer fissile material and nuclear technology from the US to a non-nuclear weapon state.
The loophole allows fissile material utilized for non-explosive military use to be exempt from inspections and monitoring by the UN nuclear watch dog, the International Atomic Energy Agency (IAEA).
To mitigate the proliferation risk, the Australians have also agreed not to have a training reactor in their country but to train their submariners in UK and the US.
Further, Australia will not enrich or reprocess the spent nuclear fuel and the fissile material provided by the UK and US in sealed/welded units that do not have to be refueled in their lifetime.
Australia has also given an undertaking not to acquire the equipment necessary to chemically reprocess spent fuel that would make it usable in a weapon.
Implementation Process
Under the deal, Australian navy personnel would be trained at US and UK submarine bases from this year to learn how to operate nuclear powered submarines.
In the next step, the US and UK would forward deploy a small number of nuclear submarines at HMAS Stirling, a military port near Perth, Western Australia, from 2027 onwards which gives them adequate time to build the support infrastructure.
As per the agreement, the US and UK plan to establish a rotational presence of one Astute class boat ex UK and up to four Virginia class boats ex US.
This will be called a Submarine Rotational Force-West (SRF-West) and will comply fully with Australia's policy of no foreign bases in its territory as these boats would be rotated through the location and will not be based permanently in Australia.
Moving ahead, Australia would buy three Virginia class boats ex US in the early 2030s with options to purchase two more.
Thereafter, the plan is to design and build an entirely new nuclear-powered submarine for the UK and Australian navies -- a model that would be called SSN-AUKUS.
The boats would be built in Britain (Derby and Barrow-in Furness) and Australia (Osborne, South Australia) using technology from all three countries.
The envisaged design would be a combination of Astute class submarine with US technology such as propulsion plant & auxiliary systems, common vertical launch systems and weapons with a jointly developed combat system.
As per current estimates, the plan would cost Australia up to $368 billion over 30 years.
Challenges ahead in implementation of pact
One of the major challenges would be to prepare Australia's military and civilian workforce for maintaining and operating nuclear submarines with stress on nuclear safety.
The need to fill the capability gap between the end of the Collins class conventional submarine's shelf life (extended up to the 2030s) and any delays in the scheduled arrival of the new submarines.
The modus operandi to ensure that the nuclear-powered submarines are a sovereign capability. Will it affect Australia's autonomous decision-making capabilities within the alliance?
All three countries will need to invest heavily to upgrade their defence industrial base.
Shortage of qualified workers and strained capacity would be a big concern for Australia.
Concerns in sharing of closely guarded nuclear propulsion secrets between the US and Australia.
Hurdles related to cooperation on artificial intelligence, hypersonic weapons, and undersea capabilities.
Strategic/Political Challenges
Political scenarios in the three countries cannot be predicted due to change in governments.
Future political stability in terms of successive US and UK administrations's support for the AUKUS deal is paramount.
Lack of clarity around strategic purpose and what each partner aims to achieve from this pact.
Threat perceptions and strategic objectives of countries vary vis a vis relations with China.
Does the pact strengthen integrated deterrence against a common threat, or the goal revolves around power projection for one or more partners? Power projection aim may lead to escalation of tension in the region.
The narrative on the need for the deal has not registered beyond nuclear submarines meeting Australia's defence needs.
This has resulted in confusion in the region giving rise to concerns that AUKUS could destabilise the Indo Pacific region.
Any failure in industrial support, supply chain management, bureaucratic, and legal hurdles of the partners can disrupt sustained sharing of advanced and critical technologies which are at various stages of development.
A high degree of coordination between partners with all stakeholders onboard would be mandatory for implementation of this mega defense deal in a time bound manner.
Australia's ability to operate two or even three different types of sophisticated submarines simultaneously is another challenge.
Geopolitics and international relations are dynamic subjects and what is relevant today may not be the same in the 2040s.
China may have advanced to a commandeering position in the region by then and Australia may need to take a relook at their foreign policy to balance relations.
Geopolitical Significance of the deal
It would signify that China faces a powerful new defence alliance in the Indo-Pacific region with the active military engagement of the US and UK with Australia.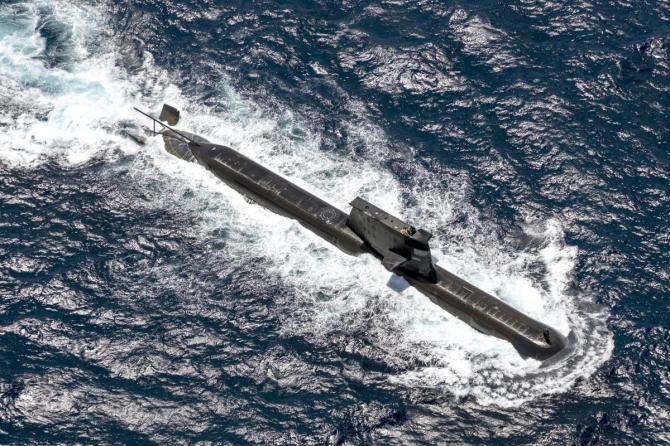 Southeast Asia
The AUKUS alliance is also likely to have important implications for Southeast Asia, a region that lies at the centre of theIndo-Pacific, which is the focus of the new partnership.
Malaysia was the first to react and reiterated its stand that all parties should fully respect and comply with its existing policy in relation to operation of nuclear submarine in its waters.
The policy is based on the UN Convention on the Laws of the Sea (UNCLOS), the Southeast Asia Nuclear Weapons Free Zone (SEANWFZ) Treaty and the ASEAN Declaration on the Zone of Peace, Freedom and Neutrality (ZOPFAN).
Indonesia has also expressed its concern as they view flexing of military muscle by the AUKUS alliance in the Indo Pacific region as a threat to its policy of non-alignment which can lead to a potential arms race in its backyard.
Thailand, Cambodia, Laos, Brunei, and Myanmar have refrained from making any comments thus far which could be interpreted as a tacit acceptance of AUKUS.
Singapore, Vietnam and the Philippines have been supportive of the deal.
At the ASEAN level, there has been no common position and very limited joint diplomatic action in response to AUKUS since the deal was announced in 2021.
On the other hand, the region is likely to be disconcerted by any move that ratchets up the possibility of conflict.
While AUKUS might help deter Chinese military action and reduce the likelihood of conflict, it also ensures that such a conflict would be much more devastating if it did break out and Southeast Asia, which lies at the centre of the Indo-Pacific, would conceivably be on the frontlines.
There will also be regional worries about the partnership's impact on Southeast Asia: That it might subsume the region within a larger strategic competition, displace it from its self-claimed position of regional 'centrality', and erode its strategic autonomy.
At a deeper level, Southeast Asian and American perceptions diverge to varying degrees on the question of exactly what threat China poses.
While it fears a future of Chinese hegemony, the region has little appetite for the predominant US view of its competition with China, as part of a global battle between democracy and authoritarianism, a framing that was echoed in the AUKUS announcement.
Japan's Stand on AUKUS
Japan has welcomed and supported the AUKUS pact as Tokyo feels that it would contribute to the peace and stability of the Indo Pacific region at a time when the security situation is increasingly severe.
It may also be noted that Japan had recently signed bilateral security agreements separately with Australia and UK.
However, Japan's nuclear stance is unlikely to change in the foreseeable future although they would align closely with AUKUS partners on security related issues in the Indo pacific region.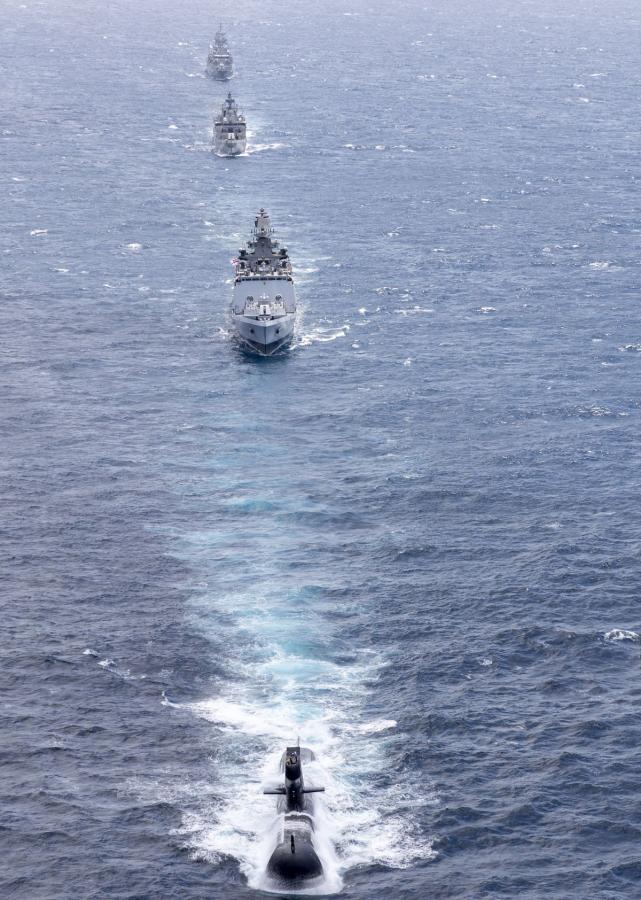 View from Seoul
South Korea has always balanced its relations with Beijing and Washington due to the presence of a hostile North Korea.
Seoul's strategic ambiguity and balancing between the US and China have prevented it from being granted the same opportunities as Australia which is perceived as a dependable ally.
There could be increased demands by Seoul for the US to lift such prohibitions and grant them similar access to nuclear technology.
The View from New Delhi
The AUKUS pact seems to have received a positive response from an Indian perspective which signals Washington's political resolve to confront the growing security challenges in the Indo-Pacific region.
Although the pact would be focusing mainly on the Pacific and the South China Sea region, any action designed to deter China with or without New Delhi's active participation is a welcome move.
India is focused on resolving land border issues with China and hence must depend upon partnerships to secure its maritime domain which is threatened by massive expansion plans of the PLA navy.
Towards this, having France as a maritime partner which has sovereign island territories and security interests in the Indian Ocean can expand India's reach in the region.
It would be worthwhile to consider strengthening maritime security cooperation with France which would enable us to focus on our area of interest in Indian ocean region as the net security provider.
Cooperation with France would also provide India with an alternate/wider option to Russia to progress with the SSN programME considering that transfer of nuclear technology may be easier since it would be a win-win situation for both countries.
There are some indications of France offering the technology for Barracuda class SSNs to India (unverified media reports).
The AUKUS story may influence and expedite a decision by New Delhi on the acquisition of SSN which has been long pending.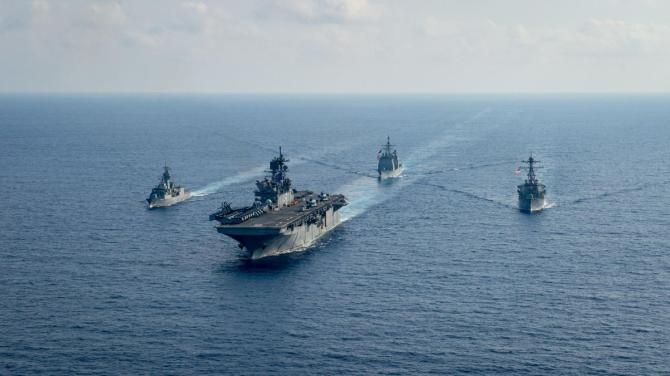 The fear of militarisation of the Indo Pacific is the main apprehension of many countries in the region although many countries have not stated that explicitly.
Australia's move to construct and operate nuclear propelled submarines may lead to other middle powers in the region following suit by seeking assistance in transfer of nuclear technology from big powers.
Deterrence capability of the AUKUS pact is anybody's guess as the forward deployment of US/UK SSNs would commence in 2027, the three Virginia class submarines joining in early 2030s and the SSN-AUKUS taking shape from the early 2040s.
Timeline of two decades may witness a paradigm shift in Geopolitical canvas in the region resulting in shifting alignments based on national interests.
How effective would be the AUKUS pact in the 2040s and will it meet its strategic objectives?
Commodore Venugopal Menon served in the Indian Navy for 29 years in operational roles, including commands at sea, and training and staff assignments at Naval HQ.
In addition to the staff and war courses in the Indian Navy, he underwent the executive course at the Asia Pacific Centre for Security Studies, Honolulu.
Feature Presentation: Aslam Hunani/Rediff.com