'Islamic State has declared that the liberation of Islamic Xinjiang from China is an objective. Beijing may well find that Pakistan is unable to assist in any meaningful way,' says China expert Jayadeva Ranade.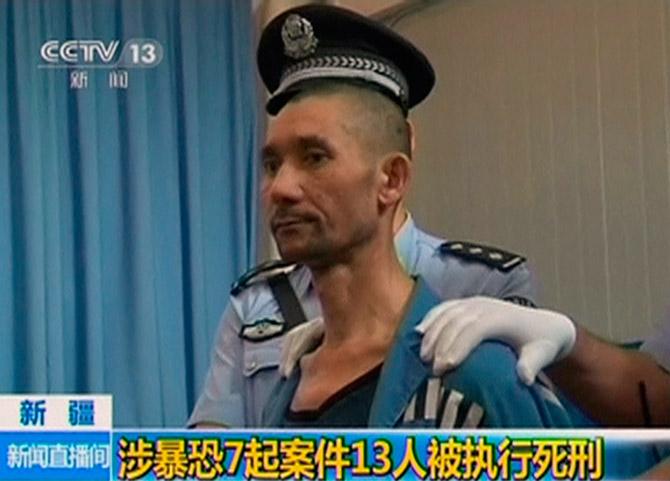 IMAGE: A man sentenced to be executed in the Xinjiang Uighur Autonomous Region, June 16, 2014. He was among 13 men China executed for 'terrorist attacks' in Xinjiang. The 13 men were allegedly involved in attacks in different parts of China's Muslim-majority province Xinjiang, including one that killed 24 policemen, Xinhua said. Photograph: Reuters
Coinciding with the 60th anniversary celebrations of the so-called 'liberation' of Xinjiang by China and establishment of the Xinjiang-Uyghur Autonomous Region, China has been rocked by unprecedented Islamic extremist violence.
Over twenty bomb explosions and a very violent knife attack resulting in the deaths of dozens of Han Chinese occurred in three incidents within two weeks in two cities in two of China's peripheral provinces where a high percentage of the country's ethnic Muslim minorities reside.
The incidents occurred at a coal mine in Aksu city in the restive north-western Xinjiang Autonomous Region and Luizhou city in the Guangxi-Zhuang Autonomous Region on the southern border opposite Vietnam. China's top leadership has been jolted by these acts of violence.
Reports of the attack in Xinjiang began to filter out just days before a visit to the province by a 69-member high level Chinese Communist Party, CCP, delegation, which included members of the CCP Central Committee and the rapidly upward mobile Vice-Minister of Public Security, Fu Zhenghua, who was handpicked by Xi Jinping recently to take additional charge of the sensitive and secretive Central 610 Office which is responsible for 'social stability and cult control.'
The delegation was led by Yu Zhengsheng, a Politburo Standing Committee member and Chairman of the Chinese People's Political Consultative Conference, which is responsible for ethnic minority issues and directly for Xinjiang and Tibet, and who like Xi Jinping is a 'princeling.'
While in Urumqi, Yu Zhengsheng warned cadres not to rest on their laurels and, in a speech telecast live on Xinjiang state TV said, 'We must fully recognise that Xinjiang faces a very serious situation in maintaining long-term social stability, and we must make a serious crackdown on violent terror activities the focal point of our struggle.'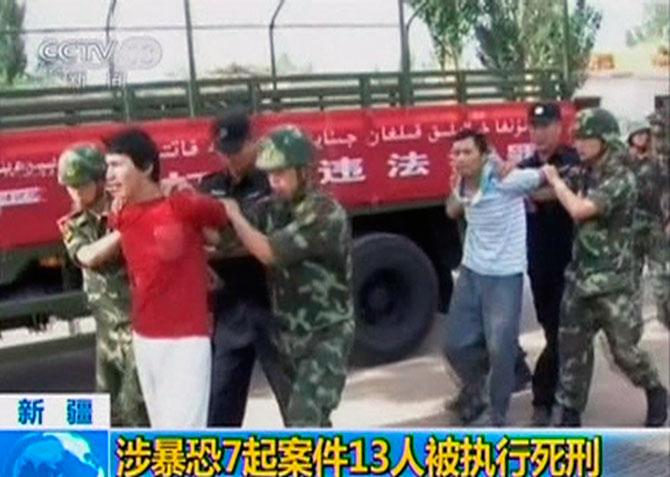 IMAGE: The men -- China claims were 'terrorists' -- about to be executed, escorted by riot policemen, in the Xinjiang Uighur Autonomous Region, June 16, 2014. Photograph: Reuters
Official Chinese media reports state that at least 50 people, mainly Han Chinese, were killed in attacks by knife-wielding 'separatists' on September 18, at the Songma coal mine near Aksu city. These separatists also boldly confronted armed police personnel dispatched to apprehend them.
Seventeen knife-wielding individuals had mounted a similarly violent attack at Kunming, capital of the border Yunnan province, railway station in April 2013 and earlier that month in a brazen act of protest a car-load of Uyghurs had rammed their vehicle into the main gate of Zhongnanhai in Beijing, where China's senior-most leaders reside.
On September 30, 2015 and again the following day on October 1, a series of explosions from 17 parcel bombs damaged houses, killed people and shook Luizhou city.
The solitary individual arrested -- who has now reportedly died -- was reported to have told police that he had hired couriers to deliver the parcel bombs to different locations throughout the county. During their search the police recovered another 16 bombs from the post office.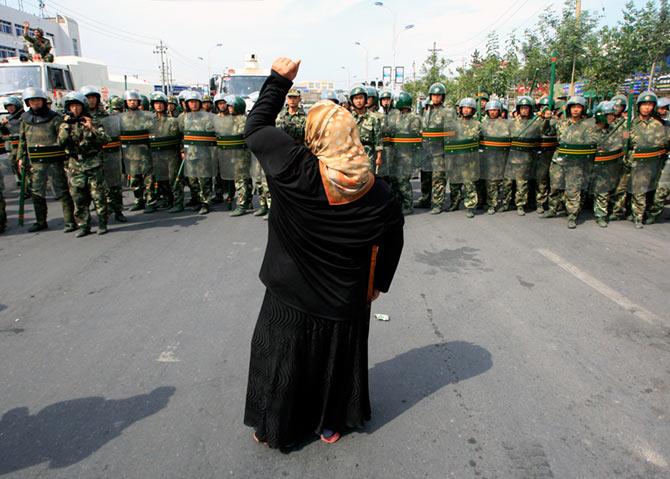 IMAGE: A woman confronts Chinese paramilitary police on a street in Urumqi in China's Xinjiang Autonomous Region July 7, 2009. Hundreds of Uighur protesters clashed with riot police in the capital of China's Muslim region of Xinjiang, two days after ethnic unrest left 156 dead and more than 800 injured. Photograph: David Gray/Reuters
China's Communist leadership has taken a series of incrementally tough steps in recent months to tackle restiveness in the Xinjiang Uyghur Autonomous Region. At the Second Xinjiang Work Forum on May 28-29, 2014, the Chinese leadership initiated a major strategic shift and replaced 'leapfrog' economic development with intensified focus on security and stability and a new policy of 'ethnic mingling.'
It launched a year-long 'people's war against terrorism,' which entailed increased deployment of military and armed police personnel including surveillance drones. Xinjiang's security budget is now estimated to total almost $1 billion per year.
Other steps include a ban on observance of fasting during Ramzan, some counties contemplating the imposition of fines for wearing of veils and cloaks and, in mid-September this year, the Chinese authorities issuing a ban on 22 Muslim names in Xinjiang's Hoten prefecture in an apparent bid to discourage extremism among the region's Uyghur residents.
Significantly, the attacks occur as credible reports surface that the Eastern Turkestan Islamic Movement, designated at Beijing's instance as a terrorist outfit, maintains close links with the Pakistan Taliban and the Islamic Movement of Uzbekistan and has set up training camps modeled on those of Al Qaeda and Islamic State in Pakistan's North Waziristan region.
Adding fuel to the ire of the tribals in the region would be China's plans to acquire huge tracts of land to operationalise the China-Pakistan Economic Corridor and build numerous military and civil infrastructure projects in the northern areas of Pakistan.
Pakistani officials disclosed in mid-September this year that China has already leased 809 hectares of land -- or 2,500 acres -- at Gwadar port in Pakistan for 43 years to build the port's first free economic zone. Resentment already exists at the presence of Chinese workers in Baluchistan.
This rash of violent incidents by disgruntled Uyghurs appears now to be spreading across China and has occurred in widely separated provinces. Internal official Chinese reports suggest that separatist activities by Uyghurs are not so much inspired from across the borders, but that this dissidence is home grown. All provinces affected thus far have a high percentage of ethnic minorities.
As the situation in Afghanistan becomes more turbulent and the Taliban gains more ground, it could become increasingly difficult for China to staunch the flow of guidance, trainers and material support to 'separatist' elements inside Xinjiang.
Islamic State has already declared that the liberation of Islamic Xinjiang from China is an objective. Beijing might well find that Pakistan is also unable to assist in any meaningful way.
The Chinese leadership could then be faced with the prospect of growing restiveness in the provinces on its borders including in Tibet.
Jayadeva Ranade, former Additional Secretary in the Cabinet Secretariat, Government of India, is the President of the Centre for China Analysis and Strategy.