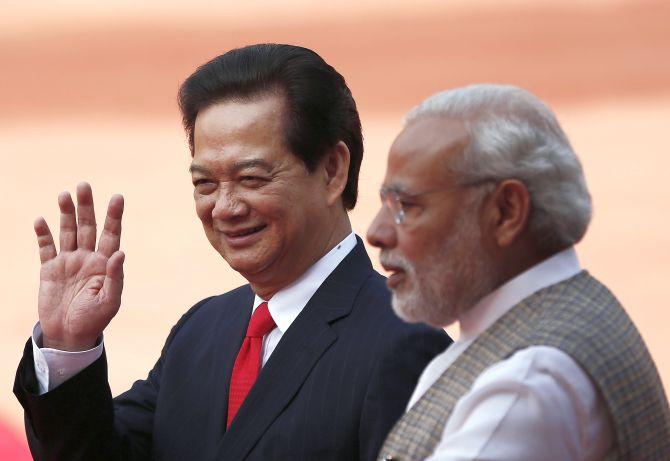 IMAGE: Vietnam's Prime Minister Nguyen Tan Dung with Prime Minister Narendra Modi during a recent visit to New Delhi. Photograph: Adnan Abidi/Reuters
'During his visit to Vietnam on September 3 -- the first visit by an Indian prime minister in 15 years -- Modi will notice the widespread anti-China sentiment in that country,' says former RA&W officer Jayadeva Ranade.
Prime Minister Narendra Modi will have a busy and complicated agenda as he travels to South East Asia in the next few days. He will observe that dark clouds continue to linger on the horizons of the South China Sea well after the Permanent Court of Arbitration at The Hague delivered its decision on July 12.
Countries that have maritime territorial disputes with China are increasingly uneasy. During his visit to Vietnam on September 3 -- the first visit by an Indian prime minister in 15 years -- Modi will notice the widespread anti-China sentiment in that country.
There is also palpable tension as Vietnam anticipates that China may take some robust steps in the South China Sea in the weeks following the G-20 Summit in Hangzhou on September 3-4.
Uncertainty is accentuated by the apparent unwillingness of the US to draw easily identifiable 'red lines.' China's economic and military might has pressured countries in the region and widened fissures in the Association of Southeast Asian Nations further weakening it. The Philippines and Taiwan are already feeling the adverse effects of China's economic pressure.
Expectation is high in Vietnam that Modi's visit will not only lend support to Vietnam's stance on the South China Sea, but qualitatively upgrade the bilateral relationship.
In addition to defence-related agreements and likely discussions on sale of the Brahmos missiles, assisting Vietnam to become self-sufficient in the production and maintenance of defence equipment, thereby lessening Hanoi's dependence on other countries would contribute to building an enduring relationship.
Potential areas of cooperation include pharmaceuticals, information technology, education and hospitals, all areas in which India's private sector has internationally demonstrated capabilities.
With an eye towards a long-term relationship with India, for example, Vietnam recently established a Centre for Indian Studies in the Ho Chi Minh National Academy of Politics, which trains upwardly mobile cadres and is directly under the politburo of the Communist Party of Vietnam.
Meanwhile, Beijing is trying hard to ensure that the issue of the South China Sea is not raised during the G-20 Summit in Hangzhou as that would derail the agenda and mar the atmosphere. Chinese Foreign Minister Wang Yi's visit to India was part of this process.
Chinese interlocutors state that the visits this week of Defence Minister Manohar Parrikar to the US and that of US Secretary of State John Kerry and US Commerce Secretary Penny Pritzker to New Delhi for the second Strategic and Commercial Dialogue have raised concerns in Beijing that India and the US are moving still closer and India could side with the US on the issue.
Alluding to the recent statement by Hu Shisheng, director of the Institute of South and Southeast Asian and Oceanian Studies at the China Institute of Contemporary International Relations, which is a think-tank of China's external intelligence arm, the ministry of state security, a Chinese interlocutor hinted that the remark was intended as a warning to India.
China, it is learnt, has made special arrangements for Prime Minister Modi keeping in mind his religious preferences!
The effort to keep the focus on the economic agenda at Hangzhou saw Wang Yi become the first Chinese foreign minister to travel to Japan in four years when he visited Tokyo on August 23-24.
Though the spokesman for China's ministry of foreign affairs clarified at a press briefing that Wang had gone to attend the 8th China-Japan-Republic of Korea foreign ministers' meeting and not for a bilateral visit, there is little doubt that preparations for a one-on-one meeting between Chinese President Xi Jinping and Japanese Prime Minister Shinzo Abe on the sidelines of the G-20 Summit figured during discussions with his Japanese counterpart.
Chinese observers have noted that Abe did not visit the Yasukuni shrine this year. Japanese Foreign Minister Fumio Kishida also travelled to China earlier this May. China and the US are also set to announce ratification of a major climate change agreement on September 2, the eve of the G-20 Summit.
Beijing sees this G-20 Summit as important for the global economy and intends to push for international acceptance of its economic agenda at the G-20 Summit. It has said it will push for the reform of existing international financial institutions with enhanced representation for emerging markets and developing countries.
It will advocate that the Asian Infrastructure Investment Bank, established under Chinese leadership, can be a useful supplement to the existing international financial system and argue that the 'One Belt, One Road' geo-economic initiative proposed by China, will upgrade economic cooperation and provide new momentum for the economic development of all countries.
Security in Hangzhou, the capital of Zhejiang province whose population has a high percentage of Christians, is a major consideration for the Chinese authorities. Over the past many months Zhejiang provincial authorities have cracked down on Christian 'underground' churches and congregations.
The authorities additionally seem particularly concerned at possible actions by Islamic extremists. According to a report in the Hong Kong-based South China Morning Post on August 26, Chinese public security authorities in Guangzhou city ordered hostel operators to turn away guests from Afghanistan, Turkey, Iraq, Syria and Pakistan.
The prohibition will be in force till October. Dr Peng Peng of the Guangzhou Academy of Social Sciences said the move was not announced to the public but was to reduce security risks at Guangzhou's independent hostels. Separately, measures have been introduced to limit pollution by banning cars and vehicles during certain hours and closing factories.
Xi is reportedly scheduled to have one-on-one meetings on the sidelines of the G-20 Summit with Abe, Modi and US President Barack Obama. Anticipatedly important political issues will be discussed then.
Jayadeva Ranade, a former additional secretary in the Cabinet Secretariat, Government of India, is president of the Centre for China Analysis and Strategy.
ALSO READ