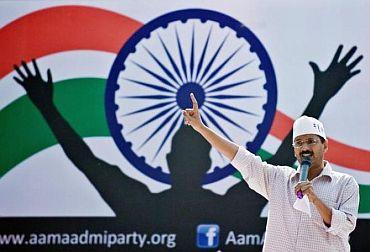 What the AAP becomes eventually in New Delhi will impact whether citizens would want such a model replicated in Mumbai or opt for one from the existing system, says Neeta Kolhatkar.
The Aam Admi Party's impact in the New Delhi assembly election has made people take note of the fact that if voters -- educated, middle-class and above -- decide, then there is an effective alternative to the Congress and the Bharatiya Janata Party.
Since the Delhi results, there has been talk about how the AAP model can be replicated in Mumbai and other towns or cities in Maharashtra. In fact, it was Mumbai that led the way years before by fielding common citizens for local elections.
Juhu, northwest Mumbai, residents fielded Adolf D'Souza as the first citizen's candidate during the elections to the Brihan Mumbai municipal corporation in 2007 representing the Mumbai Nagrik Manch, a platform that fielded Independent candidates backed by NGOs like AGNI (Action for Good Governance and Networking in India). D'Souza won that election.
In the 2012 civic election, the Mumbai Nagrik Manch witnessed in-fighting. D'Souza branched out and started his own organisation, the Mumbai Nagriksatta.
What started as a citizen's effort, of course, ran into problems due to egos and leadership clashes, which AGNI said defeated the very purpose of initiating citizen's representatives, as it would benefit the politicians.
In the 2009 Lok Sabha election, banker Meera Sanyal contested as an Independent candidate from the Mumbai South constituency, but lost after a spirited campaign. There are small efforts, but not as concerted and not enough to defeat the formidable political parties.
Many are excited and, of course, want an alternate to the two big political parties. Arvind Kejriwal has shown the way in Delhi. He took up issues of corruption and electricity bills. This was something that appealed to people, apart from being a prominent member of the team that agitated for the Jan Lokpal Bill.
Whether the AAP model can be replicated in other cities is a big question mark. Firstly, the AAP organisation needs to be strongly established in cities across the country.
Another reason the AAP also saw success is due to the appeal with the youth. Here in Mumbai, there are going to be hundreds of thousands of first time voters.
The AAP's appeal would be primarily in this age category -- first time voters and youth who have stood by Kejriwal.
By and large if we see Mumbai's voting pattern, South Mumbai, where the elite live, has a track record of low voter turnout. The voting pattern in the western and eastern suburbs and among the poor and middle class pockets also varies.
Mumbai city once had Area Locality Management groups, quite on the lines of the community groups in the United States. It was a unique idea to involve citizens with civic authorities to get decisions implemented at the local level and get schemes and projects implemented.
While it was active for the first year, and later in some pockets, today it has died a natural death, due to lack of citizen involvement.
AAP worked as a non-governmental organisation with citizens for a few years. It took up civic issues and became the via media between the authorities and citizens.
AAP then went a step ahead and entered politics. It is said you need billions of rupees to fight elections in India. The AAP candidates did not have that kind of money or backing. We have been told time and again by the media and experts that politics isn't meant for ordinary citizens.
The middle class and elite in Mumbai may seem disgusted with corruption and want change. But they are not the kind to step out on the roads and protest or demand change. That happened in one case post-26/11.
Unlike Delhi, Mumbai's citizens would rather have someone else do their work for them.
The fascination for something new is a strong attraction, but we also saw how curiosity after the first Anna Hazare fast changed to disdain in a few days.
Mumbaikars prefer talking about issues, raging and ranting on social media than coming out and taking a stand.
And talking of politics, the AAP rode on negative votes. Track records show that the shelf life of a negative vote is limited. It would need more networking and advocacy action to sustain the movement.
Meanwhile, people from Mumbai and other cities in the state will have to decide the course of action they want -- a real change or one that is only part of anti-incumbency.
The next few months will tell us the status of the AAP in Delhi, what it becomes will also eventually impact whether citizens would want such a model replicated in Mumbai or opt for one from the existing system.
Image: AAP leader Arvind Kejriwal