'While high-level interventions may help smoothen inter-State relationships, they cannot fundamentally change the alchemy of such relationships, which are firmly rooted in mutual benefits and mutual interests,' points out Ambassador M K Bhadrakumar.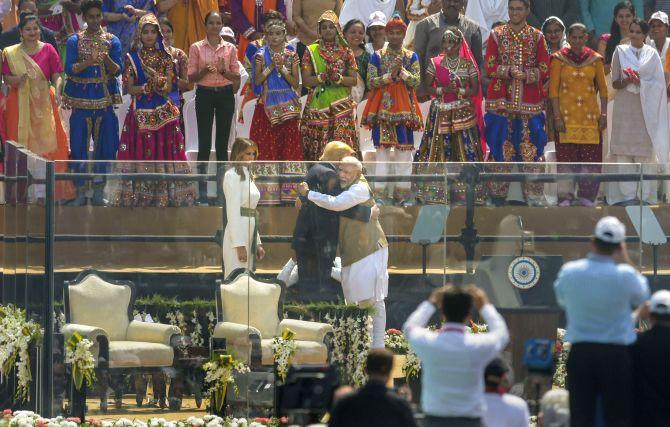 The distinctly low-key rhetoric in America in the run-up to US President Donald J Trump's visit to India stands in sharp contrast to the traditional approach to such high-level events in recent times.
The American think-tanks and mainstream media were largely indifferent, and as it turned out, the media turned its eyes more on Delhi burning and writhing in paroxysms of mindless communal violence than on the Modi-Trump bromance.
The American strategic community appears to have pre-judged that this visit was largely about Trump's political campaign in the November election.
On our part, too, we have made much out of a 'personal chemistry' that is apparently existing between Trump and Modi, which helped turn attention away from the substance of the visit.
Both are tough gorillas in the political jungle and we can draw similarities between them in many respects. Their bonhomie should not be exaggerated.
America is a great power and has global concerns and responsibilities and it always acts in self-interests. The best evidence of it was Trump's provocative reference to Pakistan during his Motera Stadium speech with Modi listening on his side.
It was never far from Trump's mind that Pakistan would be watching every word of his, every move of his, while in India, and the US interest at this point in time, lies in nurturing his 'personal chemistry' with Imran Khan.
The good part is that India also is cognisant that life is real. Thus, the 'working visit' to Delhi and Mumbai of two top leaders from the Crimea -- Deputy Prime Minister Georgy Muradov and Finance Minister Irina Kiviko -- while Trump was in town was indeed rich in symbolism.
Now, for the benefit of the uninitiated, these visitors from the Crimea also happen to figure in the Trump administration's 2016 sanctions list for 'asserting governmental authority over a part or region of Ukraine without the authorisation of the government of Ukraine.'
Muradov has been additionally sanctioned for being responsible 'for or complicit in, or having engaged in, directly or indirectly, actions or policies that threaten the peace, security, stability, sovereignty, or territorial integrity of Ukraine.'
According to a Russian embassy readout, the two Crimean officials held meetings in India 'in a friendly and constructive atmosphere as has been a tradition between the two countries' (Russia and India) and that 'opportunities with potential for the development of economic, trade and investment cooperation with the Peninsula were presented.'
Wuhan, Sochi, Ahmedabad -- they become milestones in Modi's 'personal chemistry' with Xi Jinping, Vladimir Putin and Trump.
The point is while high-level interventions may help smoothen inter-State relationships, they cannot fundamentally change the alchemy of such relationships, which are firmly rooted in mutual benefits and mutual interests.
It goes to the Modi government's credit that it has negotiated hard with the US in the best traditions of Indian diplomacy.
One can say with reasonable certainty that the trade deal with the US or the commercial contract with Westinghouse to build six nuclear reactors will take time to finalise.
The defence deal apart, Trump's visit has no concrete results and that defence deal itself is about 'America First'. Modi's flagship 'Make in India' sailed empty.
The bottom line is that Modi has tried hard to facilitate Trump's wooing of Gujarati voters in the Indian Diaspora in north America and had his calculation too of quid pro quo.
Trump will not come down harsh on India over the crisis in Jammu and Kashmir and will look away from the Modi government's anti-Muslim policies and the incremental curbs on the minority communities's right to religious freedom.
Conceivably, Israel's Binyamin Netanyahu advised Modi to think on these lines -- so along as God is in the heaven and Trump is kept happy, one can get away.
But such Faustian deals have their flip side, too. For a start, there are limits to Modi's influence with the Indian Diaspora in the US, who are a far better educated lot than the average Indian, and are genuinely capable of forming opinions on their own.
Again, Trump is a highly toxic subject in the US, especially among the intelligentsia who traditionally rooted for a value-based US-Indian relationship.
Our ruling circles may ridicule them as America's 'Tukde Tukde Gang', but they are a hugely influential segment of opinion in the US, and often the drivers of foreign policies.
All signs are that they are a bewildered lot today, alienated by the surge of Hindu fundamentalism.
Typical of this is the stunning remark on Wednesday by Richard Haas, president of the Council on Foreign Relations in New York and a highly respected voice in the US strategic community:
'One reason for India's relative success has been that its large Muslim minority saw itself as Indian. But this is at risk owing to government attempts to exploit identity politics for political advantage. Truly short-sighted as both economically, socially costly.'
Now, this is the disillusioned voice of a highly influential friend of India.
Therefore, does it really matter if Trump thinks Modi is 'a very religious man'... 'a very calm man'? It cuts no ice.
When we look beyond the Modi-Trump bromance, India gains nothing out of it. On the other hand, it sullies India's image in large swathes of American opinion when Modi unnecessarily wades into American politics.
It is possible that Modi may get Trump as his interlocutor in the White House all the way till 2024. But even then, the gambit makes no sense since the 'bipartisan consensus' among American elites apropos US-Indian relations was our strategic asset in the Beltway and it is irreplaceable.
Besides, Trump in a second term may not live up to Modi's expectations. Trump's mind is known to wander and priorities will change if he peaks as two-term president. Nasty surprises may be in store for the Hindu nationalist elite.
The US-Pakistan relationship is evolving and it is reasonably certain that an upward swing can be expected. Pakistan is important enough on Thursday for a 'bilateral' by Wilber Ross, the American investor and Trump's secretary of commerce.
Simply put, Pakistan has become a frontline State of the US's Indo-Pacific strategy. US diplomats recently began a frontal assault on the CPEC and they are in league with the 'Westernist' Pakistani elite.
Whatever residual scope of a containment strategy against China will be tested in great desperation on the Pakistani turf in the period ahead.
Looking ahead, the budding US-Pakistani alliance will discredit our demonisation of Pakistan and will not remain indifferent toward the Modi government's anti-Muslim policies in J&K and elsewhere.
Trump's first tweet on return home didn't mention PM Modi. Of course, he may send the customary message of thanks -- or even call up Modi. But his mind has wandered away. No surprises here.
In the final analysis, the American economy is not going to crash before November because of the puny $16 billion dollar trade deficit with India. But Trump finds it useful to poke India (while flattering Modi at the same time).
Modi probably understands the game. Recently, in full view of the upcoming Trump visit, he didn't grant an appointment to Amazon boss Jeff Bezos, the richest American with a personal wealth estimated to be in the region of $114 billion. Bezos visited the Taj Mahal and returned home.
---
Ambassador M K Bhadrakumar served the Indian Foreign Service for more than 29 years. He served as India's ambassador to Turkey and Uzbekistan and has been a contributor to Rediff.com for well over a decade.