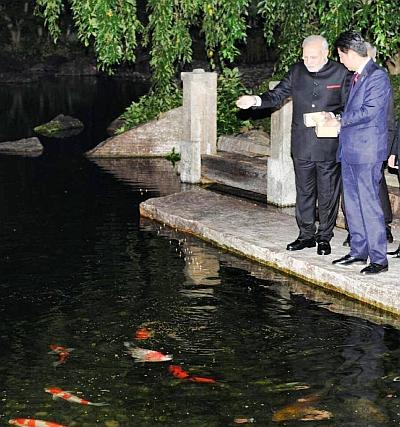 Prime Minister Narendra Modi enjoys a close relationship with Shinzo Abe.

For Abe, "a strong India is in the best interest of Japan, and a strong Japan is in the best interest of India."
After disappointing the Japanese by cancelling his earlier scheduled trip to their country in early July, Prime Minister Narendra Modi is leaving no stone unturned in making sure his visit to Japan is viewed as a success. He is tweeting in Japanese underlining his excitement at meeting his Japanese counterpart and underscoring the need to take "time-tested" bilateral ties to new heights. The two nations are hoping for major deliverables from the visit on nuclear cooperation, defence and trade.
India-Japan ties are expected to get a major boost from the personal camaraderie of Modi and his Japanese counterpart Prime Minister Shinzo Abe. Both leaders are emblematic of a new, ambitious and nationalistic Asian landscape. They have decisive mandates to reshape the economic and strategic future of their respective nations and they are already using it with great flourish.
Modi has already underlined that India and Japan share a "fundamental identity of values, interests and priorities." Japan's economic and technological development has inspired Modi to emulate the Japan model. Japan was supposed to be his destination abroad outside South Asia for his first bilateral visit. But the budget session of the Indian Parliament precluded this from happening. Moreover, Modi wanted his visit to showcase some concrete deliverables. Modi wrote personally to the Japanese prime minister to express his regret for not being able to visit Japan in June.
Modi enjoys a close relationship with Shinzo Abe, being one of just three people followed by the Japanese prime minister on Twitter. Abe, a longstanding admirer of India, has been a strong votary of strategic ties between New Delhi and Tokyo. For Abe, "a strong India is in the best interest of Japan, and a strong Japan is in the best interest of India." He was one of the first Asian leaders to envision a "broader Asia", linking the Pacific and Indian Oceans to form the Indo-Pacific.
And as Abe has gone about reconstituting Japan's role as a security provider in the region and beyond, India, of all Asia's powers, seems most willing to acknowledge Tokyo's centrality in shaping the evolving security architecture in the Indo-Pacific. At the annual Shangri-La Dialogue in Singapore in May 2014, Abe claimed a larger security role of Japan in Asia by assisting countries like the Philippines which have territorial disputes with China, suggesting that "Japan will offer its utmost support for the efforts of the countries of Asean as they work to ensure the security of the seas and the skies." He went on to underscore the United States-Japan-India cooperation as being a driving force for regional security and prosperity of the Indo-Pacific region.
Modi would like to use his personal connection with Abe to consolidate national ties. The Japanese corporate sector is enthused by Modi's victory and looking to boost its presence in India. Modi will be building on his personal ties with the Japanese businesses which were cemented during his tenure in Gujarat, to give a fillip to Japanese investment in India. India is the largest recipient of Japanese foreign aid. The Japan International Cooperation Agency has been involved in the funding of Delhi Metro, India's biggest subway system, and has agreed to fund the next phase of the Mumbai subway. Japan is expected to play a major role in a number of high-profile infrastructure projects, including the completion of the ambitious Delhi Mumbai Industrial Corridor, a Chennai-Bangalore Industrial Corridor, and a Dedicated Freight Project in southern India. India has also invited Japan to invest in infrastructure projects in India's northeastern region, where tensions with China loom large. India has expressed keen interest in buying the Japanese amphibious aircraft US-2i -- a deal of around 15 planes worth more than $1.5 billion.
To underline growing maritime cooperation among nations in Asia against China's onslaught, Japan joined warships from the US and India last month in joint exercises in the Pacific Ocean. The Malabar series of joint US-India naval exercises are an annual affair but earlier this year in January India invited Japan to join this year's drills. China had reacted angrily in 2007 when Japan, Australia and Singapore had come together with the US and India for the Malabar exercises. Under pressure from Beijing, New Delhi had backed off and since then had refrained from making these exercises multilateral. But China's growing maritime ambitions in the Indian Ocean region and greater assertion on territorial issues has led India to a more forceful posture, resulting in an invite to Japan this year.
China recognises these trends and has been reaching out to the Modi government, both via bilateral and multilateral means. China and India, as part of the larger BRICS grouping, took one step towards challenging Western dominance of the global economic and financial order last week when they decided to set up the New Development Bank, headquartered in Shanghai, to finance infrastructure and development projects. At the bilateral level, Chinese Foreign Minister Wang Yi, who visited Delhi in June as a special envoy of the Chinese president to meet the new Indian leadership and boost bilateral ties, saluted the new Modi government for injecting "new vitality into an ancient civilisation." In an attempt to woo New Delhi at time when Chinese relations with Japan and Southeast Asian nations including Vietnam and Philippines have been deteriorating, he underlined that China was ready for a final settlement of its border disputes with India and prepared to invest more in India.
But India's tensions with China show no sign of abating and Modi remains a nationalist looking to raising India's profile on the global stage. At a time when China has alienated most of its neighbours with its aggressive rhetoric and actions, India has a unique opportunity to expand its profile in the large Asian region and work proactively with other like-minded states to ensure a stable regional order. Given the Modi-Abe connection, many are expecting a paradigm shift in India-Japan relations during Modi's visit to Japan. Whether or not that happens, Japan will continue to be a priority for India in the coming years.

Image: PM Narendra Modi and his Japanese counterpart Shinzo Abe begin engagement in Kyoto following the tradition of feeding the fish. Photograph: MEA/Facebook