'You can never say never in politics.'
'We may still see the return of AAP, but hopefully not of the same abusive politics again,' says Shekhar Gupta.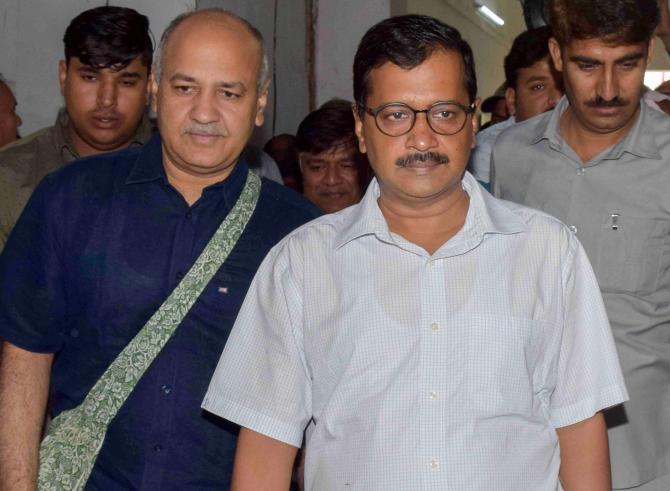 IMAGE: Delhi Chief Minister Arvind Kejriwal with Deputy CM Manish Sisodia. Photograph: PTI Photo
There is no precise, carbon-dated moment of the birth of the Aam Aadmi Party. Technically, it could be August 4, 2012 when its first founders, after calling politics a cesspool in their anti-corruption campaign, announced that they were themselves taking the plunge.
In my book though, its origin dates back to some moment in 2010 when the India Against Corruption campaign hit the streets, and found Anna Hazare as its mascot, brand ambassador and chief trumpeter.
The conductor of the orchestra, nobody had any doubt, was young Arvind Kejriwal.
This new force remained amorphous. It never had a firm manifesto or agenda, except that it wanted to fight corruption with one weapon of mass destruction (of this evil), called Jan Lokpal.
There was no ideology. This was useful as it allowed people from all corners to come and share its stage, and bask in Anna Hazare's new, prime time and social media-fuelled glory.
Theirs was a platform so ideologically anodyne that two men in saffron, but with totally opposite world views, Swami Agnivesh and Baba Ramdev, could share it.
It gave space also to both, lawyer Prashant Bhushan on the Left and poet Kumar Vishwas on the Right.
Many well-meaning young people in the media found its irreverence and idealism attractive and came on board. Manish Sisodia, Ashish Khetan and Ashutosh are only the most prominent examples.
It was also a big tent for activists -- from Medha Patkar to Akhil Gogoi to Mayank Gandhi. Many professionals (Meera Sanyal), retired senior bureaucrats (Arun Bhatia in Pune), and judges (Santosh Hegde) were drawn to it.
As were liberal intellectuals of the Left-of-Centre bent -- Yogendra Yadav being the most prominent.
In those heady years, you had to be nuts to question the movement's motivations, methods, and mythologies it was building.
We did some of that, were pilloried and abused in response as you'd expect.
The main question we asked, however, was: What does the group stand for? We were directed to Arvind Kejriwal's short, self-written, manifesto.
A reading of it proved it to be just a few hollow mythologies strung together. Our point was, you can't build a sustainable politics without an ideology and that merely being anti-corruption won't suffice.
The question, we were told, is not only irrelevant but loaded. How dare we raise it? How can they have a political ideology when their war cry was: Mera neta chor hai (My leader is a thief)?
Parliament was called a den of thieves and dacoits.
The Jan Lokpal was to be manned exclusively by non-politicians, including from among winners of Nobel and Magsaysay awards, the Central Bureau of Investigation was to be the new sovereign, neighbours were to spy on each other.
Inevitably, though, 'left with no choice if we want to change the system', they decided to become netas one afternoon. An afternoon of happy, I-told-you-so vindication for observers like this one.
As a smart popular movement run by people a couple of decades younger than the norm, morphed into a political party, they faced a predictable challenge: A lack of cohesion. With the glue of the cause washed away by power.
The motivation now was not to eradicate corruption but, at best, to govern in a clean manner and set an example.
This never works. A good example is the failure of Assam's super-popular students movement to become a durable political party.
They swept their first election in 1985, much like the AAP but with the cause (expelling foreign nationals) in suspended animation, could not stay together.
Today, many of those anti-foreigner movement leaders are in the Bharatiya Janata Party. They include the chief minister, Sarbananda Sonowal, and the face most familiar to us, his most important minister, Himanta Biswa Sarma.
The largest remaining faction of the Asom Gana Parishad (the political avatar of the Assam movement) is now a junior partner with the BJP, after sharing power with the Left in the past. Diagnosis: The cause gone and no ideology to fill the gap, it became every man for himself.
The AAP has faced a similar situation, but with one difference. Several of its eminent founders have walked away, mostly bitter.
Two of the most prominent ones, Yogendra Yadav and Prashant Bhushan, have launched a rival, more socialist political party.
Some are venting their frustration in different ways: Anna, by frequent criticism of 'power-hungry' Kejriwal, to Mayank Gandhi who recently published an angry book. And the ministers he has junked who keep tweeting abuse against him.
The latest, now, is the leadership of the party in Punjab, a state it had seemed set to conquer just over a year ago, marking its arrival as a national force.
The one difference, however, is that unlike AGP and other smaller political forces that rose from popular movements, the AAP has a pre-eminent, unchallenged Supremo, Arvind Kejriwal.
Over these eight years since 2010, he has proved as ruthless a practitioner of power politics as Narendra D Modi.
As a result, his party has dropped old idealism, youthful innocence and grown into a personality cult with no hierarchy.
When it comes to any challenge or competition Kejriwal, like Modi, works on the principle of jo hum se takrayega, choor-choor ho jayega, the heartland war cry meaning whoever messes with us will be crushed into rubble.
But, for both -- the challengers within the party and the rivals outside -- he has followed another tactic: Of hurling the wildest abuse and accusations, mostly hitting at the other person's integrity, often below the belt, and never mind that he has no facts or evidence.
Everything in real life comes with a use-by date. The tactic of intimidate-by-wild-abuse was based on three factors.
First, that his own incorruptible image will make the charges stick.
Second, the belief that he is such an intrepid insurgent that these attacks would draw popular adulation and demoralise his targets.
And finally, that even if his victims go to court, the process will go on forever.
That created a sorry political paradox -- that India's youngest political party, with the best educated leaders, was also its coarsest.
All three factors have now changed.
Three years in power, where he has had to drop his own hand-picked party-men from his cabinet on charges ranging from corruption to moral turpitude have taken away the sheen of incorruptibility.
The speed with which the legal processes moved in his face-off with Arun Jaitley intimidated Kejriwal himself instead. He knew that the legal challenges he was facing -- more than 30 -- from victims of his abuse were formidable and hopeless from his point of view.
That is why this retreat.
Which, in turn, takes away the second of the three reasons for the success of his shock-and-awe politics: His image as an intrepid insurgent.
The AAP is a fraction of the political power it was three years ago. It is still powerful in Delhi, its populism, combined with the diligence of some of its volunteers having built a strong constituency among Delhi's poor.
The middle class has dumped it, but it will still win a re-election in Delhi today.
But to be a Mamata Banerjee equivalent confined to the half-state of Delhi is not what Kejriwal and his party had set out to be. They had come to change the system, save India (hum desh ko bachaane aaye hain, was an often used line).
That is now over. Can they raise themselves again?
You can never say never in politics. We may still see the return of AAP, but hopefully not of the same abusive politics again.
By special arrangement with ThePrint