'There is no danger of the suggestion being accepted in a hurry, as we are still discussing the design of an IFS tie and trainee officers are still taught how to handle forks and knives,' says Ambassador B S Prakash.
Illustration: Uttam Ghosh/Rediff.com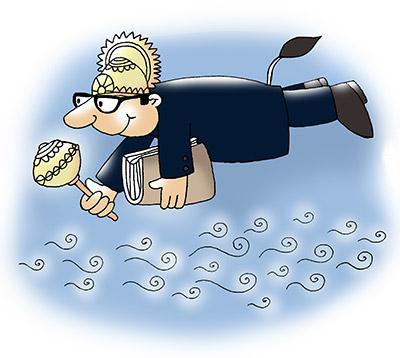 In my experience, successful diplomats are of two types.
The first group are quiet and contemplative by nature. They are eternal students in their chosen area. They love to observe and analyse, send long and learned dispatches to their foreign ministries, are often cautious in inter-personal relations or in adventurous action. They defy the image of whiskey swilling, back slapping diplomats, so beloved by the media.
The second group is different in temperament and appetites. They are energetic to the point of being restless, are pro-active, and not content with mere reflection are impatient for results. They are gregarious and make life-long friends, wherever they go.

Like death and taxes, retirement too is an inescapable fact, and it affects the two types differently. The 'thinkers' turn to writing and academics. The 'doers' plunge into myriad activities and become even busier than what they did in their elevated but isolated state as Ambassadors.

Well, some actually do both.

These thoughts surfaced after I looked at a new book by my colleague, boss and friend -- a combination possible only in the Foreign Service, I may add, and far more unlikely among our brethren in the IAS -- T P Sreenivasan.

Intriguingly titled Applied Diplomacy, it is a lovingly and competently produced volume by Wisdom Tree of TPS's thoughts and writing, in the decade since retirement. To add additional mystery to the title, the very imaginative editor Divya S Iyer (more about her in a moment) adds the words 'Through The Prism of Mythology' to the title.

Habitual readers of Rediff -- and I know from my own association with this space that there is a large class of them, who can only be described as tech-savvy Global Indians -- know Ambassador T P Sreenivasan through his columns on varied topics, for over a decade.

I recall the time when I was heading the UN division in the Ministry of External Affairs, a job he had held a decade earlier. He walked into my office in South Block, his usual cheerful self, this time on his way to Kerala after retirement.

I had asked the inevitable question: 'And now, what do you plan to do?' He had said 'something different and something independent,' meaning to cut the dependency that all of us develop in the government patronage system.

Soon thereafter, I started seeing his columns on Rediff, to start with vignettes of interaction with the powerful and the famous like Narasimha Rao or I K Gujral or Angela Merkel. These stories under the banner 'Encounters' recounted the tales of the celebrities that a diplomat comes across, but they were told without invoking awe or reverence.

TPS had the innate sense of a journalist, to bring in the human angle, to see the humour in a grave situation even when he was being expelled from Fiji for political reasons, or when he and his wife were assaulted in Nairobi, again for conveying a message to Indians.

I realised then that he had indeed started doing something different and independent.

It is only after looking at the recent book that I realised how wide-ranging his activities in the last decade has been. Just to mention randomly some of his passions and programmes: A long running television show in Malayalam, starting and anchoring a think-tank, heading a Civil Service Institute to encourage the young to join his chosen path, writing and lecturing all over Kerala, elsewhere in India and the world, helping Shashi Tharoor to cultivate his electoral turf, advising the IAEA on matters nuclear and in the process, revising his own views on the risk-benefit equations of nuclear power, joining other strategists in the serious work of the National Security Advisory Board and much more.

And in recent years being roped in by the state government to advise on higher education. Certainly, not a retiring man, but more a tireless karmajivi.

Invoking karma and dharma is necessary in the context of the book. The term 'Applied Diplomacy' is appropriate since many of the subjects covered relate to the wit and wisdom of diplomacy being applied in diverse situations -- literary craft, decision making in management, fashion -- and such like.

As I said before, the editor Divya S Iyer has brought in the seven chiranjeevis from our mythology as an organising principle to cluster TPS's writings.

Thus, Vyasa, the story teller for tales, Mahabali for descriptions of Kerala, Vibheeshana for counselling the wayward and so on. This kind of labelling has its risks.
I was amused by American power being likened to Ashwatthama's arrogance and destructive accomplishment. Americans themselves may like to be compared to Kripacharya, impartial and wise, an honour that has been conferred on the UN.

Sreenivasan's writing under all these clusters and on disparate subjects is always elegant and measured. If I may again resort to Indian tradition, he combines the rajasik and the saativk attributes in his persona and writing: Energetic and thoughtful.

It is a relief to see a diplomat who does not rave or rant or get red in the face at the very mention of Pakistan or China. He offers a balanced view on most issues, but disproves the notion that to be balanced is to be boring. His easy-going style, collegial nature and curiosity about the world around him comes through.
As a fellow diplomat who too has enormously enjoyed the profession and representing India, it is delightful to see him describe himself as an evangelist for the Indian Foreign Service.

Divya Iyer suggests Hanuman as the mascot of the Indian Foreign Service. There is no danger of her suggestion being accepted in a hurry, as we are still discussing the design of an IFS tie and trainee officers are still taught how to handle forks and knives!
In a beautiful quotation from Valmiki Ramayan she describes in Rama's words, the qualities of a good diplomat. I am sure, T P Sreenivasan is not exactly over eager to be compared to Hanuman, but some of the description did seem familiar, having known him:

'There is no grimace on his face, forehead or brow, nor any inappropriate gesture from any other part of the body. His diction is neither too expansive, nor elliptical, neither too slow nor too fast. The thoughts in his heart, escaping his throat, are expressed in a medium tone. His language is cultured, attractive, and beatific, and his manner neither gushing, nor tardy...'
For earlier columns by Ambassador B S Prakash, please click here.
For earlier columns by Ambassador T P Sreenivasan, please click here.