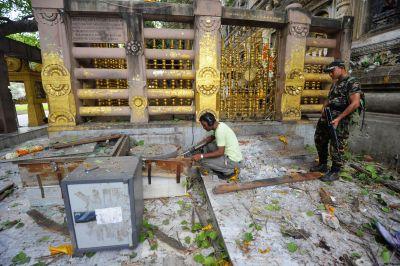 The most basic reality of a dysfunctional enforcement apparatus across India will ensure that coordinated terrorist attacks, like the Bodh Gaya strike, will continue to occur, notes Ajai Sahni.
At least two monks, a Burmese and a Tibetan, were injured in a coordinated terror attack, in and around the Mahabodhi temple (the Temple of the Great Awakening, where Buddha is believed to have attained enlightenment) complex at Bodh Gaya in the Gaya district of Bihar on Sunday. The Bihar Police has confirmed that ten low-intensity serial blasts occurred between 5:30 and 5:58 am at and around the World Heritage site.
Union Home Minister Sushilkumar Shinde confirmed, "Today I have the information of 10 blasts. A total of 13 bombs were placed there… Two persons have been injured -- 50-year-old Dorji and Bala Sanga (30)." Two live bombs were detected and defused at the complex, while a third bomb was recovered near the Royal Residence hotel at Baiju Bigaha village, about four kilometres from the Mahabodhi temple.
Examination of three unexploded bombs revealed that small LPG cylinders had been used as containers to pack explosives suspected to be a mix of ammonium nitrate, potassium and sulphur, and, according to the National Security Guard's explosive experts, "it would be wrong to call the bombs crude".
Sources suggest that this is the first time gas cylinders have been used as containers for explosives. Investigators believe that the damage could have been far greater, but for the humid conditions currently prevailing in Gaya, which may have affected the explosive materials. Some instructions in Urdu were reportedly found along with the bombs recovered and defused in Bodh Gaya, including instruction to target Bara But (big statue) and 'bus', while another message declared that the operation was intended to avenge what had happened in Iraq.
The incident has provoked the usual speculative storm in the media, this time about the opening of a 'new front'. Bihar has not witnessed any major Islamist terrorist attack in the past, and Buddhist sites across India have also remained exempt from such strikes.
Again, the usual clamour about security and intelligence failures has also been raised. Fairly specific intelligence regarding an imminent threat to the Bodh Gaya site in particular, and Buddhist targets in general, particularly in the wake of the organised attacks against Rohingya Muslims in Myanmar, had been communicated to the Bihar government.
Despite these, rudimentary processes of access control and surveillance appear to have been ignored, even as the terrorists succeeded in planting at least four explosive devices within the core area of the shrine.
Rarely has precedent intelligence been as specific as it was in the case of the threat to Bodh Gaya. Most significantly, Indian Mujahiddeen operatives Syed Maqbool, Asad Khan, Langde Irfan Mustafa, Imran Khan and Syed Feroz aka Hamza -- all arrested by the Delhi Police Special Cell in September-October 2012 -- had revealed during interrogations in October 2012 that Dilsukhnagar in Hyderabad and Buddhist temples in Bodh Gaya had been reconnoitered by them on instructions from Pakistan-based IM founder Riyaz Bhatkal.
Crucially, twin blasts had been engineered in Hyderabad's Dilsukhnagar on February 21, resulting in 17 killed and 117 injured, confirming the reliability of the disclosures. Other targets where the four had carried out reconnaissance included Delhi's Chandni Chowk and Sadar Bazar; Mumbai' McDonald restaurant at Andheri station, shops near the Santa Cruz station, the Dadar bus stop, Chhatrapati Shivaji Terminus and Panvel station, as well as some areas in Bandra and Jogeshwari. All these are crowded public places which could be expected to yield significant mass casualties in the event of an attack.
All the reconnaissance operations were approved by the Bhatkal brothers, and sources indicate that a meeting for the Bodh Gaya survey was held in Hyderabad in 2012 at the house of Obaid-ur-Rehman, a key accused in the Dilsukhnagar twin blasts.
Delhi's special cell had sent an intelligence advisory in October 2012 to Bihar's director general of police and the Gaya superintendent of police, warning about a possible strike.
Significantly, again, during the a National Investigation Agency team's interrogation of the 26/11 Mumbai attacks accused David Headley in the United States in June 2010, Headley had claimed that the Lashkar-e-Tayiba had prepared a video on the Mahabodhi temple and was planning to trigger blasts there.
The Intelligence Bureau had also warned Bihar twice over the past three months that Bodh Gaya was on the hit list of terrorist groups, with sketches of two suspects sent just a fortnight before the attack. These reports had even been published in the media, specifically mentioning the targeting of Buddhist temples in reaction to alleged atrocities on Rohingya Muslims in Myanmar.
Indeed, the threat to Bodh Gaya in particular, and to wider Buddhist targets in general, has been some time in existence. Lashkar-e-Tayiba chief Hafiz Mohammad Saeed had tweeted, on June 14, 2013, "Indian government is working in cahoots with Burmese government to wipe out Muslim population of Burma"; and again, "It is also an obligation on the whole Muslim Ummah to defend the rights and honour of Rohingya Muslims in Burma."
Even earlier, Ustad Farooq, the head of Al Qaeda's 'preaching and media department' for Pakistan, had warned, in September 2012, that the killings of Muslims in Myanmar and Assam "provide impetus for us to hasten our advance towards Delhi… I warn the Indian government that after Kashmir, Gujarat… you may add Assam to the long list of your evil deeds."
The Union Ministry of Home Affairs has now issued an advisory to all states, asking them to beef up security at Buddhist shrines and Tibetan settlements, as these could be targeted by radical outfits "in the light of clashes between Rohingya Muslims and Buddhists in Myanmar in the recent months".
Radicalised Rohingyas have also established linkages with Islamist organisations and with the Inter Services Intelligence in Pakistan. Intelligence sources indicate that, in recent months, both LeT and other groups have taken Rohingyas to Pakistan for training.
Significantly,US, Bangladeshi and Singapore intelligence agencies have documented information on Rohingya Muslim radicals training at a LeT camp in Pakistan in May 2012.
India's Research and Analysis Wing had, in January 2013, indicated that LeT was trying to establish a toehold in Myanmar's Arakan area, had created a group, the Difa-e-Musalman Arakan (Defence of Muslims in the Arakan), and was mobilising cadres to fight the Myanmar government.
The R&AW also underlined links between Rohingya radicals and groups such as Jaish-e-Mohammed of Pakistan, and Harkat-ul-Jihad al-Islami and Jamaat-ul-Mujahideen of Bangladesh. A new group called the Jamaat-ul-Arakan had also been formed, and was said to be running training camps in the remote Bandarban district of Bangladesh, adjoining Myanmar.
The R&AW claimed that Rohingya radicals were receiving funds principally from Saudi Arabia, training from Pakistan-based operatives, and weapons sourced from Thailand. Crucially, the Institute for Conflict Management has tracked linkages between Rohingya radicals and Pakistan-backed Islamist terrorist formations in Bangladesh since 1999.
Again, while no major Islamist terrorist incident has been recorded in Bihar prior to the Bodh Gaya serial bombings, Islamist terrorist linkages with the state have a considerable history. On February11, 2013, for instance, theMaharashtra Anti-Terrorism Squad chief Rakesh Maria disclosed, "While probing the Mumbai (July 13, 2011) and Pune serial blasts (Jangli Maharaj Road, August 1, 2012), we came across certain information. It's now clear that Ahmed Zarar Siddibapa, alias Yasin Bhatkal, Tabrez, alias Danial, and Ahmed, alias Waqqas, also took part in last year's Pune explosion. While Tabrez and Waqqas planted the bombs, Bhatkal was part of the conspiracy. The fourth person in the wanted list is Tahseen Shaikh, a Bihar resident."
Further, media reports indicate, Fasih Mahmood, one of the founding members of IM, also belonged to Bihar. He was an active member of the Students Islamic Movement of India and came in contact with the Bhatkal brothers while he was a student of an engineering college in Karnataka in 2000. By 2003, he had been recruited by Aamir Reza Khan, who was allegedly involved in the attack on the AmericanCenter at Kolkata and the kidnapping of the owner of a shoe company.
The ransom money from the kidnapping was allegedly used by Mohammad Atta in the US 9/11 (2001) bombings. While the actual operations in Pune and Mumbai were carried out by operatives from Pune and Beed in Maharashtra, and from Azamgarh in Uttar Pradesh, the responsibility for nationwide attacks had been vested in the "Bihar module", drawing cadres principally from Darbhanga, Samastipur, Nalanda and Munger.
According to media reports, of 14 IM operatives arrested in the recent past by various agencies, 13 are drawn from Bihar's Darbhanga district alone. Investigations by Delhi Police, which neutralised the Darbhanga module with half-a-dozen arrests in December 2011, and by the NIA, have revealed that IM's operations chief Ahmed Zara Siddibappa aka Yasin Bhatkal had been working on the Bihar module ever since the neutralisation of the outfit's Maharashtra and Azamgarh modules in 2008.
Reports also indicate that several of these suspects were alleged to be responsible for the February 2010 German Bakery blast in Pune; the Chinnaswamy Stadium blast in Bangalore (April 2010); the Jama Masjid firing in Delhi (September 2010); and the July 13, 2011 blasts in Mumbai.
Before executing the 13/7 Mumbai blasts, Bhatkal and his associates, including Bihar's Asadullah Akhtar, reportedly stayed in a Darbhanga village for over a year and even tested their bombs in a mango orchard there. Both Akhtar and Bhatkal are absconding.
Bihar has emerged as a principal operational base for Islamist terrorists, as general policing is weak, law and order have suffered abiding neglect, and the preparatory activities and transit of terrorists are unlikely to invite police attention in an environment afflicted by high levels of crime, a vibrant Maoist insurgency, and grossly limited enforcement capacities.
In the wake of the Gaya blasts, there has been much talk of 'security breach', and strident denials by various authorities in Bihar of any negligence. Ongoing investigations may shed some doubtful light on the specific failures that contributed to the success of the terrorist strike at the Mahabodhi complex.
However, it is the general security environment -- if at all the pervasive state of insecurity can be described as such -- in Bihar, and the abysmal state of the police there that lie at the heart of failure.
It is significant that Bihar has long had the lowest police-population ratio in India, presently at 67 (as on December 31, 2012, according to National Crime Records Bureau), as against a fairly dismal national average of 138. As regards other aspects of police functioning, again, Bihar fares poorly on almost every index of competence and modernisation -- this is a poorly trained, poorly equipped, demoralised police force, operating in an enveloping environment of corruption.
For a decade and a half, commencing 1990, regimes led, first, by Lalu Prasad Yadav and then by his wife Rabri Devi, actively undermined and destroyed every institution of enforcement and justice in the state.
Since his tenure commenced in November 2005, Chief Minister Nitish Kumar has succeeded in improving some indices of law and order management, but his exclusive reliance on a dubious 'development model' as a solution to all manifestations of political violence has compounded the neglect of the police and enforcement apparatus.
It is useful to note that Jharkhand, which was part of Bihar till November 2000, had a police-population ratio of just 38 in 2002, when Bihar's ratio was 69. While Jharkhand's police-population ratio had risen to 178 by end 2012, Bihar's had actually fallen to 67.
Interminable post-mortems of each terrorist excess -- of motives and actors and strategies and devices, and intelligence or security 'failures' -- will yield mountains of trivia, and a cacophony of opinions, but the most basic reality of a dysfunctional enforcement apparatus across India will ensure that such attacks will continue to occur.
And next time around, the weather may not be as kind as it was at Bodh Gaya, and the explosive devices may actually secure their lethal potential.
The author is editor, South Asia Intelligence Review; executive director, Institute for Conflict Management-South Asia Terrorism Portal.
Image: Security personnel inspect the site of an explosion inside the Mahabodhi temple complex at Bodh Gaya.
Photograph: Krishna Murari Kishan/Reuters