But his nature, temperament, his skill to listen to others, and empathise with their pain and hardships will make him a far better president, a leader America has been longing for four years, notes Aseem Chhabra.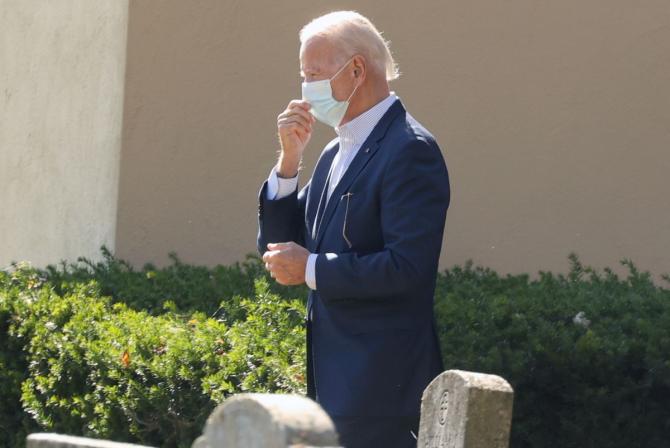 It has been over 72 hours since major networks and other news media outlets declared Joe Biden as the president-elect and Kamala Harris as the vice president-elect.
There were jubilant celebrations on the streets of every major city in the US.
People danced until late into the night.
It was the kind of celebration that the US had not witnessed in many decades.
One would have to go back to the end of the Second World War to see similar spontaneous celebrations erupting in the US and European cities.
On Saturday night (it was afternoon on the east coast of the US), after four tense days of manual counting of votes, the dark clouds of the Trump presidency -- with shades of fascism, had been lifted in a mostly clean and fair election.
The clear defeat of Trump has heralded the victory of a reasonable and a just man.
Joe Biden does not have a magic wand.
But his nature, temperament, his skill to listen to others, and empathise with their pain and hardships will make him a far better president, a leader America has been longing for four years.
He may not succeed every day, but he will be truthful, honest about the challenges he will face.
Biden's presidency will be defined by his ability to work for all Americans.
And it will be a major change from the past four years where the current president's sole goal was to promote himself, his family and check out the ratings of his television appearances.
Donald Trump is a self-absorbed man who refuses to listen to reason, acknowledge his mistakes and shortcomings.
Biden will be the opposite of that, and this alone gives people hope.
Biden supporters who danced all day Saturday into the night were relieved and celebrating this dramatic shift, a sea of change that is there in all of our futures.
But once the celebrations are over, we need to come to terms with the fact that nearly 70 million Americans voted for Trump, and like their leader, a vast majority of them are not ready to accept the election results.
This behaviour comes from the top.
Trump has made it clear that he will not accept the outcome of the elections.
So far, he has spent his time tweeting about what he thinks are irregularities in the vote counting.
He has never faced failure. And suddenly at the late stage in his life he has to accept that he has been defeated.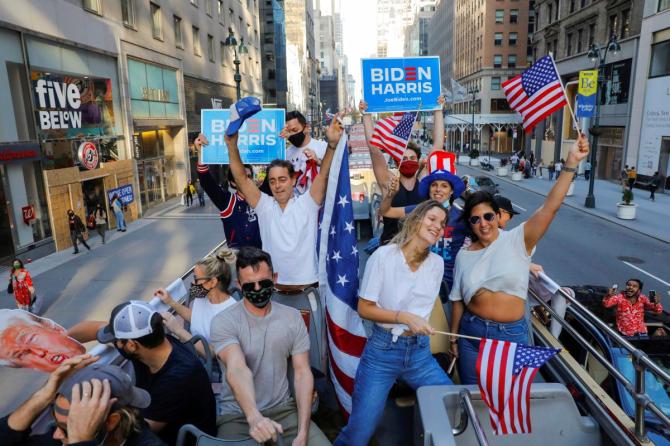 John McCain and Mitt Romney accepted defeat when they lost to Barack Obama.
Bob Dole acknowledged the fact that he lost to Bill Clinton, as did George Bush Sr. But Donald Trump is a different animal, quite unlike anyone we have seen in recent times in the US.
Days before the elections were held on November 3, conveys of Trump supporters showed up in New York City blocking highways and main avenues.
They came from outside New York wearing red MAGA hats.
They looked and felt different than regular New Yorkers.
I do not know who these people are and how they can support a bigoted racist like Donald Trump.
But they are not a small number and they cannot be ignored.
After Obama's election there were protests around the US organised by a small, disgruntled, group of Republicans.
The Tea Party movement involved fiscal conservatives who wanted lower taxes, but some clearly harboured racist sentiments over the election of an African American president.
I see Trump's hardcore supporters to be an extension of the Tea Party.
Trump's supporters tend to be white, with little college education, and they live in poorer suburbs and rural areas.
They believe that the educated elites of the cities in the northeast, west and other parts of the US, with a sense of fluency in race and gender, are going to tarnish the American quilt.
They don't like large patches in this quilt weaved in different colours, shades, where recent and older immigrants are taking over the jobs that they believe should have gone to whites who have been living in this country for centuries.
But they forget that all Americans have immigrant roots and only the Native Americans are the original sons of the American soil.
And most surprisingly while many of these Trump supporters are Christian and deeply religious, they overlook his failings, his low moral and ethical values, his disregard for the American democracy and the US constitution.
It is a world quite unlike the one I know in the US. But the pressure is already building for Joe Biden to reach out to this vast number of people and convince them that he is their president as well.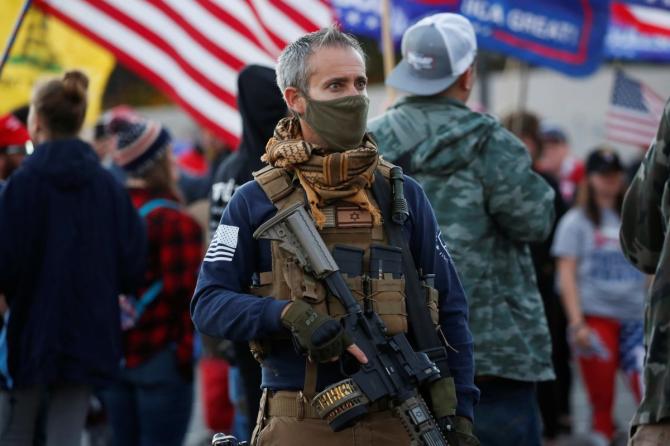 In 2016 after Trump won the election, President Obama called to congratulate him and invited him to the White House for a successful transition.
And then he spoke to the press, but actually more so to the supporters of Hillary Clinton.
'A lot of our fellow Americans are exultant today, a lot of American are less so,' Obama said.
'But that's the nature of campaigns, the nature of democracy. It is hard and sometimes contentious and noisy. It's not always inspiring. Sometimes you lose an argument. Sometimes you lose an election.'
'The path this country has taken has never been a straight line. We zig and zag. Sometimes we move in ways that some people think is forward, others think it is moving back. But that's okay.'
'I have lost elections before,' he added.
'That's the way politics works sometimes. We try really hard to persuade people that we are right. And then people vote. And then if we lose, we learn from our mistakes.'
'We do some reflection. We lick our wounds. We brush ourselves off. And we get back in the arena.'
'We go at it. We try even harder the next time. The point though is that we all go forward, with the presumption of good faith in our fellow citizens.'
That is what genuine leaders do.
They reach out to calm and encourage their supporters.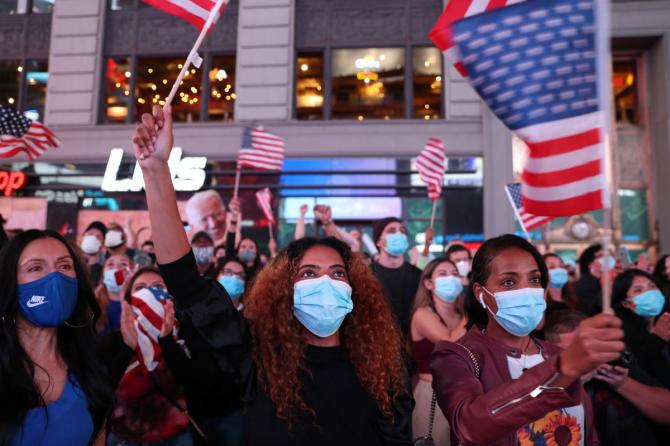 But alas Donald Trump was never been known to be a leader or a healer of any sort.
Where he goes from here is anybody's guess? This much is true -- he will certainly not call his supporters to move on.
Once people stop partying on the streets of America, they will soon realise this was not an easy victory.
And the path ahead is not smooth.
Senior Rediff.com Contributor Aseem Chhabra is director of the New York Indian Film Festival, an entertainment writer and author of Irrfan Khan: The Man, The Dreamer, The Star.
Feature Presentation: Aslam Hunani/Rediff.com