'A war is being fought in South Kashmir.'
'Do not underestimate your enemy, be sensible and cautious and be prepared for the worst if you choose to move in the region unprotected,' advises Sanjeev Nayyar.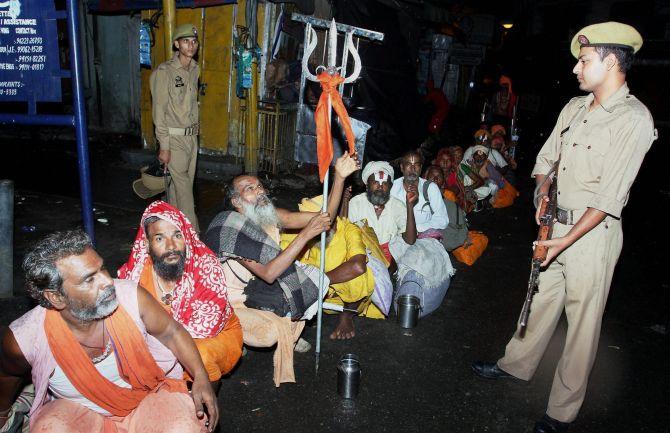 IMAGE: Security personnel keep a vigil as sadhus gather to head towards Kashmir to pay obeisance at the Amarnath shrine cave in Jammu, July 12, 2017. Photograph: PTI Photo
My heart goes out to the families of the seven Amarnath yatris who made the supreme sacrifice during their pilgrimage on Monday, July 10.
The loss of a near and dear one, especially in a terrorist attack, is a pain that remains forever.
It is only on Tuesday night that I saw a photograph of the ill-fated vehicle. What struck me was the Gujarat registration number.
Which brings to mind my own personal experience.
In October 2014, I drove from Poonch to Anantnag. From here, it is about a two hour drive to Verinag.
We left for Anantnag at about 6.15 pm. It was dark and we almost lost our way.
Every time we stopped and asked for directions, here is how the conversation went:
Car stops, the local first looks at the car number to ascertain where the car is from -- JK01 is Srinagar, JK02 is Jammu, JK03 is Anantnag, JK10 is Ladakh etc -- and then peeps in to see if you are a Hindu or a Muslim, tries to figure out which part of the country you are from, speaks to the driver to know his origins and then comes the advice!
Since our car had a Jammu registration and our driver Sharma is a regular to the Kashmir valley, we managed. But we were on tenterhooks since it was pitch dark.
My co-travellers were extremely tense. Since I had worked in Punjab during the Khalistan movement, I was not as stressed as the others.
So in my opinion, those who organised the yatra group which was attacked on Monday made two fatal errors.
One, hiring a Gujarat-registered vehicle, which helped in identifying them.
Two, in the hills, one should always hire a local driver.
Their knowledge of the landscape and people is always an asset.
A terrorist would gladly kill someone from Prime Minister Narendra Modi's home state as it would hurt him politically and could even make people question his policy of not talking to Pakistan and its supporters in Kashmir.
An even bigger mistake the yatris made was to travel after sunset.
It is reasonable to assume that terrorists and their local sympathisers would monitor the movement of vehicles and look for ones which break off from the convoy, get stuck in isolated spots and are foolish enough to be on the road post sunset.
The sad but unfortunate reality is that South Kashmir is a war zone now, anything can happen any time.
More so during the high profile Amarnath Yatra where terrorists get maximum publicity for killing pilgrims.
However, innocent pilgrims from the heartland are completely unaware of the situation on the ground. They believe the Amarnath Yatra is like going for the Char Dham in Uttarakhand.
But even god cannot protect you if you throw caution to the winds in a terrorism-affected zone.
Much is being made of the driver who is said to have saved many lives.
It is important for the National Security Agency to ask driver Sheikh and bus owner the following questions:
Did they register the vehicle at Lakhimpur and the base camp of Batal?
If yes, were they part of the security forces convoy all through their stay in Kashmir?
When the tyre got punctured and they were left out, did they contact the Central Reserve Police Force or the Jammu and Kashmir police for cover?
Why were they on the road after sunset?
Moreover, the state government needs to explain why it failed to make a single minister in-charge of the Amarnath Yatra who would monitor all issues.
A terror attack in Kashmir -- or the lynching of a cop with the surname Pandith -- makes politicians and liberals alike speak of Kashmiriyat.
Like secularism, Kashmiriyat is the most abused word today. Nobody knows what it means.
A war is being fought in South Kashmir.
Do not underestimate your enemy, be sensible and cautious and be prepared for the worst if you choose to move in the region unprotected.
It is unfortunate that even after being a victim of terrorism originating from Pakistan and supported by China -- and some fellow Indians -- for over 35 years, the average Indian treats matters of security lightly.
We fail to realise that every terror attack needs local support.
Not only that, we fail to appreciate the difficult situation in which the security forces operate, and cry hoarse every time a tough approach is taken.
Some want Indians to forget terror attacks and believe that everything is normal.
The 11th anniversary of the July 11, 2006 Mumbai train bombings, which left 188 dead and 1,400 injured, barely found a mention in Mumbai's newspapers on Tuesday.
Large sections of urban India are forever finding fault with the government. They do not want to be put to any inconvenience. They refuse to change, but want the government to clean up the mess.
Sanjeev Nayyar is an independent columnist.