For the family and supporters of blogger Avijit Roy, who was hacked to death in Dhaka in February, it is a time to reflect on where Bangladesh is heading, says Indrani Roy.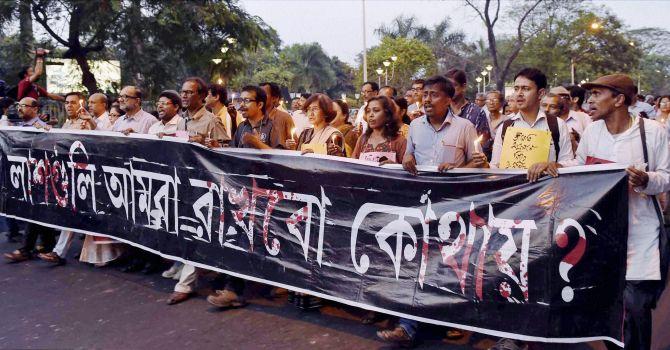 'Avijit used to love birthdays, they were always big celebrations in our house. Hope we can celebrate his special day in a different way this year, with lots of writings in Muktomona's English and Bangla blogs. That is something he would love to see,' Rafida Ahmed Bonya, the late Bangladeshi-American blogger Avijit Roy's widow, posted on Facebook recently.
In another post, she uploaded a photograph of Avijit and her with a heart-wrenching note: 'Our last big trip together to the Andes mountains. I can still see him exactly this way with his hand on my shoulder. Will he NOT be there ever in my life?' September 12 was Avijit's birthday.
February 26, he and his wife were brutally attacked near Dhaka University by machete-wielding assailants as the couple returned from a book fair. They were on a three-week trip to Dhaka from the US.
Grievously injured, Roy died in a Dhaka hospital. Bonya, who was seriously injured, lost a thumb.
Roy, a scientist with a penchant for writing, promoted free thinking and founded the blog platform Muktomona (meaning free thinkers in English). He was constantly threatened by religious zealots against visiting Bangladesh.
Roy's remarks about fanaticism angered many, including the Islamist group Ansarullah Bangla Tem, that claimed responsibility for the attack on him and his wife.
On its social networking platform, Ansarullah Bangla Team wrote that Roy's killing was to avenge American airstrikes on Islamic State.
Its post read: 'The target was an American citizen.. 2 in 1. #America recently martyred 2 of our brothers in #Khurasan & #Shaam. #Revenge+#Punishment.' Khurasan means Afghanistan and Shaam stands for Syria.
On his Facebook account, self-proclaimed Islamist Farabi Shafiur Rahman repeatedly threatened Roy with death on his visit to Bangladesh. Rahman was arrested after the murder.
Though Roy's killing sparked anger and protests in Bangladesh and elsewhere, it neither curbed the zealots nor did it end the 'systematic process of bloggers' murders in Bangladesh.
Shortly after Roy was hacked to death, blogger Washiqur Rahman met with a similar fate in Dhaka.
In May, another blogger, Ananta Bijoy Das, was killed in Sylhet.
In August, blogger Neeloy Neel was killed at his home in Dhaka.
All four men were on a list of 84 'atheist bloggers' drawn up by Islamist groups in 2013 and circulated on every possible social networking platform.
According to Imran H Sarkar, head of the Bangladesh Blogger and Activist Network, Neel had been an anti-extremist voice of reason. He had filed a police report expressing fear for his life, but his complaints were not 'followed up,' Bangladesh media reports said.
Why did the Bangladesh government fail to provide Neel protection?
Before each blogger killing, loud threats against the 'enemies of Islam' were heard. Yet Prime Minister Sheikh Hasina's government failed to act. Why?
In an interview to Rediff.com in April, Professor Ajoy Roy, Avijit's father, had said, "Bangladesh is a country of immensely organised terror outfits. Studies indicate that several international terrorist organisations, mostly from Saudi Arabia, regularly send funds to ultra Islamic groups in the country. It is very difficult to deal with these outfits through democratic means. Hence, fanatics are finding Bangladesh a safe haven."
According to a recent Press Trust of India report, Bangladeshi intellectuals suspect Pakistan's hand behind the brutal attacks and feel international intervention is required to ensure their safety.
'These attacks may be executed by radical elements here, but the brain behind those is the Pakistani establishment which has been vehemently opposing trials and sentences of war criminals,' blogger Imran H Sarkar was quoted by PTI as saying.
'Those attacks on bloggers and threats to liberal minded intellectuals are the handiwork of the Jamaat-e-Islami and other radical fundamentalist elements,' Sarkar told PTI.
All four bloggers who were hacked to death were not only critical of the rise of fundamentalism, but also were steadfast in their demand for severe punishment for the war criminals of the 1971 War of Liberation.
'We are living under a constant reign of fear that we might be killed any day. The fundamentalist and their handlers are very well aware of the power and the movement that bloggers and online activists can organise. The bloggers are easy targets as they don't belong to any political party,' Sarkar was quoted as saying by PTI.
Sarkar's views were shared by another blogger and intellectual, Kamal Pasa Chowdhury, who felt that the attacks could only stop if there is international intervention either by the United States or the United Nations to ensure the safety and security of bloggers.
"Bangladesh has ceased to be a secular country. Religious fanaticism has become the order of the day and everything is judged by and weighed against religion," Mohammad Iqbal (name changed), a Dhaka-based social activist and non-government organisation worker, told me over the telephone.
"The government of Bangladesh has miserably failed either to preserve secularism or to provide protection to the citizens against religious fanaticism."
"As we live amid constant fear and insecurity," Iqbal added, "we look up to the Western world and its various peace mechanisms to help us."
Just as Bangladeshis voiced their concern over the country's law and order situation, security forces arrested Ansarullah Bangla Team chief Abul Bashar and two others for their suspected links with the killing of bloggers Avijit Roy and Ananta Bijoy Das.
The Bangladesh government had banned Ansarullah Bangla Team in May over the bloggers' killings.
On being informed of this, by Rediff.com, Iqbal, the activist, breathed a sigh of relief. "Of course, it's a laudable success for the security forces. But just a handful of arrests won't help. The government has to take the most stringent action against violence and fundamentalism."
"We can't afford to lose the well-known spirit of the country at the altar of mad fanaticism."
IMAGE: Protestors march against the brutal killing of Bangladeshi-American blogger Avijit Roy in Dhaka, in Kolkata. Photograph: PTI Photo