'The social security system in India provides minimal support to the elderly poor,' says Geetanjali Krishna.
Illustration: Uttam Ghosh/Rediff.com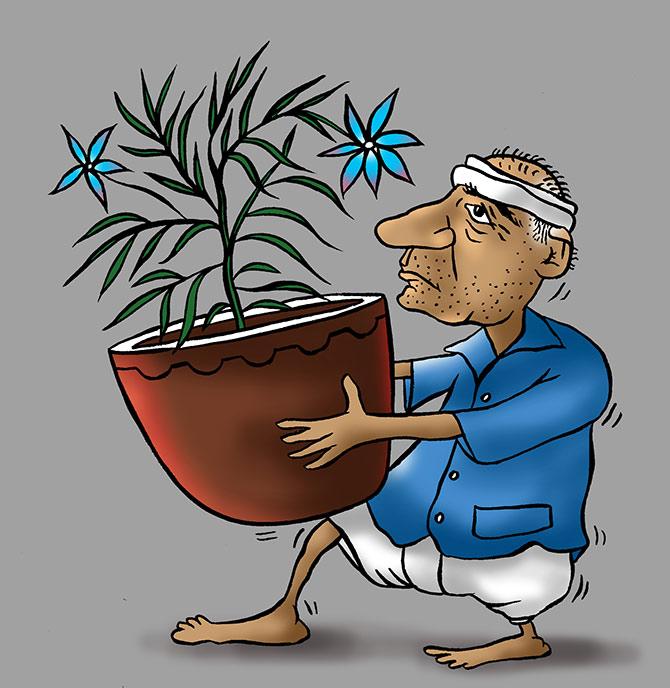 The other day, I found Babulal, the old gardener who tends to several gardens near my house, stagger under the weight of a large flower pot. He put it down on the road and coughed till he was forced to sit down.
"He's in his late sixties," remarked our watchman. "It is no age for him to do all this manual work."
I couldn't but agree when a few days later I found him trying to lift a 25 kg sack of manure off his cycle.
Again, a driver rushed to help him and asked, "Why do you do these things at your age baba?"
The old gardener ungraciously snatched the sack and said he was fine. "I don't need any help to do my job," he said.
It turned out that Babulal had worked for decades in some of these homes. His age was making some of them squeamish about keeping him on, but he insisted that he was still capable of doing his job.
"If you compare my gardens with those maintained by other gardeners," he said, "you'll know how good I am."
Others had a slightly different story to tell.
Babulal had in fact slowed down quite a bit in the last few years. Not only was he finding it hard to lift heavy weights, but he also seemed to experience discomfort while bending and sitting on his haunches.
However, not working simply because he was too old was not an option. He had no family support -- his only son was alcoholic and lived with him.
The general perception was that the aging gardener continued to work because he would become destitute if he did not.
Time and again, one of my biggest rants against the social security system in India is that it provides minimal support to the elderly poor.
Babulal's story made me think of this again.
As a member of the country's vast unorganised sector, not only are the terms of his employment dependent on the whims of his employers, but he also has no claim to any pension or gratuity benefits if and when they decide to put him out to pasture.
When the government's much-vaunted Atal Pension Yojana was launched in 2015 for the unorganised sector, Babulal was already in his sixties, and therefore, beyond its ambit.
However, even if he had been eligible for it in terms of age, the scheme is riddled with problems.
First, like all contributory pension schemes, the younger you are when you avail of it, the better it is.
While an 18 year old would have to contribute at least Rs 42 a month for 42 years to avail a monthly pension of Rs 1,000 at age 60, a 40 year old would need to put in Rs 291 a month for 20 years to get the same amount.
The unpredictability of working in the unorganised sector means that Babulal, and many like him, may not find it easy to let a fixed amount leave their accounts every month for the rest of their working lives.
Also, the amount of pension (up to Rs 5,000) guaranteed by this scheme is highly inadequate in today's context.
Most importantly, a contribution-linked pension scheme that excludes people like Babulal because they are too old can and should not be touted as an exhaustive social security tool for the elderly poor.
The fact is that there are many like him today who face the prospect of old age without access to any welfare schemes.
Babulal's story illustrates the need for better safeguards for the informal sector workforce -- and a universal, unconditional pension for the elderly poor.
Till this happens, people like him will continue to fall through the gaping holes in India's social security net.