'Do we not all exhibit a sense of entitlement every day,' asks Savera R Someshwar.
Illustration: Dominic Xavier/Rediff.com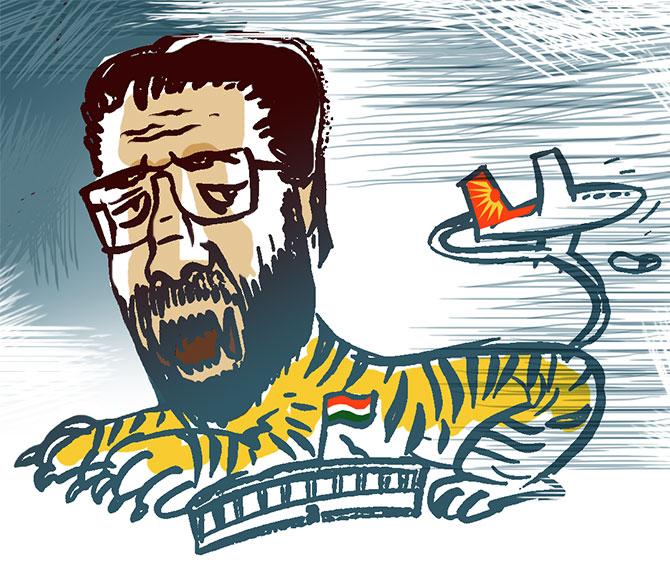 Like most mornings, I shared my newspaper with a cup of tea.
Let me share with you something I read today.
'If separatists, rapists and terrorists are allowed to travel on flights, then why not an MP?'
This was a statement made by a member of Parliament in defence of another MP from his party who attacked the employee of an airline for doing his duty.
As a result of having slapped the airline staffer '25 times,' as claimed by the MP himself, he has been slapped in return with a 'no-fly' ban by airlines.
To the member of Parliament who raised this question, Sanjay Raut of the Shiv Sena, I would like, vinamrapurvak haath zodoon (with my hands folded respectfully), to ask: When did it become all right to equate a member of Parliament, an elected representative of the people, with a terrorist? A rapist? A separatist?
When did it become all right for the Union minister in charge of heavy industries to shout at his Cabinet colleague -- incidentally, they are born in the same month in the same year -- the Union minister for civil aviation and pound his desk in anger in Parliament?
Anant Geete's defence? 'As a Shiv Sena leader, I need to take care of the rights of party MPs.'
The rights that the honourable minister was referring to are not clear.
The list of amenities for an MP do not specify that an MP needs to travel by business class or, indeed, by air -- Parliamentofindia.nic.in makes it clear that an MP's travelling facilities include rail, air, steamer and road.
This is not the said MP's first transgression.
There are three criminal cases filed against Ravindra Vishwanath Gaikwad.
The Quint has listed his controversial acts (external link).
They include, among others, criminal intimidation, rioting and becoming violent to stop public servants from doing their duty and force-feeding a Muslim employee of Delhi's Maharashtra Sadan because he and 10 Shiv Sena MPs were unhappy with the quality of the food.
Gaikwad has been a two time MLA from Osmanabad in Maharashtra, the constituency that elected him as MP -- his first ever Parliamentary stint -- in 2014.
A post-graduate -- he has completed his MCom -- and a former teacher, he is a member of the Parliamentary standing committee on agriculture.
He has participated in 27 Parliamentary debates; the national average is 49.2 per cent; only four MPs from his party -- at 25, 18, 16 and 20 -- have participated in fewer debates.
He has asked 173 questions; the national average is 180.
If you look at his own party, five MPs have asked more than 600 questions and only two MPs have asked fewer questions than he has.
He has an attendance record of 64 per cent; the national average is 80 per cent; only one MP from his party, Sanjay Haribhau Jadhav, has -- at 56 per cent -- a lower attendance record. (Information: Kind courtesy PRS Legislative Research India).
Gaikwad tried to book an airline ticket seven times since the incident; an attempt that has been rejected seven times.
He has, as a result, had to face the 'ignominy' of having to travel by train to Delhi to attend his Parliamentary duties.
(In his regret letter, written on Thursday evening to Union Minister for Civil Aviation Ashok Gajapathi Raju, Gaikwad says, 'As the restriction on flying is affecting the effective discharge of my duties and responsibilities, I would request you to lift this restriction and let the investigation eventually determine the circumstances which led to the incident.')
Gaikwad's anger was triggered by the fact that he had to travel economy class, on an all economy flight, though he held a business class ticket.
The statement released by Air India makes it clear that the MP's personal assistant was informed of the fact.
'The (Pune) airport manager told the PA this is an all economy flight operated regularly. Since the MP wanted to travel on this flight he was allotted the seat in the first row itself since there is no business class on this flight,' says the Air India statement.
Yet, among the many important, and vital, issues facing the country that need Parliament's attention, a good part of Thursday's session was devoted to the ruckus created by the Shiv Sena, which has a strength of 18 MPs in the Lok Sabha.
Why did all this happen?
Because of one individual's sense of entitlement and self-importance.
Why am I telling you all this?
Because -- and before you flagellate me, do take a moment to think -- we all suffer from the same disease.
At no point am I supporting or justifying the behaviour of this MP or his party. I hope the airlines don't let Mr Gaikwad use their services any time soon.
But do we not all exhibit a sense of entitlement every day?
When we are rude to someone from a lower economic class -- a watchman, a waiter, a ticket seller, a shop floor attendant, a vendor -- because we think we are 'superior'?
When we break simple traffic rules and then try the 'connections' route to get out of trouble?
When we think that someone less educated than us cannot be right, or should not disagree with us, because, well, they are less educated?
When we don't have a ticket but argue with the ticket checker anyway about the fine?
When we discriminate on the basis of caste, creed, religion, skin colour and looks?
When we won't stand in a queue, or we break into one, because we, and our time, is obviously more important?
When we torment our women?
When we cheat to save a few bucks?
What do you think?
Are you entitled?