'We must look at the entire question of military preparedness anew, taking into account the new realities,' says Vice Admiral Premvir Das (retd).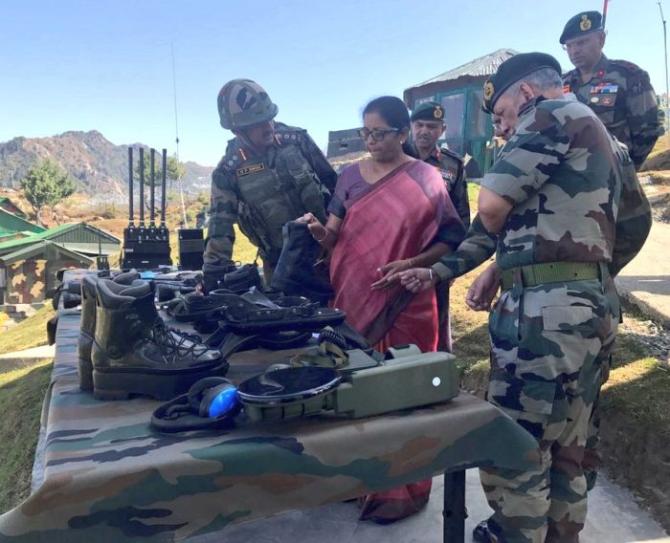 IMAGE: Defence Minister Nirmala Sitharaman and General Bipin Rawat on a visit to the forward areas along the Line of Control in Kashmir, September 29, 2017. Photgraph: ANI
Not many may now remember that the Indian Army's manpower, less than 300,000 before the India-China war of 1962, gradually increased to 825,000 following it.
This was authorised by the emergency committee of the Cabinet in 1964 on the premise that the country had to be prepared to fight wars with Pakistan and China simultaneously. At this same time the Indian Air Force was authorised 45 fighter squadrons.
The army has since seen further growth to over 1.2 million for different reasons, including the need to cope with internal insurgency and terrorism, while the IAF's squadron strength stands at 33. The Navy is also short of the platforms approved at that time.
The question then arises: Has anything changed in our security environment since the 1960s, necessitating a review, or have things remained the same?
In this period, all the actors of that time have become nuclear weapon States. China has ICBMs which can cover the entire Indian landmass, while our IRBMs cover all of Pakistan and the southern areas of China. This reach could soon be extended.
Pakistan's weapons can cover half of our northern part including the capital. Even if one party has more in its inventory than another, the fact is that it cannot prevent itself from being hit by the adversary.
It can be argued that ground-based missiles can be neutralised before launch or that aircraft can be shot down even as they approach, but that still does not mean that the odd weapon will not reach its target.
China and India have submarine-launched nuclear weapons of differing capabilities, but here too, there is no knowing which of them would push the first button.
In this scenario, it is simplistic to believe that these three countries will do anything which could lead to a nuclear confrontation; a full-fledged war between any two could conceivably lead to measures of desperation, but once again, it is naïve to expect that the world would allow military conflicts to reach that stage.
Occasional statements have been made in the recent past that the country must be prepared to fight a two-front war, but this is mere rhetoric.
In short, a military conflict of any consequence between the three countries in which tanks and infantry are engaged for protracted periods is highly improbable. This was not the scenario 50 years ago.
Why then is the political leadership not taking a fresh look and determining more appropriate force levels for the three Services? This is a question that every right thinking Indian must ask.
There is another aspect to this debate. Forty-five squadrons of the old Hunter aircraft do not translate into an equal number of today's Mirages or SU30s. Add to this, force multipliers like airborne early warning systems, drones and so on.
Similarly, the rifle used by the infantry soldier in the 1960s was a .303 capable of firing one bullet at a time. The present INSAS rifle may not be the best and, hopefully, will be replaced soon, but it is a far cry from that older weapon. The highest caliber gun then was the reliable 105mm; compare it with the present 130mm and 155mm weapons.
The same is true of naval ships and weapon systems. Surveillance and reconnaissance including from satellites have also reconfigured the battlefield environment.
Therefore, the ground realities of today bear little comparison to that which existed when India fought those wars.
Further, the very concept of a two-front war is dubious. In 1965, China was a good friend of Pakistan and neither the United States nor the then USSR was very supportive of India, yet it was only an India-Pakistan match.
Even in 1971, the Chinese did make some noise, but refrained from opening another front in support of their ally.
China's ambitions now are to match up to the US as a global power.
For this it needs four-to-five decades of all-round growth that interventions in military conflicts with others cannot but fail to inhibit. There may be the occasional skirmish -- as in Doklam -- and also rhetoric, but major confrontations are unlikely.
In the same way, there is little likelihood of an 'all-out war' with Pakistan.
In this same period, we have moved to 'less-than-war' scenarios. A task that the army did not have to cope with too much in the 1960s, but has now to look at comprehensively, is counter-terrorism.
This activity is manpower-intensive and it is unlikely that this responsibility can be shed in the foreseeable future.
Regrettably, political efforts that are essential to root out the problem are insipid and we are depending upon military power to eradicate it, which it cannot.
Second, the sea is increasingly coming into play both in the Indian Ocean Region and in the Indo-Pacific.
There is much greater awareness of the need for India to exercise both power and influence in this domain and the navy, which watched from the sidelines 50 years ago, is now the primary instrument for enabling both.
Air and cyber power have become more important. These changes clearly necessitate our going back to the drawing board and working out force levels for the Services that are more suited to the needs of the times.
Almost 68 per cent of our defence budget constitutes revenue expenditure and is consumed largely by manpower and related adjuncts.
What remains is never going to get us the modernised armed forces that we need.
Clearly, we need to right size our armed forces to cope with threats now perceived as relevant.
Demands for more money for defence are meaningless when our allocations for health and education, both vitally important, are so pitiable.
We must look at the entire question of military preparedness anew, taking into account the new realities.
To view the security scenario in 2018 in the same way as was seen in 1964 is strange, to say the least, especially when one adversary has since been cut into two and the other is seeking to become a superpower.
Sticking to a 50-year-old prescription whose time has long gone is not great strategy.
Vice Admiral Premvir Das (retd) is a former Director General, Defence Staff. He has also been a member of the National Security Advisory Board.