'Anything other than a complete, 2014-style victory will be far more devastating for him then it would be for anyone else.'
'Disciplining restive party members, and taming recalcitrant allies will then be far more difficult for him,' says Mihir S Sharma.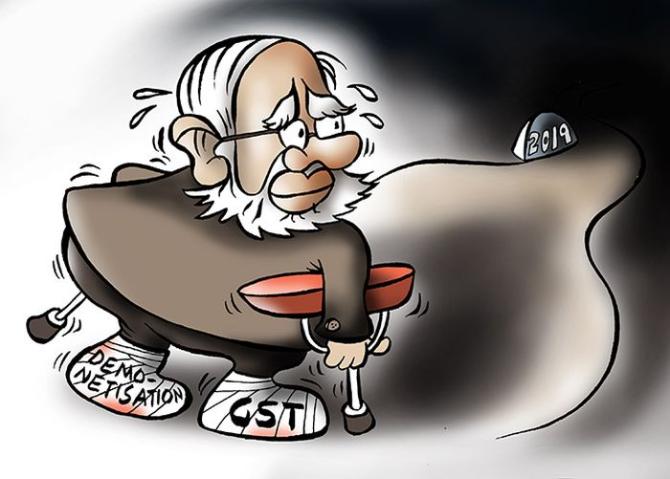 Illustration: Uttam Ghosh/Rediff.com
What to make of the stunning reversal of fortunes for the Bharatiya Janata Party in three by-elections in the Hindi belt?
Both in Phulpur and Gorakhpur in Uttar Pradesh as well as in Araria in Bihar, the BJP has lost to an Opposition that was supposed to be down and out.
In UP, it saw the effective consolidation of anti-BJP votes, but also was subject to a clear decline in its vote share since 2014.
In Bihar, the BJP's loss comes although it is now allied with Nitish Kumar's Janata Dal-United.
The combined vote shares of both parties in 2014 in Araria were greater than that of Lalu Prasad's Rashtriya Janata Dal, and yet the RJD increased its vote share at the expense of the BJP-JD-U and retained the seat.
For most political formations, the fact that it has consistently lost by-elections -- and by big margins -- in areas it needs to sweep should be seen as a sign that it is on a losing wicket.
And while I have argued there are several ways it could recover from this position -- starting with Prime Minister Narendra D Modi's extraordinary ability to drive home a campaign message in just a few weeks -- it is also true that any rational calculation of the future should assume that the government's chances are shaky.
Look at the position as things stand today. The BJP won 282 seats in 2014, a number that has come down since then dangerously close to the halfway mark. This was an extraordinary achievement.
All political observers credited both Modi and Amit A Shah for pulling off something so extraordinary -- and then promptly forgot exactly what 'extraordinary' means.
It means that this is not the sort of achievement that is easily replicated.
Consider what happened in order to win 282 seats. The BJP swept several states, such as Gujarat, Rajasthan, and Delhi.
It dominated Bihar, where it has never had much of a presence: Its alliance won over three-fourths of seats.
It had no history in Assam, either, but it won half the seats there.
It completely dominated the normally sharply contested states of Karnataka and Maharashtra, won all but two seats in Madhya Pradesh, and all but one in Chhattisgarh.
Most importantly, it did practically the best it could do in the 80 seats of UP.
By any reasonable estimates, this was the best performance possible from the BJP in that election.
In order to win the next election at a similar scale, the BJP would have to either replicate its 2014 distribution and performance, or make up for losses in the north and west elsewhere in the country.
It is now clear that it will find it difficult to repeat its 2014 performance in the north and west.
Unsurprising -- because, again, that performance was out of the ordinary. It was exceptional, and thus an exception.
The party's consistent losses in by-elections shows that it can reasonably expect, even if Modi's popularity remains strong, to see its complete dominance of states such as Rajasthan to vanish.
Even if it loses less than a third of its seats in states it completely swept or dominated in 2014 -- a conservative estimate -- it still means it is down more than 60 seats.
Can those seats be made up elsewhere? This seems doubtful.
The north east, its inroads into which the BJP has been trumpeting for years, has just a few seats in Parliament -- and remember, it already won eight seats in Assam and the Seven Sisters in 2014, so it doesn't have all that much room to improve.
In West Bengal and Kerala, it has largely failed to make a mark so far, although it has displaced the Left as a major Opposition force in the former.
In Andhra Pradesh, it is so toxic that it just lost a coalition partner, the Telugu Desam Party, and the other major force, the YSR Congress, is leading the no-confidence charge.
In Tamil Nadu, it is so unpopular that even the deputy chief minister it is propping up had to defend the notion of Dravidian politics in the assembly, in an implied rebuke to the BJP.
Only in Odisha does it look like it has room to improve at the moment. Can Odisha take the BJP to a majority? I think not.
This basic fact is what underlies the new energy in the Opposition at the moment.
It is why allies like the Shiv Sena and the TDP are abandoning the BJP. It
is time for the rest of us, also, to remember that 2019 is -- and never was -- a foregone conclusion.
And let us remember also that Modi may pay the price for the reputation of invincibility and strength that he has so carefully cultivated: It means that anything other than a complete, 2014-style victory will be seen as far more devastating for him then it would be for anyone else.
Disciplining restive party members, and taming recalcitrant allies will then be far more difficult for him.