'He is not a news channel that whenever any event happens he must immediately talk about it.'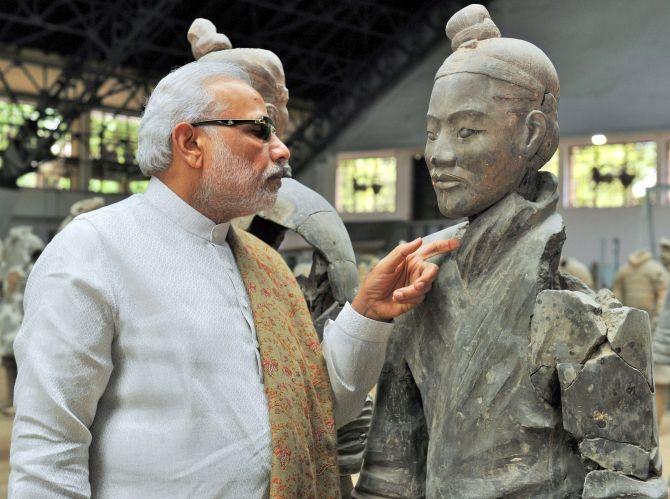 Anupam Kher was booed at a debate organised by a literary festival in Mumbai on Thursday, October 29, evening. Perhaps an indication of how closely identified the actor is with the Narendra Modi government in the public perception.
Kher -- one of India's finest actors -- has come down heavily on writers, filmmakers and scientists who are returning their awards to the government, citing the rise of intolerance in India.
Kher -- seen below, left, with his wife Kiron Kher, the Bharatiya Janata Party MP from Chandigarh -- spoke to Syed Firdaus Ashraf/Rediff.com about the current political situation.
Do you feel this has become a movement against the government? Writers, filmmakers, and now even scientists, are returning their awards.
I do feel so. It is now clearly visible.
Dibakar Banerjee, who directed you in Khosla Ka Ghosla, has returned his award.
We know people as filmmakers, we don't know what philosophy of life they have, na? What is their philosophy behind their mask, no one can judge. It is alright, they have a right to protest and I have a right to say what I feel like saying.
I just interviewed scientist Dr P M Bhargava and asked him 'You say what you want to say, so where is the intolerance in India?'
That is my point. They are publicly saying all these things against the government. Nobody is putting them in jail. We have maximum free press in the world. No channel or Internet Web site has been told not to write against the government.
They are creating a perception that India is living in the dark ages and they are giving a perception outside India which is not true.
I feel very free in this country. I am not saying this because I am a known person. I am very sure the man on the street also feels very free. I know that some incidents have happened, but there are so many incidents which have happened in the past also. They (the people returning awards) have a very selective memory.
Do you think the Dadri lynching changed things for the Modi government because of the prime minister's silence on the issue?
I do not see life like that or the history of the country like that. The perceptions of people did not change after the 1984 (anti-Sikh) riots. (Writer) Nayantara Sahgal accepted the Sahitya Akademi Award in 1986 after the 1984 riots. If these people want to keep the wounds open, then there will be a more divides in the future.
Naseeruddin Shah said he feels like a Muslim for the first time in this country.
I asked him (Naseeruddin Shah) about this, and he said he did not say those words. I will take his word for it. I met him on a flight and asked how he could say that. The entire country respects him and so does the world. He told me he never said those words. He said (the journalist) Rajdeep Sardesai said it wrongly.
I saw Mr Shah's interview with Mr Sardesai, and he did say that.
I didn't see the interview, so I don't know.
Do you think this issue is dividing the film industry? Even Mr Gulzar is criticising the Modi government.
Are you asking me questions about my views? Or do you want me to answer questions about others?
Kishore Kumar's songs were banned during the Emergency on All India Radio. What can be a bigger plot than that? Gulzarsaab's Aandhi was banned by Indira Gandhi's regime.
Do you feel these things are 'manufactured consent', as Arun Jaitley put it?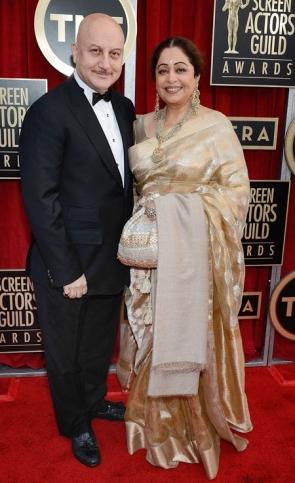 If they have the right to accuse, I have the right to defend. I am an aggrieved party whose family moved out of Jammu and Kashmir. Do you think that as an individual... tell me your personal view
I fear there will be riots in the future.
These people (the people who returned awards) will do, those who are dividing. They are the kinds of people (who are involved in riots).
Prime Minister Modi told an election rally in Bihar that reservations will be snatched from the lower castes and given to Muslims. He is the prime minister of the country. How can he say such things? That is what I fear. As a Muslim, I fear for sure.
When did he name you (Muslims)?
On Monday, in Bihar.
I don't want to defend him, but I have not heard that speech. We have lots of incidents. The Prashant Poojary killing (Poojary, an activist in Karnataka, shut down a abbatoir and was murdered). The rape of so many women. Therefore, let us not divide the people of this country on caste and religion. That will be the saddest part.
I don't think anything will happen. So far nothing has happened. For 15 years nothing happened in Gujarat. Why will it happen?
The fear is imaginary. Did the (2013) riots in Muzaffarnagar happen because of Prime Minister Modi? This happened under Akhilesh Yadav's government, so why are you singling out one person? (Post Godhra) was there any riot from 2002 to 2014 in Gujarat? Not a single riot. There was none.
Was Modi involved in the Muzaffarnagar riots? This is the perception that people want to give you and you are taking this perception.
RSS ideologue Rakesh Sinha told me the people returning awards never wanted Narendra Modi to become prime minister.
They had signed a written petition. Anand Patwardhan (the documentary filmmaker who returned his national award) says openly that he does not like Modi. If he says so openly on TV then he is a free man. Isn't it?
If he can criticise Modi on national television, what more freedom can a person get in this country? If he was so scared, then he wouldn't have dared to say these things.
Do you feel there is a conspiracy to trap the Modi government?
Yes, because Modi has won a majority. There is no doubt that he is a patriot. There is no doubt that he talks about India and the betterment of India, the betterment of Muslims also. So don't take some statements in isolation and have fear in your mind.
But his actions don't suggest that, especially his silence over incidents like the Dadri lynching?
What has the Congress done? They never allowed Muslims to come up. They (the Congress) always wanted them to be poor so that they (Muslims) will be dependent on them.
Do you feel the people returning awards are instigating the Modi government to take action against them?
No. They want to create the perception that we are living in dangerous times. All these people have got their awards from earlier governments. They used to go abroad and participate in seminars etc, etc. Dukaan bandh ho gayi (Their shops are closed now, meaning no government largesse in the Modi era). They feel it is time to give back favours that earlier governments gave them.
Do you think these people are not talking about issues that hurt the common man -- the economy which has slowed down or the price of dal -- and instead on issues that may not be relevant to the country?
You should talk about corruption, development, so many things. And we should give 3, 4 years to the government to see what are they doing. We had a prime minister who did not speak for 10 years.
Should the government decide what I eat in my kitchen?
I don't feel anybody should tell anybody what they should eat. People have the right to eat what they want to eat.
But that is what is happening in India today. The Hindu Sena calls the Delhi police and complains that beef is being served at Kerala Bhavan. The police turns up at kerala Bhavan to find out.
But that is not Modi's responsibility. Why don't you read (Home Minister) Rajnath Singh's statement, where he tells the Delhi police it is not right? That way Muslims killed Prashant Poojary, nobody talks about it. Let us not get into that kind of situation.
Since Prime Minister Modi keeps quiet about these things, the message goes out to organisations like the Hindu Sena that nobody will dare touch them for their actions.
No, it is not like that. The Bajrang Dal existed before Modi became prime minister. Were they not there? There are some bad elements in every party. Some radical elements are there in every party.
If one family member joins Islamic State, it does not mean that the rest of the family is also thinking the same way.
You have met Prime Minister Modi many times. Does he, as someone asked, have a mask on his face or his face is a mask?
He is a very genuine person. People don't want to give him a chance. He talks about the country and I like that about him.
Do you think Prime Minister Modi made a mistake by keeping silent on the Dadri lynching?
He is the prime minister of the country and he cannot speak without getting an intelligence report about what actually happened. He spoke after 7, 8 days. Now people object to what he spoke. You cannot tell the prime minister of the country this is what you should say. He condemned it. He spoke about it.
He is not a news channel or news portal that whenever any event happens he must immediately talk about it. There are thousands of things which are happening. He has to find out what happened.
The point is you don't like anything about this person (Modi) and we need to get out of that (mindset).