The prime minister, says Ram Kelkar, could do a lot to advance his stature as a national leader by speaking in strong and unequivocal terms on the subject of opposing intolerance and emphasising the rule of law, thereby setting the tone for the nation and the party.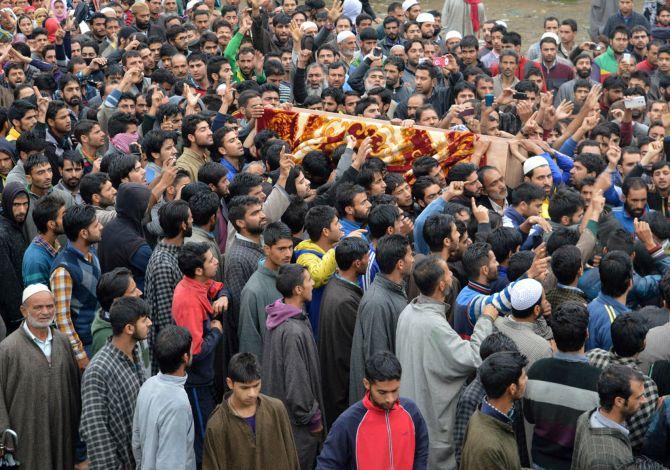 IMAGE: The funeral procession of Zahid Rasool Bhat, a 19-year-old trucker from Anantnag, Kashmir, who died of his injuries after the truck, which he was travelling in was attacked over rumours that it was transporting beef. Photograph: Umar Ganie
In recent weeks, a series of horrific incidents in India have attracted national and international attention, and raised concerns about rising intolerance and religious extremism in a country that has prided itself on its long history of humanism and pluralism.
A man was beaten to death by a mob in Dadri over rumors that he and his family had consumed beef.
A truck driver from Jammu and Kashmir was attacked with a petrol bomb in Udhampur following rumours about cows slaughter.
An MLA from Jammu and Kashmir was the target of a fringe Hindu outfit which threw ink and oil on him at the Press Club in New Delhi, protesting against a beef party he held in Srinagar.
Activists from the Shiv Sena used threats of violence to force the cancellation of a music concert by Pakistani music legend Ghulam Ali.
They also blackened the face of columnist and think tank head Sudheendra Kulkarni for having the temerity to organize a book launch for former Pakistani foreign minister Khurshid Mahmud Kasuri.
It took Prime Minister Narendra Modi ten long days after the Dadri attack to break his silence on this spate of violent incidents. And instead of an unequivocal call for an end to violence in the name of any belief system, cause or creed, all he had to offer was that 'the Dadri incident or the opposition to Pakistani ghazal singer Ghulam Ali are sad and undesirable. But what is the role of the central government in these incidents?' suggesting that the Centre cannot act in each such incident and it is also up to the state government and local authorities to enforce the law.
Mr Modi is absolutely right in making that anodyne and factually correct statement, and yet his reaction totally misses the larger point. Leadership is about knowing when to speak up forcefully, because those words set the tone for the party cadres and the entire nation.
The prime minister's duty is to use the bully pulpit to emphatically state that violence is not just 'sad and undesirable,' but abhorrent and prosecutable in a democracy under rule of law, and that the central and state governments would prosecute the perpetrators to the fullest extent permitted under the law and the Constitution of India.
Meanwhile, a fellow BJP leader, Maharashtra's Chief Minister Devendra Fadnavis, showed how leaders should speak, stating that while 'we may not agree with views of somebody, but when a foreign dignitary or a diplomat arrives on a valid visa and holds a programme, which is not illegal, it's the duty of a state to provide protection... we cannot endorse Mr Kasuri, but can't let our state turn into (a) banana republic.'
Deadly attacks on the basis of religion are hardly new in India, and did not suddenly begin after the BJP's ascent to power. One of Maharashtra's most vocal rationalists, Dr Narendra Dabholkar, was shot dead in Pune in 2013 when the Congress party was in power in the state of Maharashtra and in New Delhi.
In late August, eminent Kannada scholar and rationalist M M Kalburgi was gunned down for his views on idol worship, and police are probing the suspected role of right-wing elements. A member of the Sanatan Sanstha organization was arrested for the murder of rationalist Govind Pansare in February.
In recent days, media reports indicate that journalist Nikhil Wagle, who rails against godmen and superstition, has also received threats indicating that he could be the next target of the extremists. Shyamsundar Sonar, a Marathi journalist, has come under attack for preaching Sant Tukaram's Bhakti philosophy in a rational manner.
Mr Wagle believes that the greatest threat these groups pose is their disdain for the opinions of others. 'There is no democratic spirit. If you disagree with them then you are threatened. They are spreading this poison and I'm worried about this atmosphere.'
BJP and Shiv Sena supporters commenting on social media platforms such as Facebook and WhatsApp are vitriolic in discarding any criticism, and accuse those who raise the issue as being guilty of 'selective outrage' because such incidents took place in the past when Mr Modi wasn't the PM.
A commonly hurled epithet is 'sickular,' which is the derogatory term lobbed at anyone who commits the lèse-majesté of criticising the prime minister or the BJP. Even the slightest critical assessment of the current government leads to paroxyms of victimhood, and tirades against anyone not unconditionally supportive of Mr Modi.
There is no room for balanced commentary which recognizes both the good and the bad of the BJP government and any mention of concerns about the issue of intolerance and related violence is met with fiery rhetoric and invective against liberals, 'Paki-lovers' etc.
There are, in fact, many fascinating parallels between the commentary and reaction from BJP supporters in India, and their right-wing equivalents in the US. Both are convinced that the whole world is against them, and that the Main Stream Media is soft on terrorists, foreigners, and non-coreligionists.
Brash Indian 'exceptionalism' is now competing with strident US 'exceptionalism,' and woe betide anyone who tries to take a balanced, nuanced view of the reality that neither of the world's largest pluralistic democracies is perfect, and each could do with some introspection in living up to the idealism of their respective founding fathers.
Indians voted in large numbers for the BJP in the national elections in 2014 with high hopes for a practical, pragmatic and business oriented administration. They wanted a government that would help India grow at a rapid pace and advance faster.
The Hindutva card, while it may have mattered to some, was not the primary plank for the party. It was all about good governance and 'Ek Bharat Shreshtha Bharat (One India, Great India)'. The BJP's manifesto stated that the party '... believes that in India's 'Unity in Diversity' lies India's biggest strength.'
Regrettably, the PM's reaction to the Dadri incident is of a piece with the winks and nods that the BJP appears to be using to signal a hardline right-wing stance to certain sections of Indian society.
The human resources development ministry sent letters to directors of all IITs and IIMs seeking details of cooking and catering arrangements in their institutions. All this was done on the basis of a letter from an RSS activist accusing the IITs of giving Western 'kusanskar (bad culture)' to students through food.
The information and broadcasting ministry appointed Gajendra Chauhan on the basis of a one paragraph resume, and the only notable achievement mentioned in the document was his role as Yudhisthir in the television serial Mahabharat.
In recent days, BJP MP Sakshi Maharaj made the case for a law that provides for the death penalty for cow slaughter and defended the assault on the MLA from the Jammu and Kashmir assembly as a 'natural reaction' to the independent legislator's action. 'Leaders need to change their mindset or get beaten up by the people in full public view,' said the BJP MP from Unnao in Uttar Pradesh.
An Australian couple was allegedly harassed in Bengaluru recently over a tattoo of a Hindu goddess and then forced by the police to apologise for 'hurting religious sentiment.' The young tourists were at a restaurant when a group came to their table and started harassing them about the tattoo and threatened to 'skin him.'
These kinds of incidents are of a piece with harassment over Valentine's Day, including vandalism, moral policing, and threats of violence against couples who display public affection.
Physically assaulting anyone over perceived slights to one's religious views did not begin since Mr Modi came to power, but the silence of the leadership over these kinds of issues may be emboldening potential perpetrators
Meanwhile the Panchjanya magazine, a mouthpiece of the RSS, ran a cover story that questionably claimed that the Vedas order the killing of 'sinners' who slaughter cows. And in line with extensive commentary on the same lines in social media, it criticised writers and novelists who have returned their Sahitya Akademi awards in protest against the Dadri incident for not respecting the feelings of an 80% majority of the nation, presumably referring to the Hindu population of India.
Recent reports in the press indicate that BJP Chief Amit Shah has 'reprimanded' several top party leaders for making controversial comments on the Dadri lynching and beef, saying that they were diverting attention from Modi's economic agenda.
Reprimanding party leaders who are merely taking cues from the words of party leaders is an exercise in futility, and it's a little late in the day to rein in saffronisation after having subtly stoked the fires for many months and years.
It must be pointed out that the controversial beef ban in Maharashtra was put in place way back in 2004 when the Congress party was in power, as Chief Minister Fadnavis has pointed out. However, it is equally true that verbal cues and dog whistles from senior leaders can lead to violent incidents like the ones in Udhampur and Dadri.
Reining in the extreme elements in the BJP is critical if Mr Modi wants to stay focused on economic development and 'Sabka Saath, Sabka Vikas.'
The prime minister could do a lot to advance his stature as a national leader by speaking in strong and unequivocal terms on the subject of opposing intolerance and emphasising the rule of law, thereby setting the tone for the nation and the party.
The alternative is a slippery slope to religious and sectarian extremism of which there are unfortunately too many examples in India's neighbourhood.
Ram Kelkar is a Chicago-based writer.