If solutions are not found, adequately and in good time, things could simply slip out of everyone's hands, warns N Sathiya Moorthy.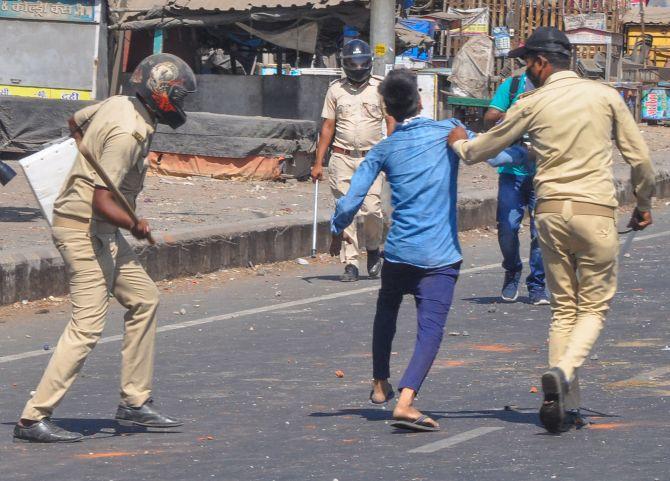 The India-China border row and Nepal's 'recalcitrant behaviour' of the past weeks may have taken the nation's focus away from the Covid-19 pandemic, and more so the plight of the migrant labour who have suffered immensely. Left unattended, and unsympathetically so, the migrant labour issue has every potential to blow up on the face of the nation, particularly individual states, than may be imagined.
The migrant labour problem did take the sheen out of the nation's legitimate claims to low pandemic hit for its size and population. Now, no Indian should be surprised if one of those pictures of a migrant labourer or group traversing anything from 500-3000 km back home on bare foot and empty stomachs, won an 'international photograph/video of the year' award.
But then it is not about what happened, but what may await the nation in the future, which needs greater and immediate attention. Going by most analyses, more people in the organised, unorganised and non-organised farm sectors will be losing jobs -- and those that have lost theirs may not get it back any time soon.
Post-economic reforms, the nation has witnessed more of left militancy than before. It has spread from West Bengal's Naxalbari to undivided Andhra Pradesh's pre-Independence communist strongholds, and also Kerala and Tamil Nadu of the sixties and seventies, to non-traditional central Indian states, including Madhya Pradesh and Chhattisgarh, Bihar and Jharkhand.
Left militant literature from time to time has recalled their decades-old 'Dandakaranya Plan' and others, which talk about 'Maoist takeover' of the nation through rural and urban militancy. According to media reports over the past several years, police intelligence has established left militant presence/dominance from north to south, east to west (both urban and rural) in a way that divides the nation into four quartets in the fertile imagination of the ideological authors.
Simultaneously, there have also been reports over the past decade and more that families in rural north have been sending their teenaged male children, especially, to other parts of the country for gainful employment, not only to improve the family income. It was aimed more at keeping away children in the impressionable age-group from the prying eyes of 'Maoist-recruiters' and their ideology.
Even before the lockdown, migrant labour from one part of the country has always been made to feel that they were not working in another part of the very same 'India that is Bharat'. It had begun in Bal Thackeray's Maharashtra of the sixties and seventies. In more recent times, branding some of them as 'illegal Bangladeshi nationals' without verification has become a pastime for some ideological groups.
In the post-liberalisation years, there have been occasions when the local police in every state has looked down upon migrant labour from another part of the country with the kind of suspicion they did not deserve. With the nation-wide lockdown possibly making migrant labour the single largest social constituency with probable electoral potential, the possibilities are as 'exclusivist' and they can be made 'inclusive', otherwise.
The lockdown has made the migrant labour feel that they have no nation, no government and no employer to call their own. Today's migrant labour is conversant in the local language or languages, and well-networked, too, thanks to the massive social media penetration in every language. That is a whole world outside of the urban elite's grasp and comprehension.
Even without such possibilities, there are already religion, language and culture-based animosities apart from increasing caste and class consciousness among all sections, in the post-liberalisation generation. Social media constantly feeds not only their dreams but also their fears and anxieties.
Recall how only a few years ago, migrant labour and also students and others from north-eastern states crowded railway stations across south India for rushing back home, based on a social media rumour. On that occasion, the nation's intelligence agencies could trace the mischief to Pakistani ISI, and thus nib the trouble in the bud. Such a situation is not impossible in the months and years to come.
In this, the Tablighi Jamaat-centric motivated insinuations through social media on the community spread of Covid has done the nation more harm. The successive episodes of community spread, as with 'Koyambedu market' episode in Chennai, may have pushed the TJ issue to the background, but the hurt may still be deep-seated.
In a country where there are enough people to push and provoke a religion-centric agenda, as a unifying factor against castes and caste divisions, the idea that one particular community (alone) was responsible for the social communication of the pandemic leaves a heavy burden on the affected lot. Even as they may seek to erase that sense of guilt (as against culpability), there are enough of the 'others' who may want to exploit an inherently flawed situation and consequent construct.
Given the possibilities and probabilities of our times, anti-India State terror arms like the ISI can be expected to try and muddy the troubled migrant labour waters in the country directly and not-so-directly. They will be looking as much for anti-India propaganda opportunities overseas (read: West) as for real targets inside the country.
Against this overall background, any over-the-counter interpretation of the Centre's lockdown era intentions to come up with what is already seen as pro-management labour laws and pro-corporate farm-holding patterns, can be an add-on cause for national worry. The answer lies in a judicious mix of maximum consultations at the stake-holder level and greater and deeper intelligence-networking and follow-up action -- not one without the other.
Worse still, the nation's recent behaviour of reacting to social media and 24x7 television news, and shifting gears from one issue to the other, can do more harm than good, if only over time. Neither the prime minister, nor chief ministers and their respective governments can hope to compete with TV news media in their 'TRP war', and cheer to themselves over the way the nation has forgotten festering issues such as the migrant labourers' sorry lot.
If solutions are not found, adequately and in good time, things could simply slip out of everyone's hands. Considering that Naxals have a common name-tag but no real central leadership to negotiate with or put down, it is the kind of an idea and platform the governments cannot hope to wish away, as they have had the wonderful knack of coming back and spreading out like an octopus, to cover more states and people.
N Sathiya Moorthy, veteran journalist and political analyst, is Head-Chennai Initiative, Observer Research Foundation.