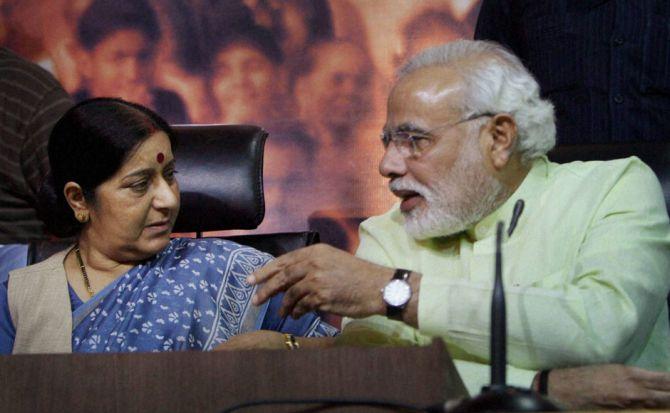 'So complete is Modi's takeover of the foreign ministry, that Swaraj today is less important than a minister of state for secularism in Modi's government!' says Amberish K Diwanji.
Sushma Swaraj is back. Or at least she is trying very hard to return to the people's consciousness.
Her statement that the Bhagvad Gita be considered India's 'national book,' whatever that means, has given her more publicity in the last few hours than she has had in the last few months.
Indians should be forgiven in case they have forgotten that Swaraj is India's external affairs minister. It is considered one of the big five ministries (alongside the prime minister, home minister, finance minister and defence minister).
Ever since Swaraj took the job, it has lost all importance. Swaraj is a minister in absentia. She is nowhere to be heard, let alone seen.
The irony is hard to miss. If there is one area where Prime Minister Narendra Modi has been phenomenally active, it is in foreign policy. Besides that, there have been slogans aplenty -- Swachh Bharat Abhiyan, Make in India, etc. But in the realm of external affairs, he has been busy -- visiting nations as small as Bhutan, where he charmed the king, to countries as large as the US, where non-resident Indians behaved like teenagers at a rock concert.
He has met the leaders of China and Japan, and invited Barack Obama to be chief guest at India's military fest, the Republic Day parade. All this is heady stuff.
What is missing in all these sojourns near and far is the actual external affairs ministers. So complete is Modi's takeover of the foreign ministry, that Swaraj today is less important than a minister of state for secularism in Modi's government! She clearly has nothing to do. And everyone knows that.
Under such circumstances, it is easy to understand why Swaraj feels slighted. Delhi insiders have for long been claiming that she is unhappy and feels trapped. Let us not forget that Swaraj, in the run-up to the Lok Sabha elections, betted on the wrong horse when she sided with L K Advani.
There is a price to be paid for betting on the wrong horse. Being ignored and reduced to a non-entity in a government that is on the go is that price.
Perhaps Swaraj believed that by mouthing some religious stuff she might win back the spotlight, and perhaps actually get some work to do. Perhaps this is her way of telling the world that she is still around, even if she is not be seen on television or heard in Parliament.
Sushma Swaraj is not a Rashtriya Swayamsevak Sangh protege. She was earlier part of the Janata Dal, joining the Bharatiya Janata Party in the early 1990s. This always gave the impression that her joining the BJP had more to do with politics than ideology.
For years, she was among the frontrunners to become prime minister if the BJP had to seek help from its allies (though her Janata Party background and being a woman were always cited as reasons for why the top office would always elude her).
Of course after Modi's clean sweep, all such ideas are of academic interest.
Nevertheless, she did give the impression of having a head on her shoulders even as others in power were clearly losing theirs. For many, Swaraj represented the Atal Bihari Vajpayee side of the BJP (even though she aligned with Advani; but then, when compared to Modi, Advani looked decidedly like Vajpayee).
From her the expectation was of sobriety, of policy issues, and matters of national interest. Not rabble rousing rightist nonsense.
Alas, it was all too short-lived. Swaraj has not just shot herself in the foot, but also let down those who believed that perhaps in the pantheon of zany rightists there could exist at least one sane person.
Now Swaraj is no different from those who claim astrology is superior to science, or those who compare Ramzaades and har**zaades, which statement stalled Parliament and was resolved only on Monday.
It is unlikely to get her more work. Mr Modi remains the de facto external affairs minister.
Image: Sushma Swaraj and Narendra Modi. Photograph: PTI