'The Modi government's pusillanimity vis-a-vis Pakistan makes almost certain that India will, in the coming weeks and months, be confronted with cross border terrorist actions of increasing intensity,' warns Ambassador Satish Chandra, former deputy national security adviser.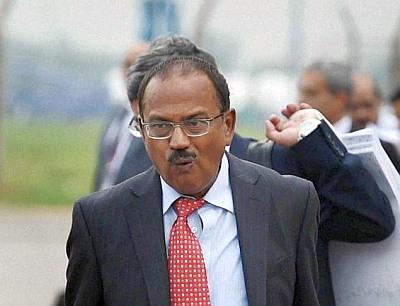 The meeting between the Indian and Pakistani national security advisers scheduled for August 23-24 in New Delhi to be followed thereafter by meetings of the two Director General of Military Operations and the heads of the border guarding forces of the two countries is the direct outcome of the meeting between Prime Ministers Narendra Modi and Nawaz Sharif on July 10 at Ufa, Russia.
While the nature of persona involved in these three meetings make the upcoming India-Pakistan engagement less than comprehensive and, apparently, limited only to terrorism and maintenance of peaceful borders, it nevertheless signals something of a climb down by India as it had put on hold any meaningful engagement with Pakistan until the latter addressed its concerns on terrorism.
Not only has Pakistan failed to clamp down on the export of terror to India or effectively move against the perpetrators of the Mumbai attack, but it has in fact upped the ante in its use of terror against India.
This is borne out not only by its recent blatant and aggressive terrorist actions in Gurdaspur and Udhampur, but also by the sharp increase in its ceasefire violations which in the first seven months of this year are at about the levels registered for the whole of 2014 and now occur on an almost daily basis.
It could, indeed, be argued that at Ufa India was preparing the ground for increased engagement with Pakistan. The Ufa statement indicates that Sharif and Modi had wide ranging talks and that the two countries were 'prepared to discuss all outstanding issues.' Since such discussions were not predicated on Pakistan giving India satisfaction on terror one can assume that the latter was contemplating the resumption over time of all encompassing India-Pakistan talks.
This is also evident from Pakistan NSA Sartaj Aziz's reported assertion that the two sides had entered the Ufa meeting with the 'intention to restore dialogue and find ways and means for future engagement.' This is further corroborated by the fact that despite repeated terrorist related Pakistani provocations India has not thought it fit to put on hold or cancel the upcoming Ajit Doval-Sartaj Aziz talks.
One may, therefore, assume that a wide ranging India-Pakistan dialogue would be underway by the time Modi visits Pakistan for the SAARC (South Asian Association for Regional Cooperation) summit next year. Thus contrary to what Modi had asserted at the United Nations General Assembly in September last year we seem reconciled to dialoguing with Pakistan 'under the shadow of terror.'
In brief, therefore, the India-Pakistan Ufa joint statement marks the end of Modi's get tough policy with Pakistan. It is designed to set in motion interactions between several Indian and Pakistani entities which sooner or later will culminate in composite across the board talks.
As in the past, these interactions are unlikely to be productive and there will be no let up in Pakistan sponsored terrorist actions directed against India.
Indeed, the Modi government's pusillanimity vis-a-vis Pakistan makes almost certain that India will, in the coming weeks and months, be confronted with cross border terrorist actions of increasing intensity. Those who had hoped that the Modi government would follow a more muscular approach towards Pakistan than that adopted by the UPA (United Progressive Alliance) government are, no doubt, disappointed.
Indeed, they must now fear that in the event of another 26/11 which will surely come, Modi like his predecessor will do little more than make a few diplomatic noises and let his countrymen face the consequences.
Ideally, India should use the upcoming India-Pakistan NSA level talks to read out the riot act to Pakistan. One could not have hoped for a more competent and hard headed person than Ajit Doval to do so.
Not only should Doval confront Aziz with clinching evidence of Pakistan's ongoing involvement with terrorism directed against India but also underline that further high level engagement would be contingent upon Pakistan giving India satisfaction on this account.
As proof of its good faith, Doval should inter alia insist upon the speedy trial of the perpetrators of the Mumbai attacks, the handing over of numerous elements like Dawood Ibrahim sheltered by it for terrorist actions against us, the cessation by it of cross border firing and terrorist infiltration, a shutdown of the infrastructure of terror created by it etc.
Doval should also categorically rebut the false and malicious charges that Aziz is bound to make about India's alleged involvement in terrorism directed against Pakistan. This is standard Pakistani practice and should come as no surprise.
The important thing is to use the meeting to make it clear to Pakistan that if there is no let up on its use of terror as an instrument of foreign policy then not only would further dialogue be pointless, but India will also be constrained to fashion a policy which will raise the costs for Pakistan in the pursuit of its inimical moves against India.
It is time that our leaders recognise that we have put up with Pakistan-inspired terrorism for much too long and our citizens across the country have paid a terrible price. Such a meek approach has only encouraged Pakistan in its pursuit of such policies.
We need, therefore, to change tack and devise policies that will penalise Pakistan for its export of terror to India, and thus change the cost-benefit calculus of its policies and actions.
A proactive, harder, and sustained approach by India towards Pakistan devoid of flip flops is the need of the hour. Such an approach will give us far better results than those garnered by the policies of appeasement which successive Indian governments have been following.
Jihad-proofing India
'Particular attention must be paid to the mainstreaming of the Muslim community and ensuring that there is no repetition of the Gujarat riots. A content Muslim community is the best vaccination against Pakistan's efforts to export terror to India.'
It is significant that the noted US expert on Pakistan, C Christine Fair, writing in the immediate aftermath of the Gurdaspur incident argued that Pakistan was trying to ascertain whether the Modi government was 'all bluster and no follow through', and predicted that 'failure to respond vigorously will surely encourage further Pakistani adventurist terrorism.' In this backdrop she made a persuasive case for India to 'develop a suite of policies that will impose significant and escalating costs upon Pakistan, diplomatically, politically and militarily.'
The following could be some elements of such a suite of policies:
A vigorous diplomatic campaign is needed to project Pakistan as a terrorist State so that international sanctions are imposed on it including suspension of military and economic assistance. This will inter alia necessitate abandoning any high level dialogue with Pakistan or confidence building measures like grant of most favoured nation status in order to carry conviction with the international community about the depth of our concerns on this issue.
India's huge weapons purchases and commercial contracts should be leveraged the world over and in particular in the United States to impede the flow of military assistance to Pakistan and to influence adoption of a harder position vis-a-vis it on terrorism-related issues.
India should exercise full rights over the Indus waters as legally permitted under the Indus Waters Treaty. For starters the release of Indus waters to Pakistan should be minimised by maximising the use in India of these waters as permitted under the treaty. Building of storages as permitted under the treaty should be accelerated in Kashmir. A notice should be served on Pakistan for renegotiation of the treaty under which we get only 20 per cent of the waters while having 40 per cent of the catchment area.
Pakistan's fault-lines must henceforth be exploited particularly in Baluchistan and Sindh.
Covert action, and if need be focused strikes, should be undertaken to take out terrorist elements and their supporters. Contingency plans for such action should be developed expeditiously so that following any Pakistan sponsored terrorist action against us as in Mumbai or even more recently in Gurdaspur and Udhampur these can be activated within a matter of hours.
Relationships with countries like Iran and Russia which in the past have been excellent must be repaired.
The aforesaid foreign policy measures must be accompanied by a number of steps internally in order to deter Pakistani adventurism, better equip ourselves to foil its efforts to export terror to India and ensure that jihadi sentiments do not find any support in the country.
Pakistani adventurism can best be deterred by making sure that our armed forces are well equipped at all times both with conventional and nuclear weapons.
Foiling Pakistan inspired terrorist actions demands implementation of a slew of internal security reform measures, like modernisation of the police forces, initiated by the previous National Democratic Alliance government many of which regrettably remain unimplemented or partially implemented.
Jihad-proofing India demands that particular attention be paid to the mainstreaming of the Muslim community and ensuring that there is no repetition of the Gujarat riots. A content Muslim community is the best vaccination against Pakistan's efforts to export terror to India.
Alienation in Kashmir must also be more effectively addressed inter alia by providing good governance, eliminating all jihadi elements and separatists, and providing the maximum possible autonomy in the state within the framework of the Indian Constitution on the basis of a national consensus.
It should be made known to all that such dialogue that we have with Pakistan on Kashmir will only be for vacation of aggression and an end to terrorism and that it has no locus standi on developments in Jammu and Kashmir.
IMAGE: National Security Advisor Ajit Doval.
Ambassador Satish Chandra served as Deputy National Security Adviser in the Atal Bihari Vajpayee government when Brajesh Mishra was the NSA.