'India's policy makers need to pull their heads out of the sand and recognize the reality that Pakistan has supported and sponsored terrorism on Indian soil for more than three decades; a national counter-terrorism strategy must be evolved in the fullest consciousness of this fact, and of the continued hostility of the Pakistani nation-State to the very idea of India,' says Ajai Sahni.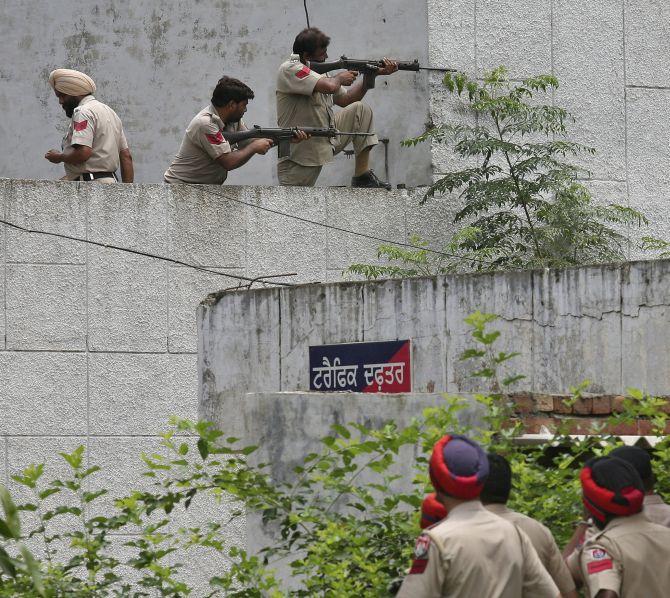 No conclusive identification of the terrorists involved in the protracted stand-off at the Dinanagar police station, Gurdaspur district, Punjab, has yet been made.
Punjab Director General of Police Sumedh Saini has confirmed that three terrorists were involved in the operation, and all three were killed at the end of a 10-hour confrontation.
Three Home Guards, Superintendent of Police Baljeet Singh, and three civilians were killed in the attack. According to initial disclosures, the terrorists had GPS devices, were heavily armed and highly motivated, reinforcing initial suspicions that this was a fidayeen attack, most likely launched from Pakistan.
Most questions of affiliation, motive and intent are likely to remain in the realm of speculation, since none of the attackers survived.
Intelligence sources had initially indicated that the terrorists had entered Indian territory in the Hiranagar sector in Jammu, taking advantage of a rain swollen canal, from Narowal in the Pakistani province of Punjab. Five bombs were also recovered from the Amritsar-Pathankot railway track, and were defused.
While the army was sent in for support and assisted in defusing some bombs at the Dinanagar police station campus as well, the principal operation was executed by the Punjab police. Following a tradition established by K P S Gill of leading from the front, DGP Saini personally oversaw the operation at the police station.
It is significant that Khalistani terrorist formations, who had devastated the state for over 13 years between 1980 and 1993, and whose top surviving leadership and some cadres continue to be hosted by the Pakistani Inter Services Intelligence on Pakistani soil, have not been particularly active in Punjab since 1995 and have, at worst, engaged in occasional acts of soft-target terrorism -- leaving bombs in public places -- at least since 1995.
The fidayeen pattern of attack -- suicidal cadres engaging in protracted confrontations with armed forces -- has been characteristic of Pakistan-backed Islamist terrorists operating in Jammu and Kashmir.
Significantly, two terrorists of the Lashkar-e-Taiba, including a Pakistani national, were shot dead by the Punjab police on April 25, 2010, at village Rattarwaha in Gurdaspur district, bordering the Kathua district in J&K. Two Punjab police personnel were also killed in this attack, while another four were injured.
In this instance, the terrorists had infiltrated into the Indian side from the Bamial sector at the International Border in the Gurdaspur sector, after the Pakistan Rangers blasted 400 metres of the fence with rocket fire.
The militants sought repeatedly to cross into the Udhampur or Doda districts of J&K, and remained trapped in the Kathua-Gurdaspur area for a week, before they were engaged by the Punjab police and neutralized. This incident could provide some indications of the profile and motivation of the perpetrators of the July 27 attack at Dinanagar.
The last major attack (resulting in three or more fatalities) in Punjab had occurred on October 14, 2007, when seven persons, including a 10-year-old child, were killed, and another 40 were injured, in a bomb blast at the Shringar cinema hall in Ludhiana, while a Bhojpuri film was being screened.
Three army personnel were also killed and five were injured when a group of terrorists attacked them at a firing range in Damtal on January 1, 2002. The site of the attack was close to the state's border with Himachal Pradesh. It was suspected that the terrorists belonged to organisations operating in J&K.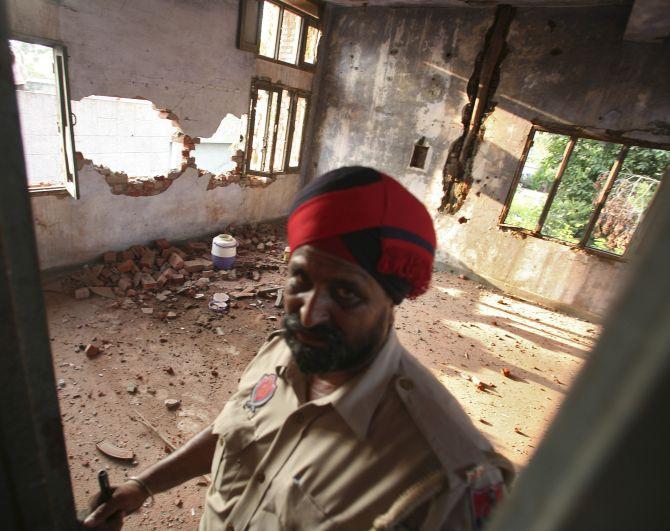 Separately, the Centre had warned Punjab of some trouble in June 2015, in the wake of a campaign to transfer Sikh militants in various jails outside Punjab, to jails in Punjab.
The Union ministry of home affairs, UMHA, had warned that the transfer of hardcore terrorists from other states to Punjab would create future security risks in the state, and would also create the danger of further radicalisation in Punjab's jails.
On July 15, 2015, the UMHA again wrote to the Punjab government to take 'immediate action' to check the activities of Khalistan sympathisers who were agitating for the transfer of Khalistani terrorists to Punjab.
Punjab Deputy Chief Minister Sukhbir Singh Badal had then declared, on July 17, that there was 'no threat of terrorism... as Punjab police have nabbed terrorist modules not only from here but also from abroad.'
In the wake of the Dinanagar incident, Punjab Chief Minister Parkash Singh Badal has sought to pass the blame on to the Centre, for failure to give sufficient 'intelligence' and for failing to seal the country's borders against infiltration. But this is just a reinvention of an old argument.
In any event, the belief that every possible incident can be prevented by failsafe intelligence from central agencies is fundamentally flawed. Not even fully militarised States have ever been able to exclude every possibility of a terrorist attack in their jurisdictions; to expect a 'zero incidence' situation in Punjab or in any other part of as licentious a State as India is absurd.
It is in the patterns and efficiency of response that the actual competence and effectiveness of the State's agencies is to be assessed. While this can only be done after a minute to minute analysis of the movement of the terrorists and the communications and response patterns of the enforcement agencies, it is useful to note that there is little evidence of any delay or hesitation on the part of the Punjab police; that the entire operation was executed by Punjab police personnel, even though the army was on standby; and that, despite the element of surprise, the ratio of fatalities was not particularly adverse, with three civilians and three police personnel killed, to three terrorists.
If there is a visible negative to this incident, it has been in the conduct and statement of political leaders, who have been quick to harness an ongoing crisis to partisan political ends.
Some commentators have been quick to suggest that the Dinanagar incident underscores Punjab's enduring vulnerabilities to terrorism. This, however, is far from the case. While a one-off attack, mounted from across the border, remains a permanent possibility, the revival of any sustainable terrorist movement in the state is unlikely.
The Khalistani leadership in Pakistan and in various Western countries have consistently been trying to make mischief over the past more than two decades since the comprehensive defeat of terrorism in Punjab in 1993, but they have found no traction among the people of Punjab.
Crucially, moreover, the Punjab police, despite years of neglect and tremendous mis-governance in the state, has retained sufficient capabilities, both of intelligence and response, to thwart any incipient efforts to engineer a revival of terror in Punjab.
The Dinanagar incident, nevertheless, comes as a warning against complacence, not only in Punjab, but across the country. India's enemies have been pushed back, but they have not altered their objectives or their intentions and continue to look for every opportunity to inflict harm.
Crucially, moreover, new dangers, most significantly in the shape of a global Islamist jihad, with Islamic State as its most monstrous manifestation, are emerging. Despite these obvious realities, successive governments in Delhi, and in the states, continue to fail in their basic duties to define and implement a coherent and consistent counter-terrorism strategy and continue to pursue the absurd mirage of 'peace through negotiations' with Pakistan without, in any measure, altering the equation of power between the two bitter historical adversaries.
This charade of alternately talking and not talking to Pakistan must now be brought to an end. India's policy makers need to pull their heads out of the sand and recognize the reality that Pakistan has supported and sponsored terrorism on Indian soil for more than three decades; a national counter-terrorism strategy must be evolved in the fullest consciousness of this fact, and of the continued hostility of the Pakistani nation-State to the very idea of India.
In must be accepted, further, that existing risks are compounded by the emergence of global jihad and a range of powerful non State actors whose objectives and intentions are not expressly distinguishable from those of the deep State in Pakistan.
We may continue to hope for the best, to dream of a 'strong, stable, democratic and secular Pakistan' as our 'friendly neighbour,' but it is necessary not to confuse dreams with reality.
Ajai Sahni is Executive Director, Institute for Conflict Management, New Delhi.
IMAGES: TOP: Policemen fire from their positions next to a police station, Dinanagar, Gurdaspur district. Photograph: Munish Sharma/Reuters
BOTTOM: A policeman stands inside the damaged Dinanagar police station in Gurdaspur. Photograph: Munish Sharma/Reuters