'It is time someone told BJP leaders that they were not elected to remind people of Congress corruption. The people of India voted for Narendra Modi and the BJP because they believed that he and his party were clean, unlike the Congress-led government,' says Syed Firdaus Ashraf.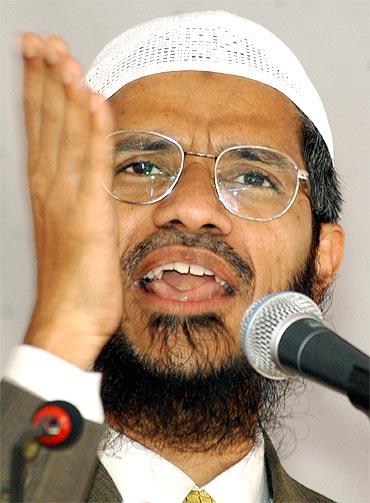 During last year's general election campaign, a cousin came home and lectured me on my agnostic way of life. She was a huge fan of Islamic preacher Zakir Naik and wanted me to listen to his speeches. She felt I would be impressed by what he had to say and see the light.
When leaving, she said she would return a week later and check if I had viewed Naik's speeches.
Out of curiosity, and out of some fear of being scolded by her, I decided to check out what Naik tells Muslims on the Internet.
I was astonished to discover that Naik has views on everything that matters to mankind! What surprised me most was his stand on the Taliban.
Naik delivers his views on the Taliban (external link) by narrating the story of Yvonne Ridley, a reporter from the Sunday Express newspaper.
Ridley, Naik says in his lecture, was assigned to Afghanistan to report on the Taliban. She went about the country in a hijab without letting anyone know she was a reporter. Unfortunately for her, one day, in the presence of Taliban militants, her hijab slipped and she was revealed as a white woman.
Ridley, Naik claims, felt she would be killed or raped by the Taliban, but to her surprise neither happened.
Instead, an Afghan woman arrived to check if Ridley was carrying weapons. Ridley, Naik says, lifted her skirt to show the Afghan woman that she had no weapons hidden. And to her surprise, Naik adds, the Taliban men guarding her looked the other way.
Naik then quotes Ridley that one does not need to throw bombs at the Taliban, women's clothes are enough and they would die of shame, he says to laughter from his audience.
Ridley was set free, but she promised her Taliban captors that she would read the Quran once she returned to Britain, Naik says.
Ridley, Naik claims, read the Quran, now accepts Islam as her faith and wears the hijab.
How does this connect to the BJP, you ask?
Check out some of the answers the BJP probides in its defence and you will see it follows a template like Naik does, who, when questioned about the Taliban's atrocities, defends the outlaws by narrating Yvonne Ridley's story.
During the 2014 election campaign, BJP supporters sent out this message, attributing it to Bollywood legend Salim Khan, actor Salman Khan's father.
'Does anyone remember who the chief minister of Maharashtra was during the Mumbai riots (of 1992-1993) which were no less deadly than the Gujarat riots of 2002? Does anyone recall the name of the chief minister of UP during the Malliana and Meerut riots? Please share with others if you agree.'
The message further said:
'Do we hear the names of earlier chief ministers of Gujarat under whose charge hundreds of riots took place in post-Independence India? Does anyone remember who was in charge of Delhi's security when the 1984 massacre of Sikhs took place? How come Narendra Modi has been singled out as the devil incarnate as if he personally carried out all the killings during the riots of 2002?'
In short: Divert the issue when you are caught in a difficult situation. Raise questions about other riots so that people will be distracted from the Gujarat riots.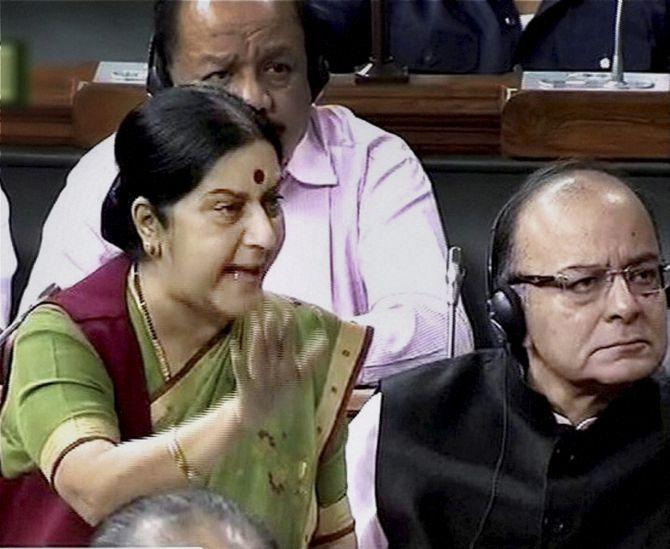 That's what happened in Parliament on Wednesday, August 12, when External Affairs Minister Sushma Swaraj spoke in the Lok Sabha on the 'Lalitgate' controversy. She raised the cases of Warren Anderson (the Union Carbide chairman during the 1984 Bhopal gas tragedy), Adil Shahryar (a friend of Rajiv Gandhi who was jailed in the US who the BJP alleges was released as a quid pro quo for Anderson's release from India) and Octavio Quattrocchi (the alleged middleman in the Bofors scandal).
Swaraj dismissed allegations of corruption levelled against her and her family in one sentence, stating that her family had not taken money from former IPL boss Lalit Modi, and kept the focus of her speech on the alleged corruption of the Congress' first family.
It is time someone told BJP leaders that they were not elected to remind people of Congress corruption. The people of India voted for Narendra Modi and the BJP because they believed that he and his party were clean, unlike the Congress-led government.
So why remind people about Congress corruption? The people of India know about the scandals of the previous government and that is why they elected the BJP, to provide a different administration.
Where was the need for Swaraj to say, 'I want to say to Rahul Gandhi, who likes taking long holidays, that when you are on your next break, sit in peace and read your family history. And then come home and ask Mama, how much did we take from Quattrochhi, and why did we let Anderson escape?'
Rahul Gandhi may or may not know the history of his family, but Indian voters certainly know about Sushma Swaraj's assistance to her family friend, Lalit Modi.
The BJP must not divert issues like Zakir Naik does.
What answer did I give my cousin when she returned a week later to ask for my opinion on Zakir Naik?
I gave her the same answer that I would give the BJP.
Hum ko maloom hai jannat ki haqeeqat lekin Dil ke khush rakhne ko Ghalib yeh khayal achcha hai.'
(We know the reality of paradise, O Ghalib, but to keep the heart happy, the idea is good).
IMAGES: TOP: Controversial Islamic preacher Dr Zakir Naik. BOTTOM: External Affairs Minister Sushma Swaraj in Parliament, August 12.