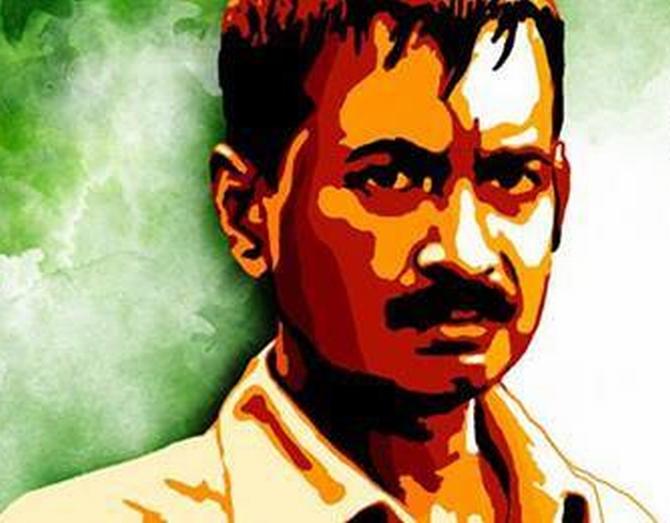 The initial misadventure of an individual AAP leader highlights how the party not only has to bone up on tactics but should also constantly look within to root out ingrained and inherited prejudices, says Subir Roy.
Nani teri morni ko mor le gaye,
Baaki jo bacha tha kale chor le gaye
(Granny, the peacock has run away with your peahen, and what was left has been taken away by the black thief).
This song, popular with our children when they were growing up in Delhi, goes on about a stingy granny whom the children are trying to tease into giving them something. The point of remembering this now is the reference to the kale chor (black thief). Everywhere in India, except in the southern region, the tradition is to depict the wicked in dark hues. Conversely, the good and the beautiful are always fair.

It is, therefore, unsurprising that Delhi's new law minister, Somnath Bharti, while leading a mob against drug and sex abuse in a south Delhi neighbourhood, should end up being accused of harassing and racially profiling a few Ugandan women. This, and the attendant issue of taking the law into one's own hands by none other than a minister, has come in for severe public criticism, including from several women's organisations who would otherwise be natural supporters of the Aam Aadmi Party, which seeks to make a clean break with past ways of governing.

The initial misadventure of an individual AAP leader, made worse by Chief Minister Arvind Kejriwal's stout defence of his colleague, highlights how the party not only has to bone up on tactics but should also constantly look within to root out ingrained and inherited prejudices to live up to all that is expected of it and which enabled it to score such a phenomenal victory in such a short time.

The first thing that Kejriwal and his close associates have to learn is to look at the recent history of alternative politics in India and beware of what may be called the Raj Narain syndrome. That gifted politician with strong socialist beliefs, like Kejriwal, made history by defeating Indira Gandhi in Rae Bareli in 1977and played no small a part in enabling the first non-Congress government at the Centre.
And the supreme irony is that the same maverick Raj Narain led the move to overthrow the Janata Party government of Morarji Desai a couple of years later.
In order to be there for the long haul, Kejriwal and friends must not get hijacked by loose cannons, no matter how bright. And Bharti -- information technology expert, lawyer and rights activist -- is as bright as has been dogged by controversies. This is crucial, since Kejriwal is supported by many who are neither young nor impressionable because he is seen to be sober, level-headed and dogged in his pursuit of goals.
If the first lesson from the country's recent history is for Kejriwal, the second is for his large mass of supporters. The AAP government faces a dilemma. It has to show undoubtedly that it has both the stomach and the ability to get down to the nitty-gritty of devising policy and governing and not remain merely an agitation and a movement. For that it has to foresee remaining in power for a reasonable period of time.

It is here that recent political history is forbidding. Again, going back to 1979, Indira Gandhi encouraged Charan Singh to part ways with the Janata government of Morarji Desai and stake his claim to prime ministership, but Singh's premiership ended humiliatingly without getting the promised support so as to prove his majority in Parliament. The Congress pulled the rug from under the feet of those it promised to support not just this once but on two further instances.
Almost 20 years later, H D Deve Gowda had to quickly end his prime ministership as the head of the United Front government in 1997 when the then Congress president, Sitaram Kesri, decided one fine morning to withdraw support for no good reason. Then, as though once was not enough, the same act was repeated in less than a year to end the prime ministership of I K Gujral.
The AAP government will not just be within its rights but foolhardy if it is not preparing for the Congress party to withdraw support at the first opportunity. In such a situation, its strategy will no doubt be to walk out on its own terms and over issues of its own choosing, rather than be thrown out ignominiously by the Congress party. So it will be naïve for commentators to say: show that you have the ability and the willingness to keep slogging at the daily grind of governance.

Beyond all this, the AAP has to have an overarching mindset -- by not getting destabilised by mistakes but being ready to learn and move ahead. Mistakes are inevitable; failing to learn from them is calamitous.
Image courtesy: https://www.facebook.com/AamAadmiParty