'Here, after all, was a fine specimen of intelligence in the field that Adam Smith gave formal structure.'
'And successful RR surely was as RBI chief,' says Maharaj Damodardas.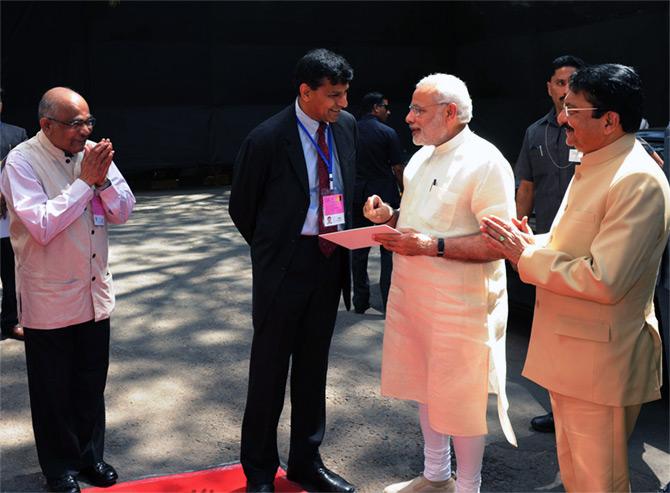 IMAGE: Prime Minister Narendra Modi and Reserve Bank of India Governor Dr Raghuram Rajan at the RBI in Mumbai, April 2, 2015. On Dr Rajan's right is Dr Y V Reddy, the former RBI governor.
'There is lot of similarity between the thinking of the RBI and government...' Modi said that morning.
'RBI is performing its role,' the prime minister said, adding, 'and I congratulate Raghuramji and his team.'
Photograph: Press Information Bureau
It's funny that on a lovely Saturday evening, I should be nostalgic about an 18th century Russian general and irritated by the Indian media's lack of imagination. Here I was, shaking off the sweat of a humid afternoon with a pint of chilled beer and the Colaba wind on my back.
Having avoided the painful experience of going shopping with two determined ladies, I enjoyed the breeze, the rhythm of blues in the air, and the liquid that liberates the troubled Mumbai soul on a weekend.
Why the irritation and the Russian general?
It started with a message -- a certain eminent economist who goes by the name of Raghuram Rajan (RR) had just refused a second term as RBI governor.
Being a keen student of economics with the hope of making it big someday, I was perturbed.
Here, after all, was a fine specimen of intelligence in the field that Adam Smith gave formal structure. And successful RR surely was as RBI chief.
He got inflation down, reversed the rupee's pendulum swings, and forced banks to practice what they preach to borrowers.
RR's announcement came after a bout of intense speculation in our tabloid media. The lad surely had pissed off folks in the establishment. I mean, I had learnt in economics that the government ought not to play games with the RBI. But things are different on the ground here.
Some in North Block were miffed by his reluctance to cut interest rates and lead India to salvation (in all fairness, North Block has always done that). But, worse was to come. Some sniffed 'foreign' leanings and conspiracies.
Hell, someone said they even sent a fearsome 'character assassin.' And poor 'Rockstar Raghu' suddenly became just RR.
But, surprise, surprise. RR held firm, telling stories of one-eyed kings lording over others' darkness, exhorting the (in) tolerance of (in) tolerance, and chiding high-on-debt businesses.
Didn't he know that this doesn't work? Huh? Surely, he must be aware of the ways of Indian politics. People disappear -- body and soul -- if they even hint at rebellion (anybody remember Sitaram Kesri?).
What was RR thinking?
And then I remembered the last Generalissimo of the Russian Empire -- Alexander Vasilyevich Suvorov. Miffed at the emperor's reorganization of his troops modelled on the Prussians, Suvorov had supposedly thundered 'Powder isn't gunpowder, curls aren't cannons, braids aren't broadswords, and I am not a Prussian your majesty, I am a full blooded Russian.'
The eminent RR surely read history well and repeated it. Too bad for him.
The emperor exiled Suvorov; RR will share the same fate.
Of course, the Indian media -- or tabloids as I call them -- did not mention Suvorov. Nor did they sanely discuss the implications of RR's exit. They did what they do best -- prove that they don't have creativity. They coined the term Rexit, borrowing from Grexit and Brexit.
So, apologies RR. I just hope they given you a decent byline at least. Cause yes, you are a rockstar in an increasingly sanskari world.