In a world where the corridors of power are packed with sexually promiscuous men, it would be interesting to see what sort of a president a man committed to one woman 25 years his senior, would make, says Durba Dhyani.
Illustration: Dominic Xavier/Rediff.com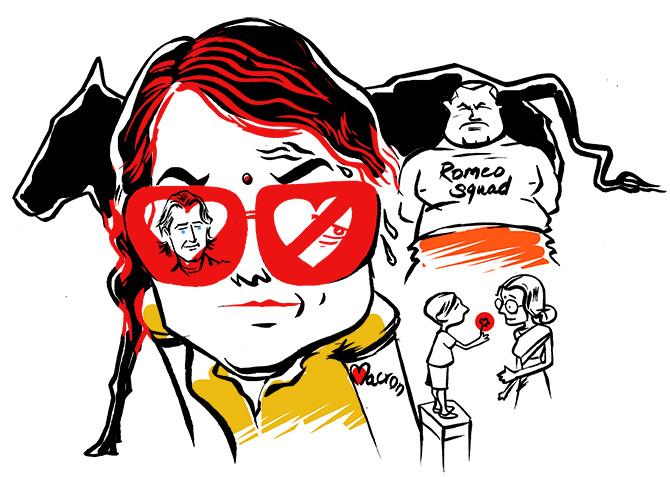 'Whatever you do, I will marry you!' -- Emmanuel promised Brigitte, moments before being separated from her and exiled to Paris.
Their love had blossomed in the past two years at school, through a shared passion for literature and drama.
'Writing brought us together,' Brigitte would later recall. 'It unleashed an incredible closeness.'
It was this closeness that Emmanuel's parents were dead against. They took him out of his school in Amiens, northern France, and sent him away to Paris.
But no matter what challenges are thrown in its path, true love will always find a way.
After Emmanuel had been in exile for about a year, Brigitte joined him in Paris. Some years later, he fulfilled his promise to his lady love and married her without caring for the opinion of society.
A classic fairytale romance? The story does seem quite unexceptional, except that I've not mentioned a little detail: The age of the protagonists.
Emmanuel was 15 when he fell for his school teacher, Brigitte Trogneux. She was 40 then, a married woman with three children, one of whom was Emmanuel's classmate.
He is 39 now and she 64. Their relationship is still going strong.
The hero of this compelling love story is, of course, Emmanuel Macron, the new president of France.
We know the reaction of tabloid journalists all over the world, but not too many French eyebrows are being raised. That country really does not care two hoots about the private life of its public figures.
It is not usual to marry your school teacher, even by French standards, but it is not something earth-shattering either, in the land of liberty and impetuosity.
In India, of course, we don't set much store by love, except when it involves cows or Karan Johar.
If romance blossoms between people belonging to two different communities, we call it love jihad.
When the lovers belong to the same community but different castes, we promptly turn them into outcastes.
And homosexuality is just deviant behaviour that can be cured by yoga.
'The course of love never did run smooth,' Shakespeare warned us long ago, and there weren't even anti-Romeo squads back then!
In such a land, what does an aam Indian 40-plus aurat like me make of the Mr and Mrs Macron story?
As a woman, a part of me feels triumphant.
Did men think only they could charm women half their age? Let this be a wake-up call to all the Donald Trumps out there!
What you men can do, we can do better.
You go for young, we'll go for younger.
You go for secretaries; we'll go for future presidents.
Sixty four is the new sexy!
I'm pouting at the mirror and seeing Madonna, Monica Bellucci, Malaika Arora Khan!
Time to pull out that mini skirt and get a hot new avatar.
A confident cougar is now on the prowl, beware young men!
Later, over dinner, I playfully nudge my son and ask if he likes any girl at school?
"No way! Why are the girls in my class so silly? When will they grow up?" he asks me back.
Good grief, I hope he hasn't got a crush on his teacher instead!
And what would I do if his Lata ma'am reciprocated the feeling?
I visualise him bringing her home some day, for his parents to meet their bahu!
No, I cannot let that happen!
Madamji will have to deal with me first!
I see myself instantly mutating from Monica Bellucci to a formidable Mayawati Behenji and taking on the vamp with a 'Sharam kar, kalmuhi! Tujhe keede pade, teri khandaan barbaad ho jaye...'
From Madonna, I will transform to a Mamatadi shouting, 'Chee chee chee! Cholbe na' and probably follow that up with a resounding slap that will echo thrice, Ekta Kapoor style.
Then a new thought strikes me. What if I get slapped the same way some day, for being a cougar?
Ouch! That sobering visual has put a brake on my cradle-snatching plans for the moment.
Guess the only way I can get rid of this Indian mentality is to go live in France.
Since that is not happening anytime soon, I can only watch from afar and raise my glass of French wine to Mr and Mrs Macron!
In a world where the corridors of power are packed with sexually promiscuous men, it would be interesting to see what sort of a president a man committed to one woman 25 years his senior would make.
Meanwhile I will go switch on the telly nd find out what's going on in Canada.
Why Canada, you ask? Why not, I say?
I take a keen interest in Canadian politics these days. And who said it has anything to do with a certain Justin Trudeau?
DON'T MISS reading the features in the RELATED LINKS BELOW!