Is it a case of poor targeting of a welfare scheme, or is it a reflection of the government's desire to expand the scope of this benefit to secure greater electoral dividends? asks A K Bhattacharya.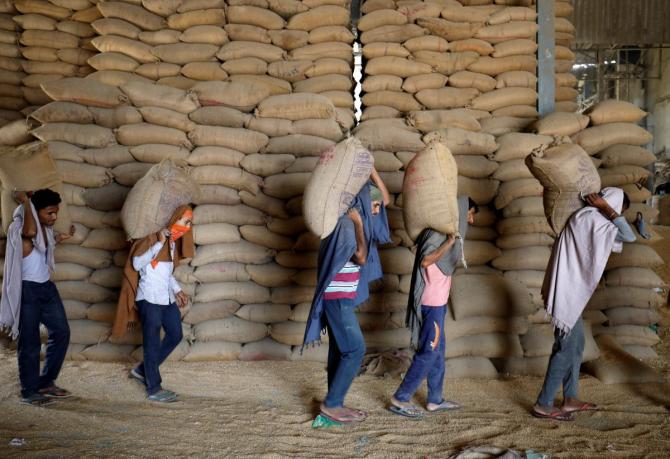 Poll promises have been made in plenty by different political parties during their campaigns for the elections to five state assemblies.
But a promise that outranks almost all other promises, both in terms of its appeal and impact, came from Prime Minister Narendra D Modi.
While addressing an election rally at Durg in Chhattisgarh on November 4, Mr Modi announced that the Centre would extend the Pradhan Mantri Garib Kalyan Anna Yojana (PMGKAY), providing free food grain to an estimated 810 million beneficiaries, by five years.
This is perhaps the biggest poll bonanza that any political party has announced in recent times.
This is a free food grain scheme that covers over 57 per cent of India's population, and the promise is to extend it, not just for one or two years, but for five years, ending on December 31, 2028.
Its current annual cost would be over Rs 2 trillion, and it should increase in the next five years.
When was the last time such a scheme for supplying anything free for five years and entailing an annual cost of this size was announced?
But before gauging its impact on government finances and the economy in general, it would be instructive to understand the context in which such a scheme was introduced.
It was December 23, 2022, when the government announced two major decisions: Discontinuing the supply of free food grain under PMGKAY and making the food grain supply scheme free through the public distribution system (PDS) under the National Food Security Act (NFSA) for one year.
The number of beneficiaries under both schemes was estimated at 810 million.
Under PMGKAY, started in April 2020 in the wake of the Covid pandemic, each beneficiary got five kg of food grain per month free of cost.
Additionally, under the PDS, each of them continued to receive an extra five kg of food grain per month (wheat, rice and coarse cereals) supplied at a heavily subsidised price of Rs 1-3 per kg.
In effect, the government merged the PDS scheme with the PMGKAY.
As for those 810 million beneficiaries, they stopped enjoying free food grain under PMGKAY, but began receiving their PDS entitlements free.
In the process, it seemed that the government had killed two birds with one stone.
It absolved itself of the responsibility of supplying free food grain under PMGKAY.
But in a bid to soften the blow of its decision on the 810 million beneficiaries, the government took upon itself an extra annual burden of about Rs 15,000 crore (Rs 150 billion) in a full year, thereby inflating its total food subsidy burden to Rs 2 trillion.
Since the free PDS food grain scheme was announced only for a year till the end of December 31, 2023, the finance ministry must have heaved a sigh of relief that a modicum of certainty over the lifespan of such free schemes had returned, and hoped that PDS supplies in the last three months of 2023-2024 would start recovering the central issue price from the beneficiaries.
Such hopes have now been belied, confirming the fears expressed by many that free schemes, once announced by the government, do not have a sunset clause.
What then are the costs? One, the government's food subsidy bill, because of the free food grain scheme, may be only Rs 2 trillion as per the current calculations.
But this cost is certain to rise. At present, the economic cost incurred by the Food Corporation of India for procuring wheat and rice is about Rs 27 per kg and Rs 39 per kg, respectively.
The economic cost includes the minimum support price paid to farmers and other expenditure, including that on storage and transportation.
The central issue price (which used to be recovered from the 810 million beneficiaries) was a small amount of Rs 2 per kg for wheat, Rs 3 per kg for rice and Rs 1 per kg for coarse cereals.
The issue price was last revised in 2013, and till recently there were expectations that it might be increased in sync with the rise in minimum support prices (MSP).
But now far from an upward revision, the issue price has been abolished.
On the other hand, the pressure to raise the MSP for agricultural crops will not subside, raising FCI's economic costs in procuring an average of 78 to 80 million tonnes of wheat and rice every year for the central pool.
Even though the annual requirement for the PDS is estimated at 50 to 60 million tonnes, FCI's procurement is on the higher side to prevent any supply shortages.
This pressure too is not likely to ease in the coming years. The food subsidy bill, therefore, can only move north.
To be sure, there is nothing wrong in providing such benefits to those who are so poor or economically vulnerable that they need the support of a free food grain supply scheme.
But the free food grain scheme that the government has extended by five years is meant for 810 million beneficiaries, accounting for 57 per cent of India's current population.
According to a World Bank report, India's poverty level, based on an updated poverty line of $2.15 per day, declined to 10 per cent in 2019, compared to 22.5 per cent in 2011.
This may have risen a little after Covid, but certainly not to a level that required extending the free food grain scheme to more than half of India's population.
Similarly, India's Multidimensional Poverty Index (MPI) estimates that about 16 per cent of the country's population was multidimensionally poor in 2021 and an additional 18.7 per cent was classified as vulnerable to multidimensional poverty.
Why should the government then extend the free food grain scheme to a little more than half of India's population?
Is it a case of poor targeting of a welfare scheme, or is it a reflection of the government's desire to expand the scope of this benefit to secure greater electoral dividends?
Either way, the urgent need is to redefine the number of beneficiaries that are truly deserving of a free food grain supply scheme.
It is likely that some sections of the population will still need to get supplies of food grain at a concessional price, but then the government must suitably revise the central issue price for food grain, fixed more than 10 years ago.
That way the government's food subsidy bill should also become less of a burden.
There is yet another serious issue that deserves attention from policy-makers.
Although there is no data to support this, anecdotal evidence suggests substantial leakage of the free food grain that is being supplied to beneficiaries.
Many of them do not get the full quantity of food grain assured to them, as intermediaries divert it for their private commercial gain.
Providing food security to the economically vulnerable is a laudable goal, but these should be targeted at those who deserve it.
Perhaps an option better than a possibly porous free food grain scheme would be a direct cash transfer to the deserving beneficiaries, equivalent to the cost that the government incurs on procuring them.
This should also reduce the outlay for funding procurement by the FCI, resulting in another efficiency gain.
Feature Presentation: Aslam Hunani/Rediff.com