'It was a 20-minute boat ride journey of about 500 metres, but it must have been a giant leap together for the two staunchly secular leaders, Modi and Macron,' says Ambassador M K Bhadrakumar.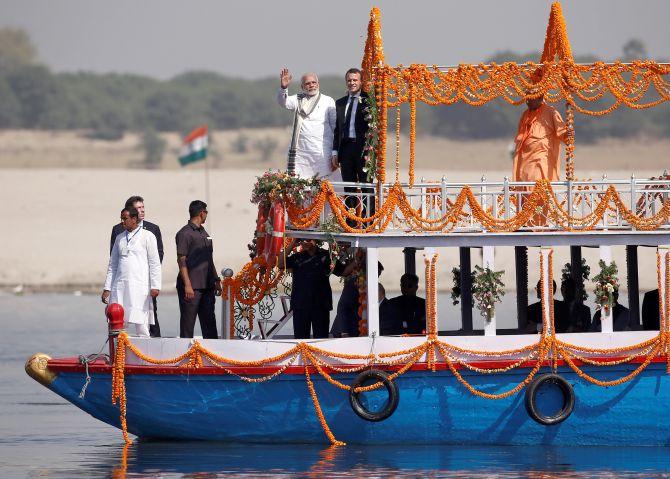 IMAGE: Prime Minister Narendra D Modi and French President Emmanuel Macron enjoy a boat ride on the Ganga in Varanasi, March 12, 2018. Photograph: Adnan Abidi/Reuters
There is powerful symbolism in Prime Minister Modi accompanying French President Emmanuel Macron's visit to Varanasi. It goes way beyond the obvious fact that the PM represents Varanasi in Parliament.
What is little known in India is that Macron has a position on situating the Muslims in France within the four walls of the secular State which holds intriguing similarity to what passes for cultural nationalism (Hindutva) in India.
One of the first moves by the French government after Macron's election was the legislation in October significantly expanding the State's powers to fight 'terrorism' -- arrest and detention of suspects without judicial oversight, home searches and house arrests with limited involvement of courts and so on -- which can be seen as an attempt to enshrine de facto discrimination against French Muslims. Muslims account for close to 9 percent of France's population.
Macron has since disclosed that he is actually considering a profound reorganisation of the way in which Islam is funded and its preachers schooled in France -- effectively redefining the relations between Islam and the French State.
In his own words, the priority will be to 'bring back what secularism is all about' in France. Macron argues that the ultimate aim of this process is the preservation of national cohesion in France while it also forms part of an effort to 'fight fundamentalism'.
Macron claims that he hopes to 'better integrate' Islam in France with a view to 'place it in a more peaceful relationship with the State'.
Therefore, it becomes necessary for the State to 'lay the groundwork for the entire reorganisation of Islam in France.'
What does it involve?
Details are sketchy as of now as Macron hasn't revealed fully what is on his mind, but from what is already known, two main templates of the proposed 'reorganisation' of Islam would be the financing of Islam and, secondly, the training of Imams in France (including the establishment of a new position of Grand Imam of France).
Macron has spoken openly about reducing the influence of Arab countries on French Muslims, which, according to him, 'prevents French Islam from returning to modernity'. In practice, Macron hopes to put restrictions on the rich petrodollar States of the Middle East funding Muslim institutions in France.
Of more fundamental consequence will be a move to institutionalise Islam by shifting Muslims to a law that regulates cultural associations, which are strictly under the financial control of the State.
French Interior Minister Gerard Collomb is quoted as saying that the French government should intervene to create 'imams of the French Republic' to replace the 'imams of foreign countries'.
In Collomb's words, 'I suggest stopping foreign financing of mosques and closing Salafist mosques. Any foreign imam who makes a speech contrary to the values of the Republic must be expelled.'
Ironically, while targeting Muslims, the French State shows latitude to other religious denominations to maintain transnational relations, even getting financial support from abroad (such as the Mormon missionaries or the Catholic Church receiving help from the Vatican).
Of course, France is only following the footsteps of some other European countries such as Italy, Austria or Germany, which too indulge in doublespeak on liberal values -- soft discourse to obfuscate hard policies. Austria, in particular, has one of the most authoritarian systems of institutionalising Islam.
Macron insists with a straight face that 'the State should be neutral' in France. He has been extraordinarily successful in masquerading the realpolitik behind a cosmopolitan and liberal face.
Unsurprisingly, he is President Trump's most favorite European interlocutor, with whom he has frequent phone conversations.
By coincidence, Trump called Macron on the eve of his departure from Delhi with Modi to take a boat ride on Monday evening on the Ganga river from Varanasi's Assi ghat to the Dashashwamedh ghat, watching the episodes of Ramleela and recital of the Ramcharit Manas, while passing through Tulsi Ghat.
Indeed, it was a small 20-minute boat ride journey of about 500 metres, but it must have been a giant leap together for the two staunchly secular leaders, Modi and Macron.