In Tamil Nadu, Divya Nair encounters jallikattu, a ban on colas and a water shortage.
Illustration: Dominic Xavier/Rediff.com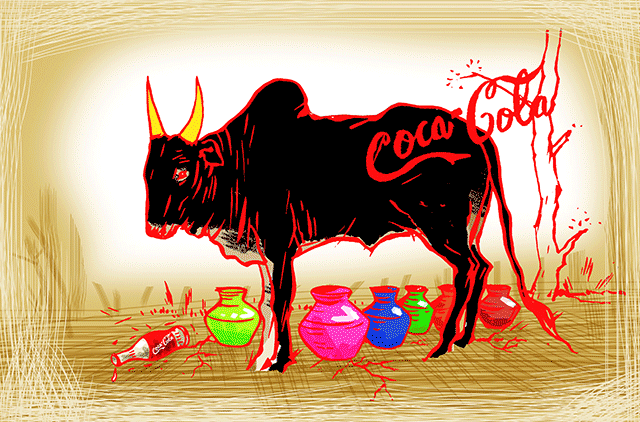 I spent the last fortnight in Coimbatore at a family event.
Many of the issues the Tamil makkal (citizens) are worried about are difficult to fathom because they don't affect the rest of India.
It didn't matter that a wedding was taking place the next morning.
The only television set in the house attracted more attention than the groom and bride to be.
Elders and politically opinionated cousins watched re-runs of bulletins on multiple news channels, discussing the only thing that mattered to them -- whether jallikattu would happen at Alanganallur or not.
Had my mother been brought up in Kerala or Maharashtra, like I have, I'd have logged out of the conversation long ago.
But since she and most of the relatives on my mother's side, though Malayalees, have been brought up in Madurai, I could wrap my head around the importance of jallikattu.
My mother had witnessed this bull sport once, she said, when she was about six or seven, along with her family.
While her elder cousins hadn't fallen short of adjectives or superlatives when they described the action on the field that day, my mother remembered not being able to eat or sleep for the next few days.
The image of a young man's kodal (intestine) being plucked out by the bull's horns was too gory for a child to forget.
My mother had screamed and kept her eyes closed for most of the event.
"It's veeravelayattu, a game of valour," a 70-year-old uncle exclaimed, indicating he is still in favour of the sport.
"They are messing with Tamil Nadu's culture," the Malayalee-raised-and-living-in-the-state added.
How, I asked?
"This is a political strategy to promote Jersey cows in Tamil Nadu."
"Jersey cows are bad," my eight-year-old nephew joined in.
"Sugar, cholesterol," he added.
Words he'd overheard, about the side effects of drinking the milk of Jersey cows, I guess.
A few hours later, we received calls from cousins travelling from Chennai and Kerala who said transport services has been affected.
Between broken conversations, among free Jio users here in Coimbatore and those travelling from Chennai for the wedding, I heard my cousin say she was taking a detour after seeing, en route, policemen beat up the silent protestors and injure one of them badly.
"Tamil Nadu makkal have been very patient. But miscreants are creating problems," the septugenarian uncle declared, his eyes glued to the image of then chief minister O Panneerselvam folding his hands and urging people to be calm on a news channel.
Outside, it rained for a few minutes. The chairs in the open area -- where this bunch of elders was having their discussion -- had to be quickly stacked up and they were sent inside the wedding pandal.
"Poor rains this season. Siruvaniyila tanni illa (Siruvani dam is dry, no water)," my aunt said.
Soon, the topic veered to Tamil Nadu's winter rains and the water problem in the state.
"No drinking water in the city since two weeks now. And summer is a few months from now. Wonder what will happen?" another aunt echoed the concerns of all the other ladies in the room.
"How are things in Mumbai?" a worried relative asked my mother.
When the tea and snacks were served, another grey-haired uncle spoke. "Get used to Indian drinks, kids. No more Pepsi-Cola from March 1," he told the kids.
A fallout of the jallikattu stir was the banning of Coke and Pepsi in an effort to preserve local culture.
"We don't have too many healthy alternatives in cold drinks, do we?" my veliamma (mother's elder sister) said.
"Bovonto (a black coloured fizzy soft drink brand) is there. But it's too sweet," another aunt added, sipping away from her kaapi.
"Vote for jallikattu," my nine-year-old nephew, who had just arrived from Chennai, echoed, as soon as he entered the groom's house, a few hours later than expected.
The boy, who had only seen it on television, said he was so happy that schools were shut and his exams postponed.
On the train back to Mumbai, a resident from Navi Mumbai was reading Dinamalar, (a Tamil newspaper) and discussing how the Pepsi ban may soon affect other states.
He praised Modi for the note ban. But he was worried that if MNCs (like PepsiCo) shut shop in India, it would mean fewer jobs for the youth.
He was anxious for his son, who is in Class 12 and planning to go to the US for higher education. He felt Donald Trump's view on immigrants and visas would make life hard for youngsters aspiring to study and work in America.
I logged onto my Facebook account that day. My timeline was filled with people commenting on the assault on director Sanjay Leela Bhansali on the sets of Padmavati.
A couple of days ago, the architect building our new house in Coimbatore called.
He said the state is at a standstill as everyone waits for the outcome of the OPS vs Sasikala battle.
The panchayat office was not issuing temporary electricity connections, he added, so he could not start work.
A colleague from Tamil Nadu compared the political jallikatu in Chennai to a "thrilling" movie.
Jallikattu, the imminent water crisis and jobs for the young have all been deleted from memory, it seems...
Hardly ten days later, Tamil attention has been diverted by a Powder Pankajam ruling the headlines.