Sanitation is always clubbed with other departments, which lead to its neglect, says Devanik Saha.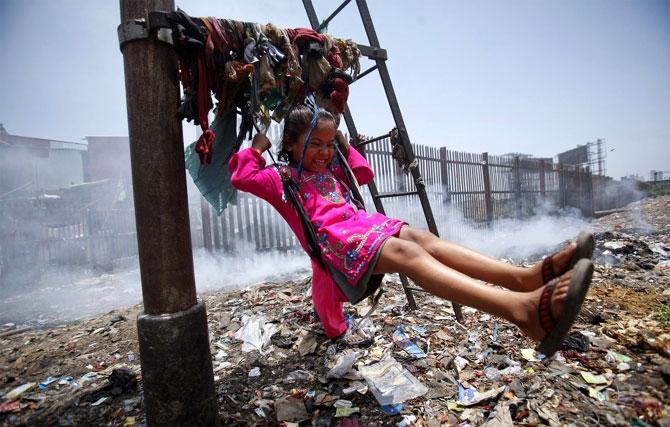 Sanitation in India is a grave issue. Though large scale campaigns have been launched by governments to provide toilets and improve sanitation, but as observed in research reports and analyses, progress has been quite slow.
On October 2, 2014, Prime Minister Narendra Modi launched the ambitious 'Swacch Bharat Mission', which was a revised version of sanitation campaigns launched by previous governments -- Central Rural Sanitation Programme (1986-1999) and Total Sanitation Campaign (TSC) in 1999 (renamed Nirmal Bharat Abhiyan in 2012).
An investigation done by me on the Swachch Vidyalaya Abhiyan for IndiaSpend revealed that the claim of 100 per cent separate toilets coverage by the government isn't true. It highlighted several infirmities on the ground -- lack of water facilities, poor maintenance of toilets and faulty designed toilets. The building of toilets in schools was initially handled by the ministry of drinking water and sanitation, but was later transferred to the ministry of human resources development.
But improving sanitation should not be limited to building toilets as it has been done in the past. Research and data reports indicate that apart from constructing toilets, a significant focus should also be on changing behavioural and cultural practices. Some 44 per cent of households with a working latrine have at least one member who defecates in the open, according to a survey done by RICE Institute in north Indian states -- Bihar, Haryana, Madhya Pradesh, Rajasthan, and Uttar Pradesh. Some 60 per cent toilets in Chhattisgarh built under NBA are defunct, according to a recent report by the Comptroller and Auditor General.
Furthermore, if new toilets are built, usage will increase and the amount of wastewater generation will also increase, which needs to be catered to as well.
While the targets set by Prime Minister Narendra Modi for the Swachch Bharat Abhiyan are quite ambitious, the observations on the ground leave a lot to be desired, which necessitate the call for a separate sanitation ministry. Currently, it is clubbed with drinking water, and has a Cabinet minister (Chaudhary Birender Singh) and a minister of state (Ram Kripal Yadav). Central, state or local government -- sanitation is always clubbed with other departments, which lead to its neglect.
Here are four reasons why sanitation should be allotted a dedicated ministry at the central level:
Huge extent of the problem: India accounts for the highest number of people in the world indulging in open defecation -- 595 million, according to the United Nations. An estimated 38,254 million litres per day (MLD) of sewage is generated out of which only 11,787 MLD (31 per cent) is treated, according to the Central Pollution Control Board. Some 94 pc of cities and towns in India do not have even a partial sewerage network, according to Census 2011. Therefore, the extent of sanitation issues faced by India is too huge to be ignored. If education and health can have dedicated ministries and funding, then why not sanitation?
Involvement of multiple ministries: Rather than being handled by a single ministry, too many departments and central agencies are involved in sanitation governance in different capacities -- drinking water and sanitation, urban development, housing and urban poverty alleviation and the Central Pollution Control Board, leading to excessive levels of bureaucracy which slows down progress. If a single department/ministry is created, then project coordination and tracking progress will be much easier. If we can have a dedicated ministry for ayurveda, yoga and naturopathy, unani, siddha and homoeopathy, then having a separate ministry for something as important as sanitation completely makes sense.
Complex governance of urban local bodies: While the vision planning is done at the highest executive levels, the day to day sanitation affairs in cities are managed by urban local bodies, which again is a complex mess of bureaucracy and governance. For instance, a few years back, as a Teach For India Fellow, I taught in a school run by the Municipal Corporation of Delhi, which had a defunct toilet with no water facilities. When I raised the issue with the concerned authorities from MCD, they told me that for a permanent water supply one needs permission from the Delhi Jal Board, for which the process is quite cumbersome. Since sanitation is just one of the many tasks entrusted to ULBs, their personnel are overburdened with work and therefore, sanitation issues take a backseat.
Facilitate private sector participation: Being a huge interest area, many private sector agencies (Eg, Bill & Melinda Gates Foundation) fund and engage in sanitation projects in India, but the complex governance and administrative issues described above make it difficult for them to engage beyond a certain extent. Moreover, given the vast enormity of sanitation issues, government resources won't be adequate enough to solve them. Therefore, to facilitate more private sector participation, systems and processes need to be made much easier and investment friendly.
Image used for representational purposes only. Photograph: Vivek Prakash/Reuters.