Election 2024 is not as open and shut as has been presumed.
There is some life left in it, observes N Sathiya Moorthy.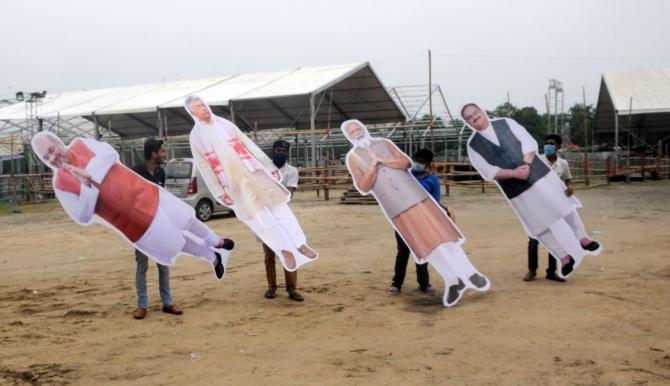 Now that the five-state assembly polls have proved the ruling Bharatiya Janata Party leadership of Narendra Modi and Amit Shah wrong, the possibilities have been opened wide about the fate and future of the Lok Sabha election of 2024.
For the recent elections have shown that not only was the BJP's strategy wrong -- but also its claims of sweeping West Bengal and making big gains in Tamil Nadu and Kerala have been found to be a deliberate over-estimation.
True, the BJP retained Assam and got a foothold in Puducherry, but those that know the Union territory's politics well will also know that it is a different cuppa, not manageable from distant Delhi -- or, even neighbouring Chennai -- all the time.
Even without the three states where non-BJP parties or its allies have won, the non-BJP states already account for a substantial number of Lok Sabha seats.
Among them, Delhi (7), Andhra Pradesh and Rajasthan (25 each), Chhattisgarh (11), Maharashtra (48), Odisha (21), Punjab (13), and Telangana (17) add up to 167 of 542 Lok Sabha seats. Add Kerala's 20, Tamil Nadu's 39 and West Bengal's 42, and the grand total of Lok Sabha seats now from non-BJP ruled states total 268, or a little less than the half-way mark of 272.
It can be nobody's case that the non-BJP parties are going to sweep all these seats, to be able to give a fight to the ruling party at the Centre in 2024.
Nor can it be argued that the BJP and its allies will sweep all Lok Sabha seats from other states.
Just as the BJP has more than a fighting chances in these Opposition-ruled states, especially of the Congress (Chhattisgarh, Punjab and Rajasthan), and also Maharashtra, where it had actually won the assembly polls, so to say, the party's national rival too has a strong presence in Karnataka (28) and Madhya Pradesh (29).
The Congress and its allies had won assembly elections in these two states when last held, and the BJP captured power by pure subterfuge. The party may have forgotten it, but not necessarily the voters in these states, especially after the continuing COVID-19 had taught them what it is not to be a ruling party in the state.
Otherwise, too, the BJP cannot count on the Hindi belt or cow belt any more as it had done in the past two Lok Sabha polls.
UP with its highest number of 80 seats has its own dynamics, yes. The Samajwadi Party and the Bahujan Samaj Party are damned if they align with each other. They are also damned if they do not work together. This confusion has worked to the BJP's electoral advantage in the nation's most populous state -- both in the case of assembly and Lok Sabha polls.
There is also every indication that the BJP would want to complete the Ayodhya temple in time for the Lok Sabha polls, thus hoping to win it for the first time on an 'emotional, religious issue' as different even from the Pulwama-kind of security concern, as in 2019.
But given the lack of attention towards COVID-19 care and cure in these parts, it is anybody's guess if the Centre and the respective state governments would have brought the pandemic situation in full control, for the masses to be able to think and hope for a life, the day-after.
Should the family economy still continue to suffer because the national economy, at the level of the common man, had not recovered (going beyond GDP and stock market figures), then there could be a problem selling the temple to the voters, as the next panacea for all their ills -- both god-given and man-made.
Already, a substantial section of the BJP's urban middle class supporters are upset over the deliberate conduct of the Kumbh Mela, if only to prove that it was okay for Modi-Shah to campaign in the five election-bound states rather than sit in Delhi and think about the human tragedy that was already unfolding, though out of their eyesight.
In Karnataka, the BJP government of the ageing veteran B S Yediyurappa is seen as ignoring the pandemic, through both the first and second phases, with some reports predicting a third wave in October or thereabouts. Fair enough, he stayed put to his state through the period, unlike Yogi Adiyanath (UP) and Shivraj Singh Chouhan (MP) who were busy campaigning for the party in West Bengal especially.
Yogi even travelled across the country, to Assam, Kerala and Tamil Nadu, more for getting noticed in these states than possibly in the hope that his electioneering will help the party win some doubtful seats.
Especially from 2019, Yogi and Chauhan have been wanting to be seen in capitals and towns far removed from theirs. Clearly, they have an agenda that goes beyond seeing the BJP consolidating the support base in traditional strongholds and making inroads, elsewhere.
What all this means is that elections 2024 is not as open and shut as has been presumed. There is at least some life left in it.
The Modi-Shah strategy has worked in 2019 also by focussing entirely on the traditional Congress rival, and making it look weak, after projecting its incumbent government and party leadership as corrupt and stupid five years earlier. They succeeded wonderfully well, yes, but then that may also be their future problem.
Ahead of 2024, no voter other than, say, in Assam, and Chhattisgarh, Punjab and Haryana, Kerala and Karnataka, Rajasthan and Madhya Pradesh, and in Maharashtra and Gujarat, is going to take the party seriously. Yet, unless they are wiped out in these states, together accounting for 205 Lok Sabha seats, in the absence of a third political force, unlike elsewhere, the BJP cannot ignore the nation's Grand Old Party
Or, that is what the party understands inherently well, for it to continue targeting the Congress and belittling its leadership to nauseating ends.
Elsewhere, where the numbers count, there are strong regional parties that can play their part. Of course, Mamata Banerjee's West Bengal and the feeling-estranged Nitish Kumar's Bihar (40 seats) are right and at times rightful candidates, but in Bihar you also have the Rashtriya Janata Dal's Tejashwi Yadav, who has proved to be a chip of the old block in terms of fighting and winning elections -- or, almost.
Then, there is Yogi Adityanath, who will be facing assembly polls next year, and the Odisha polls later this year too can still be game-changers for the BJP.
There is another catch for the non-BJP Opposition. They can hope for a repeat of the post-poll alliance of 1996, which threw up H D Deve Gowda as the unvoted prime minister from a party which had won exactly ten per cent of the seats, shared between at least three factions at the national-level.
The 1996 affair was an evolutionary process, which less than a handful of political analysts (all outside of political parties, including the Janata Dal), seemed to have foreseen. So, the voter, especially the urban voter, was not to be scared of the political instability that followed the polls, until Atal Behari Vajpayee as BJP prime minister, settled down well in 1999 (and not 1998, and not certainly 1996).
In 1996, the voters wanted the ruling Congress out because of the post-reforms economic imbalance and price-rise for the common man, but would not want the BJP, post-demolition (1992). There was also no known talk, pre-poll, about a post-poll khichdi alliance that would not stick together.
Thankfully for the BJP today, there is also none like the late Harkishen Singh Surjeet, the veteran CPI-M general secretary, who put together that alliance, and negotiated with the Congress to lend 'outside support'.
That could also cut the other way round, as there may not be any talk of a pre-poll alliance of the kind this time, if it came to that, lest the possibility of post-poll instability could make the BJP under a strong leader like Modi, the voter's best bet, yet.
Those that project Mamata already as their prime ministerial candidate in 2024 may be doing her a great disservice. It is not if she would make a better PM or not, but about her retaining West Bengal in the Lok Sabha polls, if the BJP succeeded in projecting her as the 'nation's problem' of the future.
Of course, she too can hope for Modi and Shah to market her, this time, not only to her voters but across the nation, too, by their 2024 equivalent of the former's 'Didi O Didi' and make her more acceptable as someone worthy of being promoted as his challenger.
But then, the vocal and the numerically substantial middle-class voter nation-wide, who had disapproved of a chief minister in H D Deve Gowda (Karnataka) becoming prime minister directly without any experience, readily celebrated another in Modi (Gujarat) becoming one, that too without any experience whatsoever in what his bhakts began derisively calling 'Lutyens' Delhi'.
It may have covered up for the prime minister's inherent inadequacy up to a point, but not beyond. They too are finding out for themselves that managing headlines is one thing, managing the nation's economy (demonetisation and GST), and managing a socio-administrative crisis as Covid is entirely another.
Even if they were ready to shift sides, they may not want another chief minister to come to the Centre, straight as their prime minister. Yes, Mamata has had her stints at the Centre, under Prime Minister Vajpayee, but those that remember it will recall only how she had quit twice as railways minister -- as if she could not take the pressures of administration, which was/is much different from managing headlines in her own way -- from long before Modi began making his, be it in native Gujarat or at the national-level, later.
The Nationalist Congress Party has since indicated that their veteran leader Sharad Pawar will now begin work to bring non-BJP parties and leaders on the same page. He will find that there are those like Didi, who are vociferous and those like Tamil Nadu's M K Stalin who are reticent -- not to mention Kerala's Pinarayi Vijayan (75), whom the deadwood in his CPI-M won't let take the centre-stage, even if not as prime ministerial candidate.
The question is for Pawar, if he takes the plunge, to decide the best course of action available to him under the circumstances. Sure enough, the nineties kids among voters and even those a decade older to them may not have known about the 1996-1998 fiasco.
Those even older to him would not know the 'Janata Party's failure' (1975-1977).
They may be willing to think afresh under the circumstances, unlike their preceding generations, which may be stuck in the past -- as least as a legit excuse for them to continue with the Modi status quo.
It is one thing for Pawar or anyone else to promote an idea but another to project a prime minister candidate -- he himself being very suitable otherwise but for his age and health condition. Pawar will be 84 in 2024. If he were to able to bring together, say, the SP and BSP on the same page in UP (possibly beginning with the assembly polls next year, given the post-Covid ground situation), it would have been a battle won.
Then, there is Andhra Pradesh, Telangana and Karnataka, not to leave out his native Maharashtra (where the current ruling alliance should hold together), and Didi's West Bengal and even neighbouring Odisha -- where any trouble-shooter will have his or her hands full for the next three years.
Who knows if there is a weak chance still for the non-BJP parties in 2024, I it would be a state-wise fight, where regional parties would take on the ruling party at the Centre.
The Congress would still be one among them, contesting the highest number of seats in multiple states, even excluding Delhi with its seven seats, where AAP chief minister Arvind Kejriwal, for instance, is not going to make things easy for an 'anti-BJP mediator'!
N Sathiya Moorthy, veteran journalist, political analyst and author, is Distinguished Fellow and Head-Chennai Initiative, Observer Research Foundation.