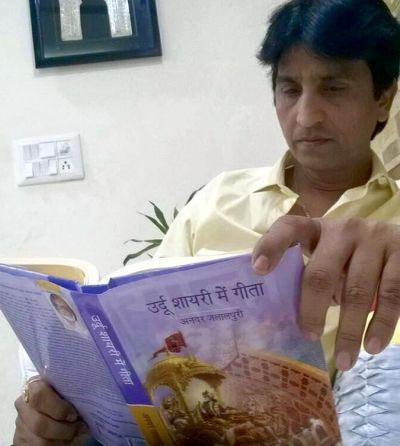 Of late, the poet-turned-politician's comments have had a strongly pro-BJP tone, reports Aditi Phadnis.
Kumar Vishwas's dreams were loaded in a tweet on December 27, 2017. As the Aam Aadmi Party was debating the issue of which three of its members to send to the Rajya Sabha (the Rajya Sabha elections for the three Delhi seats will be held on January 16. AAP with 66 MLAs in Delhi's 70-member assembly is set to win all three), Vishwas tweeted his reaction to Samajwadi Party leader Naresh Aggarwal's comments justifying Pakistan's treatment of Kulbhushan Jadhav.
Without naming Aggarwal, Vishwas called him the King (Naresh) of brazen-ness, adding: "I wish people sitting in the Rajya Sabha had given him a fitting reply." Implicit was the premise that had Vishwas been in the Rajya Sabha, Aggarwal would have got the treatment he deserved.
It was not to be. Vishwas did not figure on the list of those his party nominated to the upper house as its members.
Of late, Vishwas's statements and comments have had a strongly pro-Bharatiya Janata Party tone. He put out a picture of himself reading a book on 'the Gita in Urdu Shayari', has strongly supported the BJP's triple talaq legislation as a defeat for appeasement by various political groups; and has hailed US President Donald Trump's move to suspend aid to Pakistan.
In one fell swoop, from local to domestic to foreign policy! But Vishwas was unable to convince his party that he was the best candidate to be sent to the Rajya Sabha, and others (some newcomers in the party) pipped him to the post. The party nominated senior leader Sanjay Singh, along with Delhi-based businessman Sushil Gupta, and a chartered accountant, N D Gupta.
The question is, what will Vishwas do next?

He has made no secret of his disappointment at being overlooked. "Whatever the name of those Guptas, congratulations to Kejriwal and them for loyal work to AAP... They will now sit where Atal Bihari Vajpayee, Indira Gandhi and other stalwarts sat... I have to say, I have never felt more disappointed with this party. They couldn't have been more blatant about their shady dealings," Vishwas said.

He said his criticism of several decisions taken by party boss Arvind Kejriwal since last year were "my honest opinions and I have been punished for that", adding, "I was told by Kejriwal you have died but I will not let you become a martyr... Today I would like to say: don't interfere with a dead body. Don't spread the bad smell".
Vishwas is a poet-politician. He is a powerful speaker and communicator, undoubtedly talented. But he has had several run-ins with the party's higher bureaucracy and leadership.
In May last year, Delhi MLA Amanatullah Khan had called Vishwas a "Rashtriya Swayamsevak Sangh agent", and Vishwas had threatened to quit. At the time, AAP was still reeling from losses in the Municipal Corporation of Delhi and Punjab assembly polls, and there were fears of the party "breaking up". While Vishwas was pacified, he continued to make repeated references to a "conspiracy" to stop his ascent to the Rajya Sabha.
So it is safe to assume that things have come to a breaking point.
But what is to be watched is how the break will happen -- and whether Kejriwal will make the first move to appease a disappointed colleague or just let him go.
Image: Kumar Vishwas has had several run-ins with AAP's bureaucracy and leadership. Photograph: Kumar Vishwas/Facebook.