'Since there will be US lawmakers, deans of leading universities like Harvard and Columbia and personalities from the worlds of art, culture, politics, medicine, science, technology, "We have made a request to the prime minister to say something in English."' Aziz Haniffa/Rediff.com reports from Washington, DC.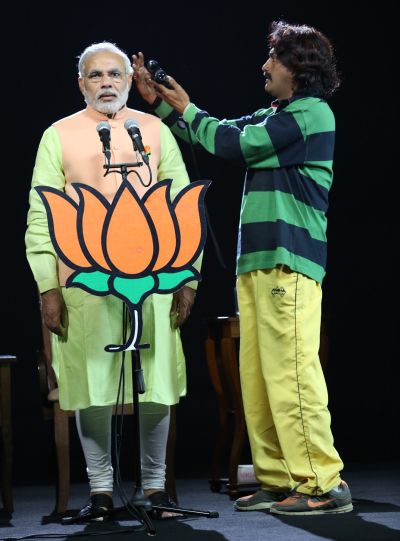 The organisers of the community reception for Prime Minister Narendra Modi, to be held at the famed Madison Square Garden in New York City on September 28, have created a special rotating stage for him that will move every 15 minutes.
"We wanted to make sure," Dr Bharat Barai, the key coordinator of the event, told Rediff.com, "that he will face all the people at some point of time while he is making his remarks. This is an extra expense, but we decided that we don't want anybody to be behind him all the time. So we are creating a special 6-foot-diameter stage. His podium will be on this diameter stage, which will be rotating."
For security reasons Dr Barai said he could not confirm whether Modi would be in an glass-enclosed bulletproof stage, but acknowledged that security would be tight as is normal for any visiting foreign leader, and that Modi was being accorded full US Secret Service protection.
Each ticket holder would have to go through a magnetometer and any other search deemed necessary by the Secret Service.
Dr Barai denied earlier reports that cell phones and cash would be disallowed. Inside the arena, cell phones will have to be turned off or put on vibrate as "is usual even if you go to a movie theatre," he said.
He advised men not to bring anything besides their cell phones; no bags will be permitted.
"And for women, please inform them that they bring only a small clutch purse, which can accommodate their cell phone and personal items — nothing beyond that," he added.
Since there will be a fair number of US lawmakers, deans of leading universities like Harvard and Columbia and personalities from the worlds of art, culture, politics, medicine, science, technology -- who may not be Indian American -- Dr Barai said, "We have made a request to the prime minister to say something in English."
"We have already made arrangements for simultaneous English translations and 500 people, including the Congressmen and Senators, will have headphones. But we can't do it for everybody because of the technical limitations. So, just like the United Nations, they (the dignitaries) will be able to hear his speech on the headphones in English simultaneously. Number two, there will be live English subtitles on the MSG 360-degree screen."
Dr Barai confirmed that agreements had been reached with the Times Square Alliance "and his speech will be beamed live at Times Square from 11.30 am to 1.30 pm, and that will be with English subtitles too. We will also announce shortly on our Web site which radio station they can tune into. So either they could dial a telephone number or they can hear it on a particular radio station. Or, there will be an application and they can even see the whole programme live on their smart phone. So, in a sense, anyone anywhere in the world who wants to listen to the speech by the prime minister, has an opportunity to do so."
Image: Narendra Modi likes hi-tech; here he is being filmed on hologram for his election campaign. Photograph courtesy: Senthil Kumar.
All these arrangements, he said, had been made keeping in mind the limited seating available at the MSG.
Only at the start of the programme, Dr Barai said, "will the Congressmen and Senators share the stage with the prime minister during the singing of the national anthems of both countries."
Sacramento Kings owner Mumbai-born Vivek Ranadive's daughter Anjali Ranadive will sing the US national anthem.
"She was not selected because of her father. We selected her based on her merits as someone who has performed at the start of NFL games and other events," Dr Barai said.
He confirmed that Miss America Nina Davuluri, whose reign ended September 14, and Hari Sreenivasan, who anchors PBS NewsHour Weekend, would be the emcees.
He also knocked down allegations that only those who paid big bucks as patron members would occupy the front row seats.
"The first two rows are reserved for invitees," he said, "Even the guys who are paying $50,000 or $1,000, they are not sitting right up in front. Invitees such as Congressmen, Senators, deans of various universities and colleges and leading personalities from the world of arts, culture, and various other fields will be seated in these reserved rows."
"It is the embassy who has chosen them," he added, "It's behind them that the patron members will be seated, and there are only 700 people out of 18,000 who belong to that category."
"It's my guesstimate that about 30, 40 Congressmen, Senators will attend," Dr Barai said. He added a caveat, that this "depends if they can get away from their constituencies, particularly since they will be campaigning for re-election."
"And you bet, if there are fundraisers organised for them, they are not going to leave that and come to New York," he said.