Home > India > News > Report


'Basu, one of the last few bhadrolok politicians'

Indrani Roy Mitra | January 17, 2010 21:10 IST
Last Updated: January 18, 2010 09:33 IST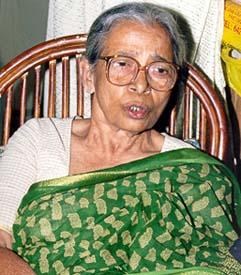 Jyoti Basu, the longest serving chief minister of India [Images], breathed his last on Sunday. He served as West Bengal's [Images] chief minister from 1977 to 2000.
To writer and social activist Mahasweta Devi, 'he was one of the old-generation politicians who believed in ethics and morality, one of the few leaders who elicited people's respect'.
Recounting her interactions with the veteran leader, the octogenarian writer told rediff.com on Sunday, 'Basu was a nice gentleman who had the guts to call spade a spade and who was willing to listen to the people'. Over to Mahasweta Devi.
Basu was an epitome of patience and resilience. Despite his busy schedule, he had time to listen to every one's problem, no matter what.
He was a great statesman, someone who would treat the Opposition with respect. Perhaps, the age that he belonged to was a different one. Politicians of his generation were not anti-people at all.
He respected the fact that he was the people's representative and never ever alienated himself from the people.
I knew him personally and on many occasions had sought appointments with him to talk about tribal issues. On each occasion, he had given me time and had been all ears.
In the 1980s, tribes like Lodha and Sabars were termed us 'criminal tribes' and they used to be slaughtered mercilessly.
I had led a movement against such horrendous acts at that time. I had even fought and won a legal case against the West Bengal government in 1989-90. But in spite of that, my ties with Jyotibabu were not severed.
He never turned a deaf ear to any of the problems that I brought to him. Rather, he always tried to find a solution.  
He advocated and managed to maintain administrative transparency of some sort, a phenomenon which has been 'disdainfully' thrown out of the window by his successors.
When Chuni Kotal (she was a Dalit Adivasi of Lodha Shabar tribe, who in 1985 became the first woman graduate among the Lodha Shabars. She committed suicide on August 16, 1992, after years of harassment by officials), I went to him to seek redress and he listened to me with compassion.
With Basu's death, Bengal lost one of the last few bhadrolok politicians.
Image: Mahasweta Devi. | Photograph: Jewella C Miranda