Home > India > News > PTI


Pak should take slain 26/11 terrorists' bodies: R R Patil

January 01, 2010 19:41 IST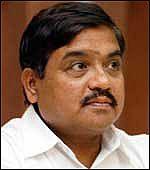 The Maharashtra [Images] government on Friday asked Pakistan to receive the bodies of the nine Lashkar-e-Tayiba [Images] terrorists killed during the 26/11 Mumbai [Images] attacks, lying in the J J Hospital morgue for over a year now.

"As the bodies have been identified as those of Pakistani nationals, the neighbouring country should accept them," Maharashtra Home Minister R R Patil [Images] told mediapersons.

Stating that the Maharashtra government had already sought permission of the Centre to dispose of the bodies, Patil said a reply was awaited.

"The Centre's approval for disposing of the bodies is necessary considering involvement of foreign agencies in the investigation," the minister said, adding the DNA samples, required for probe and trial of the case, have already been collected.

Muslim organisations in Mumbai have announced that community cemeteries where unclaimed bodies are usually buried, will not open their doors for performing the last rites of the slain terrorists.

The terrorists have been identified as Nazir, Babar Imran alias Abu Akasa, Abu Ali, Abu Soheb, Bada Abdul Rehman, Abu Umar, Fahadullah, Abdul Rehman Chota and Ismail Khan. The lone surviving 26/11 terrorist, Ajmal Kasab [Images], is facing trial.

Image: Maharashtra Home Miniser R R Patil






© Copyright 2009 PTI. All rights reserved. Republication or redistribution of PTI content, including by framing or similar means, is expressly prohibited without the prior written consent.