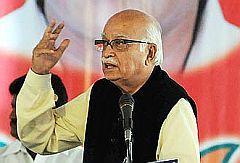 Against the backdrop of Bharatiya Janata Party opposing resumption of dialogue with Pakistan, senior party leader L K Advani today said terrorism and Kashmir are 'festering sores to this day' due to 'mishandling' of Pakistan by former prime minister Jawaharlal Nehru.
"His (Nehru's) mishandling of Pakistan has left terrorism and Kashmir as two festering sores for our body politic right up to this day," Advani wrote in his blog.
His comments come a day after the BJP asked the government not to go ahead with the foreign secretary-level talks slated to be held in New Delhi on February 25, saying 'terror and talks' cannot go together and 'not talking' is also a diplomatic option.
Advani quotes extensively from a recent work of renowned editor Fareed Zakaria in his blog to accuse Nehru of having pursued a weak foreign policy towards Pakistan and China, in whose favour he refused a permanent seat in the United Nations Security Council for India.
"There can hardly be a more glaring instance of Nehruji's unconcern for India's own strategic interests than his refusal to accept a United States offer in 1952 of a permanent seat in the UN Security Council. He insisted that the seat be given to China," Advani said.
"Sadly, the shock that Nehru suffered when confronted by China's gross betrayal in 1962 virtually cost him his life," he said.
Image: Senior BJP leader L K Advani