October 27, 2009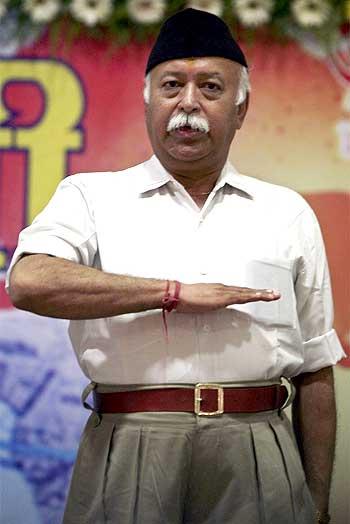 Rashtriya Swayamsevak Sangh chief Mohan Bhagwat, who had asked the top Bharatiya Janata Party [Images] leadership to sort out problems in the wake of Lok Sabha debacle, on Tuesday seemed to suggest that the party may need a 'surgery' or even 'chemotherapy' treatment, a view rejected by BJP chief Rajnath Singh.
"As far as BJP is concerned, whatever surgery, medicine, chemotherapy is essential for them, it has to be diagnosed by them (BJP)," he told media persons in Jaipur [Images].
Bhagwat said, "If they (BJP) need any organisational help, if they ask for it, we will provide them help".
Asked if the party needed a 'surgery', BJP chief Rajnath Singh said, "Not at all, who says that?"
However, senior BJP leader Murli Manohar Joshi [Images] said, "The doctor can only talk about treatment, we are patients."

Replying to questions, Bhagwat said RSS was not responsible for the sorry state of affairs in BJP.
On the defiance shown by former chief minister Vasundhara Raje, who resigned from the post of Leader of the Opposition nine weeks after being asked to step down, Bhagwat said it was for BJP and its leadership to find a solution.

On the issue of 'Marathi manoos', which was a key issue during the Maharashtra polls, the RSS chief said, "Every Indian belongs to India. There are various languages and religions, which have their own identity. Hindutva for us is considering them as part of one (entity) and we do not believe in things like Marathi pride."