Advertisement

  

Advertisement

Does Barack Obama deserve the Peace Nobel?
October 09, 2009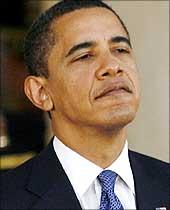 United States President Barack Obama [Images] on Friday made his mark in history when he won the 2009 Nobel Peace Prize.
The luminaries who have won the coveted prize include Mother Teresa, Tibetan spiritual leader Dalai Lama [Images] and Martin Luther King [Images] Jr.
The Norwegian Nobel Committee attached special importance to Obama's vision of and work for a world without nuclear weapons.
Thanks to Obama's initiative, the USA is now playing a more constructive role in meeting the great climatic challenges the world is confronting. Democracy and human rights are to be strengthened, the committee said.
Do you agree with the Nobel committee's decision? Does Barack Obama deserve the Nobel Peace Prize?