Home > India > News > Specials


The Rediff Special/ Shobha Warrier in Chennai

Stigma still haunts HIV+ people

March 20, 2009


| | |
| --- | --- |
| Daisy David | |
| | |
| | |
| | |
| | |
| | |
| | |
The number of HIV/AIDS cases in India has risen from the first case in 1986 in Tamil Nadu to 2.4 million in 2007, and out of this, 63% of the cases are in the four southern states of Kerala [Images], Tamil Nadu, Karnataka and Andhra Pradesh.
In the southern states, HIV is primarily spread through heterosexual contact, whereas infections are mainly found amongst injecting drug users and sex workers in the north-east of India. From the time the first case of AIDS was detected in Tamil Nadu, a lot of activities have been going on in the state and the country to make people aware of what the disease is.
Even after more than two decades, has the attitude of society changed towards those infected with the HIV virus? Unfortunately, the answer is no. Not only society but even their own families are not supportive of these hapless people. Even today the stigma attached to the disease is alarming, and the worst sufferers are women, as always. The burden of taking care of a sick husband and children when she herself is ill, falls on the woman.
Christopher Baskaran of World Vision spoke of the State level public hearing organised by INP+ (Indian Network for People Living with HIV/AIDS) jointly with SIAAP (South Indian AIDS Action Program and World Vision a few days ago in Chennai. "It is to sensitise the policymakers and civil society organisations about the discrimination faced by women living with HIV and women in sex work."
In 1998, Daisy David was working in the Gulf region as a Lab Technician when she was accidentally diagnosed as HIV+. As she was far away in another country, she battled the trauma all alone. Her husband was already ill back home but was not diagnosed with the dreaded disease; they thought he "was just ill." Soon, he was also diagnosed as HIV+ but he refused to give their daughter to her, and Daisy lived a lonely life in Chennai.
"Only after he died, could I see my daughter. Even today, I take care of my school-going daughter and my in-laws. I stay alone and not with them. Because I am (HIV) positive, my relatives and those in my neighbourhood keep a distance from me. I don't want my daughter to feel discriminated against because her mother is positive. That is why I stay away. I long to live with my daughter, hug her, kiss her, but I keep a check on all my emotions. That is the fate of a woman! When I am with other HIV+ people like me, I feel happy and confident but once I face the outside world, I lose all my confidence," Daisy said.
She feels that all women who are afflicted with HIV virus face such discrimination. "They are denied their husband's property, they are not allowed to attend family functions, they are abused with filthy words, and they are blamed for the virus though they might have got it from their husbands. At the same time, they have to bear the burden of the family."
For the last 3-4 years, Daisy is at peace with herself. "That is because I am with the NGOs that work for HIV+ people. Because of the efforts of the NGOs and government organisation like NACO, today, I come on TV, and my face is there on newspapers. You cannot say how much confidence I derive from coming out in the open. Ten years ago, if I had walked on the streets, people would have thrown stones at me but today, my face is familiar. Still, there is a long way to ago...."
Daisy David, a member of INP Plus now works with World Vision taking care of children affected with HIV virus.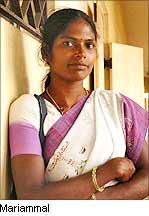 Mariammal from Vilupuram was tested positive in 2001. Her husband had been falling ill quite frequently and was tested positive. Once he was tested positive, the doctors attending to him wanted her to be tested also. Test results showed she also was positive. Luckily for her, her two children are negative. Unable to bear the physical pain, her husband committed suicide. From then on started her fight for survival in a society that shuns positive people.
"At the time, I had seen on TV and in the papers that HIV+ people live only for 6-7 years, and I got ready to live a short life. I had seen my husband suffer, and I didn't want to go through all that. I even thought of committing suicide in those days. In fact, I had taken a picture of myself with my children, and had planned to end our lives."
It was a counsellor who came in her area that changed her attitude and life. "He asked me to live for my negative children, and told me that medicines for the disease would soon be available. He gave me so much confidence that I decided to fight and live. I also started working for various NGOs working on this cause."
Discrimination? "After my husband's death, everyone came to know that he died of AIDS. They also came to know about my treatment. My next door neighbour shunned me because her husband told her not to touch me or take any food from my hands! They thought I would infect them by touching. Even after so many of us have worked so hard to spread awareness and correct information, people still have such beliefs."
But fortunately for her, her family has been extremely supportive. "I don't have parents but my sisters are very supportive."
She wants to see the kind of change in society where asking for a man's HIV status is not considered bad before marriage. Mariammal has been insisting on the test result from the man who is going to marry her sister. "My people are against it. They say it's not right to be suspicious and ask such things. But I say, if I had asked for my husband's test result, I would not have been in this position now. I want to implement in my home what I have been telling others."
Mariammal is working with the Positive Network for women at Villupuram.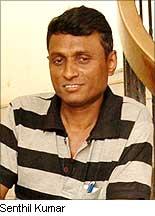 Senthil Kumar currently works as the Joint Secretary of INP Plus. When he was diagnosed with the HIV virus in 2001, he was working as a stenographer in a private firm.
"I was suffering from diarrhoea for a very long time, and when I was asked to take the test for HIV, I didn't even know what it was. Once I came to know about the magnitude of the disease, for one year, I confined myself to a small room without allowing my wife and child to come near me. I didn't want to infect them."
His health deteriorated and he lost so much weight that he soon weighed just 27 kilos! "Now, with ART, I am 69 kilos. When I started on it in 2002, ART was not given free. I used to pay Rs. 9000-12,000 a month which was unaffordable. It was from 2004 that the government has started giving it free."
But more than health, what bothered Senthil Kumar was isolation. It hurt him so much that people around him distanced themselves. 
He was shunned by his own family, and that included his own mother, brothers and sisters but his wife's family was with him throughout, offering the much needed support. "Without the support of my wife, I would not have been alive today. Though she is negative, she never shunned me. Also, from the day I joined our network, I have gained in confidence."
In 2003, he decided to join INP Plus so that he could work with those who are like him. "We give a positive message but much more sensitisation is needed. We also know that women suffer more than men as far as HIV/AIDS is concerned. You take the case of a widow in a village. She must have lost her husband because of the disease but more than losing her husband, she suffers because of the apathy of the villagers. More often than not, she also will be positive. Society won't talk like that to a man but a woman is abused for being positive and having a positive husband. Unless she has support, she will not be able to tide over those difficult days."
Text: Shobha Warrier; Photos: Sreeram Selvaraj
The Rediff Specials