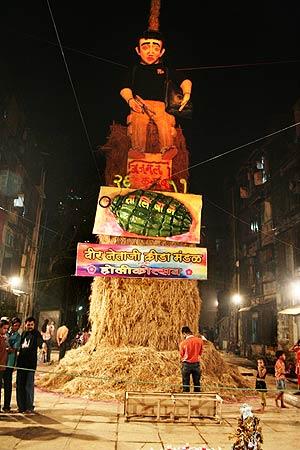 Every year, during Holi, at this chawl in Worli, Mumbai [Images], the residents construct a giant pyre where they burn an effigy of one who represents evil.

In the past, it's been Dr Amit Kumar of the Gurgaon kidney scandal and Al Qaeda [Images] leader Osama bin Laden [Images]. But this year, the residents have built a 45 foot high effigy of the lone 26/11 terrorist in custody, Mohammed Ajmal Amir Kasab [Images].

At 12 am tonight, the pyre will burn, and with it the 'evil of Kasab', or so say those who built it.

Photograph: Uttam Ghosh