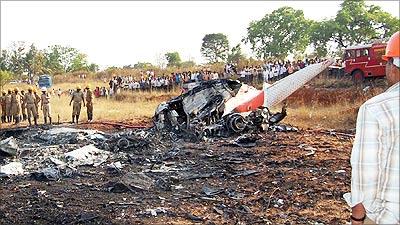 A plane crash near Bengaluru [Images] on Friday claimed three lives. The Saras trainer aircraft which took off from the Hindustan Aeronautics Limited airport on Friday afternoon crashed in the outskirts of Bengaluru fifteen minutes after it took off.

Three persons on board including the pilot, Wing Commander Praveen were charred to death following the crash. The exact reason for the crash is not known.

Police sources said that the plane was Mysore bound and when it was crossing over at Bidadi, when it crashed. The plane crashed at the Mega City Layout at Sheshagirihalli in Bidadi which is around 40 km from Bengaluru at 1530 hrs on Friday. It is said that there were three persons on board and all three lost their lives as a result of the crash.

The Saras is a multi role light transport aircraft which according to its developer the NAL is ideal for executive transport, air ambulance and other community services. The Saras made its debut at the Aeroshow-2007.
Image: Remains of the Saras aircraft that crashed near Bidadi in Bangalore on Friday.

Photograph: KPN