March 06, 2009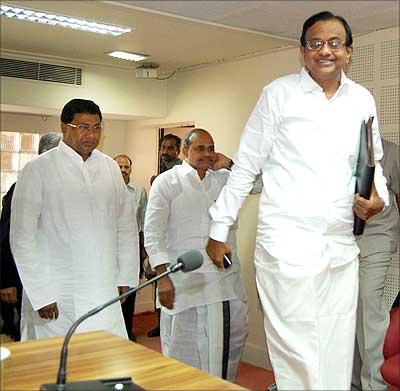 Making it clear to Pakistan that arrests of one or two persons in connection with the Mumbai [Images] attacks was not enough, Home Minister P Chidambaram [Images] today said it has to dismantle the terror infrastructure to end the menace.
He also asked Islamabad [Images] to declare zero-tolerance towards the scourge.
"If the terror infrastructure remains intact, it is like riding a tiger. You know what happens when you ride a tiger. They have to dismantle terror infrastructure and declare zero-tolerance to terrorism," he told a press conference after reviewing security situation in Andhra Pradesh.
Image: Home Minister P chidambaram after reviewing a security meeting with Andhra Pradesh Chief Minister Dr Y S Rajasekhar Reddy Hyderabad secretariat on Friday.
Photograph: Snaps India