March 02, 2009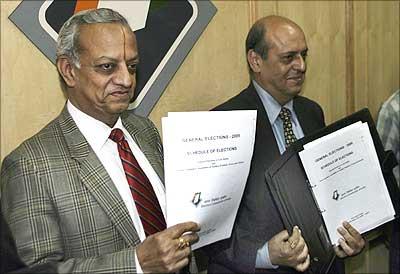 The Election Commission on Monday announced five-phase polls for the general elections scheduled betweeen 16 April  and 13 May.
124 constituencies will go to the polls in the first phase on April 16. 

141 constituencies will vote in the second phase on April 23.

107 constituencies will vote in the third phase on April 30.

85 constituencies will vote in the fourth phase on May 7.
86 constituencies will vote in the fifth phase on May 13.
The counting of votes will begin on May 16 and the 15th Lok sabha will be constituted by June 2.

There will be 5 phases of polls in Jammu and Kashmir [Images] and Uttar Pradesh [Images], 4 phases of polls in Bihar, 3 phases of polls in Maharashtra and West Bengal, 2 phases of polls in Andhra Pradesh, Assam, Jharkhand, Manipur and Punjab.
All remaining states and union territories will have single phase polls. 84 constituencies have been reserved for scheduled caste candidates.

The polls are scheduled as follows

Jammu and Kashmir and Uttar Pradesh will have polls on all five dates.
      
Bihar: April 16, 23, 30 and May 7.
 
Maharashtra: April 16, 23, and 30.
      
West Bengal: April 30, May 7 and 13.
      
Andhra Pradesh: April 16 and 23.
      
Assam: April 16 and 23.
      
Karnataka: April 23 and 30.
      
Madhya Pradesh [Images]: April 23 and 30.
      
Manipur: April 16 and 23.
      
Orissa: April 16 and 23.
      
Punjab: May 7 and 13.
      
Jharkhand: April 16 and 23.
      
Arunachal Pradesh, Kerala [Images], Meghalaya, Mizoram, Nagaland, Chhattisgarh, Andaman and Nicobar Islands and Lakshadweep will have a single-phase poll on April 16.

Goa [Images] and Tripura will have one-day poll on April 23.
 
Gujarat, Sikkim, Dadra and Nagar Haveli, and Daman and Diu will have one-day poll on April 30.
      
Delhi [Images], Haryana and Rajasthan will have a one-day poll on May 7.

Himachal Pradesh [Images], Tamil Nadu, Uttarakhand [Images], Chandigarh and Puducherry will have polling on May 13.

The commision also said that 40 lakh civil staff and 21 lakh paramilitary forces will be requisitioned to conduct the polls.
The model code of conduct has been imposed with immediate effect. The Elections to Assemblies in Andhra Pradesh, Sikkim and Orissa will be held simultaneously with the Lok Sabha polls. This is the first elections to be held after the delimitation of constituencies has been done. 499 of the existing 543 constituencies have been newly delimited.
Photo electoral rolls have been made compulsary in these polls. Photo electoral rolls will be used for the first time
in 522 out of the 543 constituencies. The forthcoming polls will have 8,28,408 polling stations which will require 11 lakh electronic voting machines.71.4 crore will be the number of eligible voters, an increase of 4.3 crore over the 2004 figure of 67.1 crore.
The dates were finalised taking into account aspects like school board examinations, local holidays, festivals and harvest, said Chief election commissioner N Gopalaswami [Images].The poll schedule was worked out after series of
meetings with political parties, Chief Secretaries and Director Generals of Police and Railway Board officials starting from February 3, the CEC said.

"All candidates will be required to file two affidavits along with their nomination papers. One affidavit will pertain to information on the criminal antecedents of the candidate and the second affidavit will pertain to assets including moveable and immovable assets of the candidate and his family including the assets owned by the candidate's spouse and dependents," Gopalaswamy said in a statement. The returning officers have been asked to display copies of these affidavits on notice boards and make the information available to the public. 
Additional reportage: PTI 

Image: India's Chief Election Commissioner Gopalaswami and Election Commissioner Navin Chawla unveil the schedule of elections in New Delhi
Photograph: Reuters/ B Mathur