January 20, 2009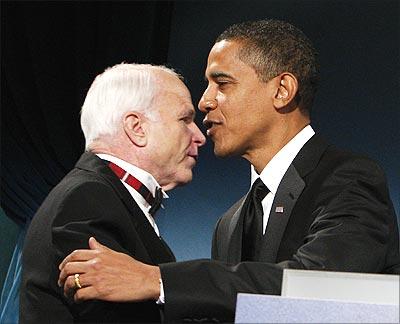 United States President-elect Barack Obama [Images] has showered praise on his Republican rival Senator John McCain [Images], describing him as 'a hero of bipartisan politics and a courageous public servant'.
Obama held a special black-tie dinner for the 72-year old McCain in Washington on Monday night.
"I could stand here and recite the long list of John's bipartisan accomplishments," Obama said and listed out, "Campaign finance reform, Immigration, The Patients' Bill of Rights -- All those times he has crossed the aisle and risked the ire of his party for the good of his country."
"And yet, what makes John such a rare and courageous public servant is not the accomplishments themselves, but the true motivation behind them," the President-elect said.
Obama said there are few Americans who understand this need for common purpose and common effort better than John McCain. "It is what he has strived for and achieved throughout his life. It is built into the very content of his character," he said.
Towards the end of his speech, Obama urged people to follow McCain's approach of bipartisan leadership.
"I'd like to close by asking all of you to join us in making this bipartisan dinner not just an inaugural tradition, but a new way of doing the people's business in this city," he said.
"We will not always agree on everything in the months to come, and we will have our share of arguments and debates. But let us strive always to find that common ground, and to defend together those common ideals, for it is the only way we can meet the very big and very serious challenges that we face right now," Obama said.
On the eve of the inauguration, Obama also held two other bipartisan dinners to honour former Secretary of State General Colin Powell and Vice President-elect Joe Biden.
"In these times of great challenge and great change, leadership requires rising above the same old narrow partisanship," Obama had said on January 10 while announcing the three bipartisan dinners.
"Each of these distinguished Americans has spent his life in service to his country, at each and every moment placing the interests of America before issues of political party. That is precisely the spirit of common purpose we need as we begin the work ahead," Obama had said.
Image: US President-elect Barack Obama with Senator John McCain at the bipartisan dinner | Photograph: Jim Young/REUTERS