Home > India > News > First Look


Discuss |
Email |
Print | Get latest news on your desktop


'Trinidad still practices 19th-century Hinduism'

A Ganesh Nadar | January 14, 2009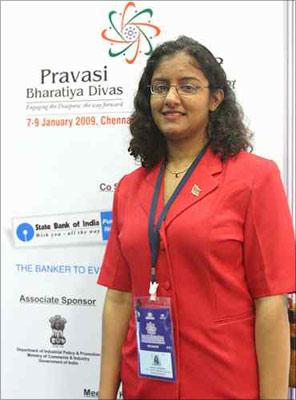 Urvashi Ramnarine, an employee at the High Commission of the Republic of Trinidad and Tobago in New Delhi [Images], says over forty per cent of the population of Indian origin in her homeland speak in Hindi or Bhojpuri.
"I came to know that the language spoken there was Bhojpuri only after coming here," she admits.
Urvashi says that the Indian population in Trinidad still adheres to Indian culture and traditions.
"Most Indians practice Hinduism. But Hinduism there is stricter and more orthodox. Here, Hinduism has evolved over time. There, they have preserved 19th century Hinduism that was practiced in India when they left for Trinidad," she explains.
Urvashi says that Hindi movies and film songs are very popular in Trinidad, and most people actually learn the language to watch Hindi movies.
Diwali is the second largest festival in Trinidad and it is also a public holiday. The day Indian labourers arrived on the island -- 30th May, 1865 -- has also been declared a national holiday.
The British plantation owners had brought several Indian labourers to work in their sugar plantations.
"Some stayed back and some came back to India" informed Urvashi. She seems to be well-versed with the history of her adopted country, but she admits, "After I came here, people started asking me questions about my history. So I read about the history of our people and found out details about our common history".
Explaining the cultural heritage of Indians settled in Trinidad, she said, "The wedding ceremony, death rituals, the Ganesha festival and Bhumi pooja are conducted in the same way. I feel a huge affinity to these festivals in India. We need more exchanges between the two countries; we need to know more about each other".
She describes the music culture of Indians in Trinidad as "a chutney mix of Hindi music and Caribbean beat". As many as 12 radio stations are devoted to playing Hindi songs.
Urvashi will miss Delhi and India once she goes back, but adds wistfully, "Whenever you travel and stay at a place, you tend to take back something with you, and also some part of you stays back with the memories". 
Image: Urvashi Ramnarine | Photograph: Rajesh Karkera