Home > India > News > First Look


Discuss |
Email |
Print | Get latest news on your desktop


UK teenager's dream: Wants to join Indian Parliament

January 13, 2009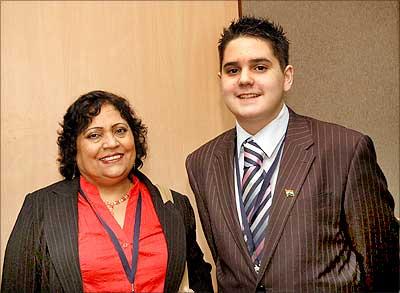 At 14, Jordan Bowen might be the youngest delegate at the just-concluded Pravasi Bharatiya Divas but he amazed everyone with his clarity and depth in ideas.
Though the name does not reveal his roots, he is a boy of Indian origin, and was at PBD with his grandmother to know more about India. His grandparents had migrated from Punjab to the United Kingdom more than three decades ago. His mother married a half-British, half-Indian, but he feels spiritually drawn to India.
Jordan got a chance to come to India, and attend the PBD after he spoke on non-violence at the international non-violence meet at Birmingham as one of the two young Asian people. The Indian High Commission then invited him to the PBD. But this is not actually Jordan's first visit to India; it is his third.
Jordan got attracted to non-violence after he became a part of the Sant Nirankari mission which is "for universal brotherhood, peace, non-violence and love for mankind". "It was from Sant Nirankari Baba that I understood we are all one, no matter what our colour and creed is."
He was drawn to Mahatma Gandhi [Images] after he attended the event on non-violence on behalf of the Sant Nirankari Mission. "I am inspired by Mahatma Gandhi very strongly. I am also inspired by the Nirankari Babaji. In my opinion, he is today's Mahatma Gandhi. Like he says there is a reason behind everything, and I know I have come here for a reason."
Unlike many other pravasis, there was no culture shock for Jordan when he landed in India for the first time. In fact, he felt as if he was back home. That is because Jordan feels he is spiritually linked to India.
There is no confusion in Jordan's mind about who he is. The only thing that  he is not comfortable about India is being started at! "I know people in India do not see me as an Indian because of my looks. They look at me as British.  But I want them to understand that I am one of them, I am a brother to them. I am an Indian, an Asian."
Jordan is also a young Parliamentarian in the UK, one of the youngest among the 200 parliamentarians in the Youth Parliament. They were elected through an election process all across the country. The job of the 200 young parliamentarians is to convey the views of young people when they meet once or twice a year at the House of Lords in London [Images].
"So, every one of the young people has a voice, no matter what caste, colour, age or creed he belongs to. I wanted to be in the parliament so that I can air my views on various issues, mainly on the Asian community. I have opened a multi- faith camp in our schools where different cultures get together. I have also organised community dinners where different communities meet, eat the same food and help each other. I am trying to get less school and university fees for students," said the young Parliamentarian.
 "One of the main focus of my coming to India is education. As a Member of Parliament for the UK, my focus is also on education. I want to start projects in India. I am going to a few state schools in the cities and also in the villages to see the cost of education, the teachers, stationery and other resources. I want to help the poor schools in India with resources like good stationery, computer, internet, etc. I have been to a few villages in Punjab already. In future, I hope to give the young people of India what the young people of UK get. I plan to talk about the schools I visit at the youth parliament. I also plan to involve a few schools in Birmingham, where I study, to help Indian schools," said Jordan of his plans
He feels the UK also has got something to learn from India; the team spirit. "I see people connecting and doing things together. This kind team effort, I have not seen in the UK. I saw a young boy helping his parents in work. I would tell the British, this is what you have to learn from India."
Jordan, in secondary school now, plans to study law. His ultimate ambition is to become somebody in Parliament. "Maybe in Indian Parliament! That is because I like to help India a lot. I know even without my help, India will develop into a very big country. But I also want to be a part of its growth."
Text: Shobha Warrier; photo: Sreeram Selvaraj
Image: Jordan with his grandmother in Chennai.