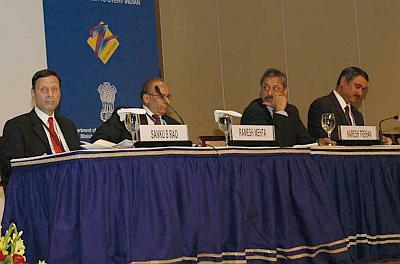 Dr Anbumani Ramdoss, Minister of Health and Family Welfare, has urged the Indian medical Diaspora to be part of India's initiative in providing health for all.

Speaking at a session on 'Health for All -- Role of the Diaspora' at the Pravasi Bharatiya Divas in Chennai on Thursday, the minister said that in 1952, when India launched a national program on family planning, it was the first country in the world to do so. But after 1952, the sharp decline in the death rate was not accompanied by a similar drop in the birth rate. 


While the global population increased threefold in the last century, from 2 billion to 6 billion, the population of India increased nearly 5 times, from 238 million to 1 billion. India has16 per cent of the world's population on 2.4 per cent of the globe's land area.


But the majority of the population suffers from poor health and poor quality of life. Both children and adults suffer from diseases such as malaria, schistosomiasis (snail fever), other vector borne diseases, chronic respiratory diseases and infections in childhood. Nearly 0.7 million children die every year due to diarrhoea. The real sufferers are those who live in rural India.


The minister said that the National Rural Health Mission was launched in 2005 by the prime minister to address this grave situation.

'The plan of action includes increased public expenditure on health, reducing regional imbalances in health care, pooling resources, optimisation of health manpower, community participation and ownership.'
He further added that in India, 75 per cent of health services were provided by the private sector.

"Our aim is to optimally utilise and enable increased access to the vast rural poor. So, the support of the Indian Diaspora can be very crucial. They can support the government by ensuring sustained financial support which can be through international funding agencies, international civil society organisations working in India and also by creating awareness among international travellers regarding precautions."
According to the minister, there are a lot of opportunities for the Diaspora as India has accepted the post graduate degrees from all English-speaking countries.

"Now, doctors who have studied there can practise in India. There is a huge shortage of doctors and nurses in India. Of every six doctors in the US, one is an Indian," said the minister.

While clinical trials cost approximately $300-350 million in the US, they cost only about $25 million in India. "Another area you can invest is in medical parts. You have to only sell 75-85 per cent of the manufactured items in India. The rest, you can export," he told the Diaspora.


He wound up, again stressing that the India Diaspora could play a vital role by extending the youth energy and technological power behind the country's sustained efforts in 'alleviating the suffering of our population'.

Image: The session on 'Health for All -- Role of the Diaspora' in progress.
Reportage: Shobha Warrier