Email |
Discuss | Get latest news on your desktop



India's role in the Great Game in Afghanistan

February 26, 2009
The ongoing battle in Afghanistan, recognised as the Great Game, is going to dominate 2009. America, China, Saudi Arabia and neighbouring countries like Pakistan, Iran, Russia and India are considered the main players in the battle against Al Qaeda and Taliban that nobody thinks is easy to win.

The US is sending 17,000 more troops to Kabul and the battle will be intensified. After America's invasion on October 7, 2001, India has in a major way taken up a non-military role in rebuilding Afghanistan by helping build roads, hospitals, schools and training bureaucracy and police. India's investment in the battle-torn country has already crossed $1.2 billion (about Rs 6,000 crore).

Pakistan has serious reservations about it because it wants strategic depth in Afghanistan and finds India's presence unnerving. Many Western scholars and many important players of President Barack Obama's administration have started believing that Pakistan's concerns vis-a-vis India needs to be addressed before Pakistan can plunge whole-heartedly in the fight against Al Qaeda and the Taliban. India has obviously, rejected such thinking.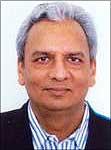 India's Ambassador to Afghanistan Jayant Prasad has a daunting task in Kabul to keep up the momentum in Indo-Afghan bilateral relations where Pakistanís security concerns are increasing pressures and America's grand designs in this part of the world is fraught with risk.
Prasad was educated at Delhi University and Jawaharlal Nehru University. After lecturing on modern Indian history for two years at St Stephen's College he joined the Indian Foreign Service in 1976. He made his presence felt as head of the American division in New Delhi. He has served as India's Permanent Representative to the Conference on Disarmament, Geneva, as ambassador to Algeria, he has also served in the Indian mission in the European Union in Brussels, UN and Paris.
On a brief visit to New Delhi, Prasad spoke exclusively to rediff.com's Sheela Bhatt on the bilateral relations, India's role in development of Afghanistan and in combating terrorism and on Pakistan's concerns over India's overwhelming presence in Kabul.
Main Image: Afghanistan President Hamid Karzai and External Affairs Minister Pranab Mukherjee inaugurate the Zaranj-Dalran highway built by the Indian Border Roads Organisation. Right, below: Ambassador Jayant Prasad.
Also see: Losing the psy-war in Afghanistan