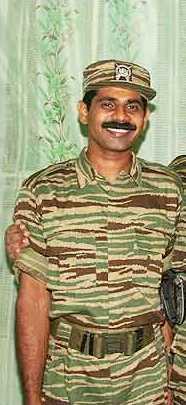 In two letters purportedly written in Tamil by a suicide bomber Colonel Rooben, one of the Black Air Tigers, who the Liberation Tigers of Tamil Eelam claims that flew the LTTE [Images] aircraft that hit the headquarter of Sri Lanka [Images]n Air Force and its base near Colombo on Friday, has urged the Tamils of Tamil Nadu and of the Vanni area of Sri Lanka to join the outfit's military battle against the Lankan government.
The young fighter has written two separate letters addressing the people of Tamil Nadu and Tamil people of the Vanni area.  The  purpose of the letters, it seems, is to evoke the youth to join LTTE.
In a candid remark, he says, "We (LTTE) have enough armaments. What we need is man-power."
One of the letters is reproduced on a popular LTTE sympathizers' network Tamilnet.
The letters are also carried on LTTE website puthinam.com.
The letter reportedly says, "You are aware that our expatriate Eeelam Tamils are very active on conducting  non-violent protests, including the extreme self-sacrifice of self-immolation, worldwide to show solidarity with us. While the enemy is single-mindedly on a mission to destroy us, I urge you to strengthen our leader's hands, and join this inevitable last battle against our enemy."
The letter, quoted by Tamilnet, also compares Sri Lankan Tamils struggle for Tamil Elam  with Jews struggle for their homeland.
Before embarking on the suicide mission, Rooben left behind the letters which have been released by the LTTE after his, reportedly "failed" mission in which he died when the Sri Lankan forces shot down the plane he was flying.
He said, "The intensity of destruction unleashed against our people exceeds that of the similar acts by Adolph Hitler [Images] engineered to exterminate Jews. I am grateful for your continued fight against our enemy, especially amid the recent atrocities in hospitals and safe areas by the genocidal State armed forces."
He also explains that he joined the LTTE during his college days. He alleges in the letter that " the Sri Lanka Army is not discriminating different age-groups while it slaughters our people."
In a chilling display of his determination to fight the war against the State, he wrote before going on a suicide mission, "Dear beloved people of Vanni, while we march with explosives inside the lion's den, let's show the strength of Tamil people. I have never dreamed of wasting one's precious life; However, I feel privileged and proud that I can become a Black Tiger to earn respect for my people and my homeland."
Image: A beaming Rooben before he took a flight to death.
Photograph courtesy: www.tamilnet.com